E-KNOW: harnessing the power of social media
E-KNOW has a savvy online presence and utilizes Facebook and Twitter to reach out to its readers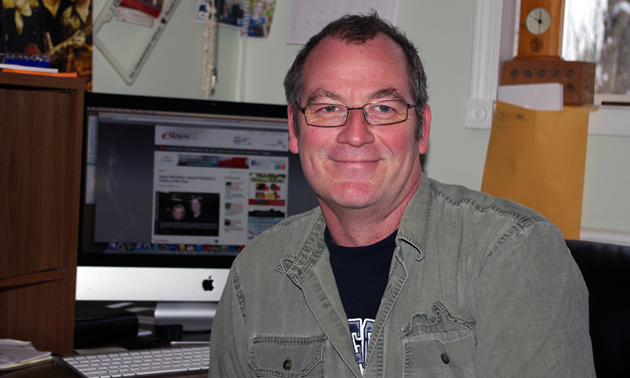 East Kootenay News Online Weekly (e-KNOW) is a free online newspaper that serves the communities of Cranbrook, Kimberley, the Elk Valley (Fernie, Sparwood and Elkford), the Columbia Valley (Fairmont Hot Springs, Windermere, Invermere and Radium Hot Springs) and all the other communities in the East Kootenay region, which lies in southeastern B.C.
E-KNOW offers the latest news online and gives free access to its website, free subscriptions and free classifieds.
One of the big winners in the first annual Kootenay Business DigiTech Awards, e-KNOW is owned and operated by professional journalist Ian Cobb, who has been working in the East Kootenay since 1991. Cobb has 22 years of experience in the field, and in that time has accumulated more than 40 awards for journalism, photojournalism and newspaper general excellence.
Kootenay Business caught up with Cobb to find out the importance of having an online presence in the media industry and ask him what his favourite apps are.
What is the importance of having an online presence, specifically in the media industry?
This is incredibly important as newspapers are rapidly turning to more of an online presence with each passing week. With the incremental growth of Facebook and Twitter users—along with other social media—as well as the steady increase in Internet users, an online presence isn't just necessary, it is vital.
We are online only—meaning no print products. It allowed us to start our business without having to arrange large volumes of investor help (debt/credit, etc.) in order to cover the mammoth startup costs associated with a new product and the ongoing challenges of meeting press bills. It's been a big challenge, as many advertisers still don't truly understand how "online only" works, and our task is to train them to understand the greater variety and range their advertising can have online.
For example, a small ad on our site costs a fraction of what print advertising costs; the ads run for a week, month or many months at a time with options to change them; and with one click, advertisers can be taken to a website that offers far more information than any print ad could ever achieve.
Have Facebook and Twitter helped grow your presence online?
Yes, incredibly. Facebook is so immediate and our fan base (Likes) has grown from 300 last year at this time to 1,544 as of December 16, 2012. It helps us connect with our readers, allows for interaction and we receive about 60 per cent of our website hits from Facebook.
We also have a quick, responsive relationship with our readers when emergencies happen. In the last year, we have covered major emergencies in the region including the Cranbrook Baker Street fire, floods around the region and, of course, the storm of 2012. Each emergency brought from several dozen readers to hundreds more new readers to our Facebook page and then onto our website for the whole story and photos. Each incident brought us readers for the emergency news and reports, with our biggest readership on July 21—with over 4,000 reading our paper in one day. Our Facebook readers are keeping up to date on severe weather conditions, road conditions and closures, power outages and anything we report quickly and accurately.
Twitter is also an effective medium to get the word out quickly, and we now have 833 followers. Twitter is immediate and links back to our news site. We have several different readership personalities and several ways for them to reach us with their medium of choice. Some follow us on Twitter, some follow us on Facebook, some follow us on LinkedIn, and others prefer to check out our site every day for the latest news.
What are the biggest challenges in online news and how are you overcoming them?
Our biggest challenge thus far is our small staff size. People want the news as it happens, but we keep our focus on the credibility of the story and the quality of the article and photographs—and with my professional background as a journalist, there is an insistence on quality and consistency, from within e-KNOW and from many readers/subscribers. As we grow our advertising base, we will also grow our staffing levels and the hope is to soon have reporters and staff in each of the four main locations in the region (Columbia Valley, Cranbrook, Elk Valley and Kimberley). We can only do our best, and down the road, we hope for more reporters in the area to provide a greater range of coverage and more in-depth community coverage.
How many devices do you own?
The technical equipment the company owns is three computers (one Mac, two PCs), one iPad and two iPhones—so far.
What is your smartphone of choice?
Apple
What are your three must-have apps?
Facebook: So we can upload to our Facebook account while covering emergencies and events for the timeliness for our audience.
Twitter: Again, so we can stay in touch with our audience.
Voice memo: Covering important community discussions and stories we can record for accuracy.
What is your favourite online read?
Too many to mention concisely, but a broad range of sites. Facebook and Twitter also provide an even greater range of online information.
What is one tech trend that you see for the Kootenays for 2013?
I see more and more people discovering the world of online news and social media. This is available though their iPhones, Blackberries, iPad and all the new electronic devices. In much the same way that household television ownership evolved, the home computer is hitting the point where instead of each home having just one, there are often numerous computers and electronic devices per household.
I also like to think that a trend that will continue to develop is more people discovering e-KNOW as a free news, entertainment and information source for the entire region.