DigiTech Awards
2013 DigiTech Award winners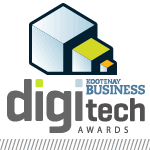 Anyone who has sent an email, perused an e-newsletter, made an online purchase or commented on Twitter or Facebook knows that digital technology is an increasingly pervasive part of our lives. More and more, businesses are reaping the benefits of digital marketing, while still maintaining their presence in traditional print advertising venues.
With this in mind, Kootenay Business presents our first annual Kootenay DiGi-Tech Awards. We invited readers to vote online (naturally!) and are happy to present the results here. It should come as no surprise that many of the winners already have a well-earned reputation as exceptional businesses. Some of the winners are found on digital-only sites, while others make themselves known across numerous platforms, including a strong print presence.
The big winner in the East Kootenay proved to be E-KNOW (East Kootenay News Online Weekly), while in the West Kootenay, Bumblebee Toys was a multi-category winner.
Thanks to all who participated in this first annual contest, and congratulations to all the winners.
East Kootenay winners
Overall Website

eNewsletter

Facebook Page

Twitter Feed

Web Designer/Developer

Website Use of Photography

News Website

Classified Ad Website

Restaurant Website

Auto Dealer Website

Municipality Website

Accommodations Website

Golf Course Website

Resort/Tourism Website

Real Estate Website

Service Industry Website

Retailer Website

Professional Services Website

Recreational Property Website

Financial Institution Website

Financial Planner Website

Mobile App

Blog

Internet Service Provider

E-commerce Website

YouTube Video
West Kootenay winners
Overall Website

eNewsletter

Facebook Page

Twitter Feed

Web Designer/Developer

Website Use of Photography

News Website

Classified Ad Website

Restaurant Website

Auto Dealer Website

Municipality Website

Accommodations Website

Golf Course Website

Resort/Tourism Website

Real Estate Website

Service Industry Website

Retailer Website

Professional Services Website

Recreational Property Website

Financial Institutions Website

Financial Planner Website

Mobile App

Blog

Internet Service Provider

E-Commerce Website

YouTube Video