Accelerate Kootenays is transforming the landscape one charging station at a time
Electric car review: Chevrolet Bolt BEV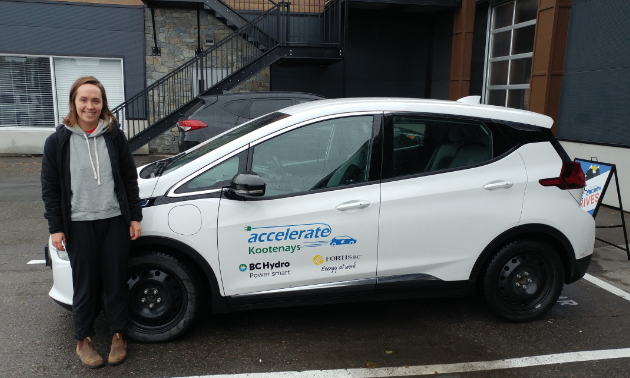 If electric cars are the wave of the future, Accelerate Kootenays is the momentum that's pulling the tide all the way to southeastern B.C.
Accelerate Kootenays is Canada's first community-driven, collaborative strategy to build a clean transportation network. The project is a two-year, $1.5-million initiative of the regional districts of East Kootenay, Central Kootenay and Kootenay Boundary that aims to create an electric vehicle (EV) charging station network so EV travel to and within the region is convenient and reliable.
For the past number of months, the organization has been taking its #RuralEV Mobile Showcase across the Kootenays to give motorists a chance to test drive electric vehicles.
"We're launching an outreach campaign to spread awareness of EVs and increase visibility for people who don't normally see electric vehicles and to make them more familiar," said Emma Genest, outreach co-ordinator for Accelerate Kootenays.
Supply < demand
To help Kootenay drivers become familiar with electric vehicles, Accelerate Kootenays has launched a test-drive campaign. As it is right now, demand is higher than the supply, which makes it difficult for environmentally conscious commuters to hop on board the energy efficiency train.
"Test driving electric vehicles is difficult to do because as soon as they come on the lot, they get sold," Genest said. "There's a lack of electric vehicles. In B.C., dealerships don't seem keen on having electric vehicles on the lot. They have to pay a lot of money to have someone trained on how to service them. There's not a lot of incentive for them to make money on it. But there's a huge demand for people who want to buy an electric vehicle."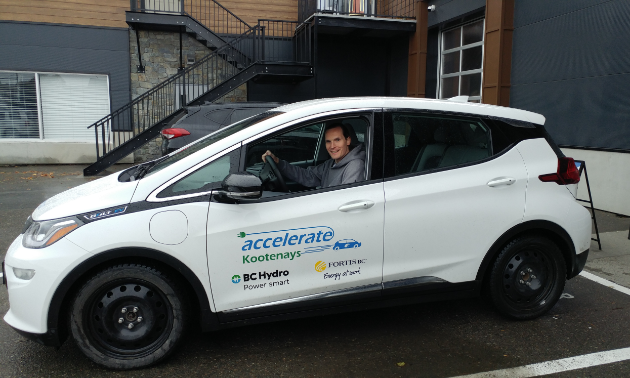 On October 26, 2018, Genest drove a Chevrolet Bolt BEV (Battery Electric Vehicle) to the Ground Floor Coworking Space in Cranbrook for curious drivers to take a test drive. Being the inquisitive specimen that I am, I signed up for a 20-minute joy-ride so I could discover what all the fuss was about with these new-fangled gadgets.
Impressions
I had heard that electric vehicles were quiet, so I wasn't expecting much noise. Sure enough, upon placing the key fob in the cup holder and pushing the blue start button next to the steering wheel, I didn't hear anything. I asked Genest if the car was on and she assured me that it was. I was curious how drivers were supposed to know when/if the vehicle was running. Genest said to keep an eye on the start button. If it's lit up, it's on.
The Bolt is a smooth ride. Coupled with the silence of the engine, this made for a tranquil driving experience.
My favourite feature was definitely the heated steering wheel. As someone who has terrible circulation (I'm wearing gloves as I write this), the cozy warmth of the wheel is a welcome technological advancement. Maybe most new vehicles have this feature, I don't know. Prior to this test drive, I hadn't driven anything newer than a 1995 Toyota Tercel (slight exaggeration).
On a side note, the wipers swiped from the middle of the windshield out to the top corners of the windshield instead of the typical left to right unison motion. Call me a purist if you will; this felt distracting and weird.
Second language
One of the tricky things about navigating an EV after a lifetime of driving gasoline-powered cars is that they require an upgrade in language skills. There's no "miles per gallon" or "half a tank" talk in a BEV. There is only "range." Range tells the driver how far they can go until they're out of juice, er, charge.
"The Bolt is a great vehicle because it's a higher range electric vehicle," said Genest. "It has a 400-kilometre range, a workable range for people doing long-distance travel."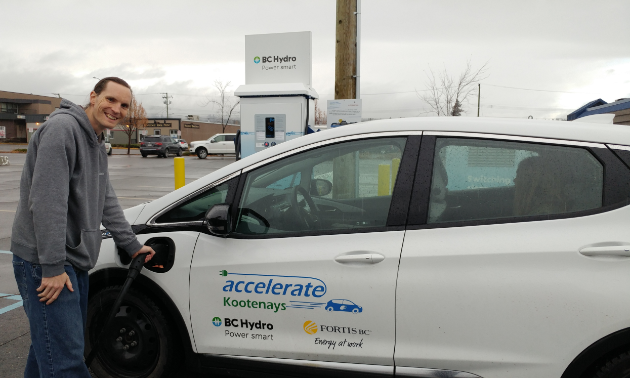 When it comes to filling up—scratch that—powering up the Bolt, it's essentially the same sequence you go through when filling up at the pump. You swipe your card along a scan screen and plug the cord into the outlet next to the driver's side door. If you can fill up a car with gas, you'll have no trouble plugging in and charging an electric vehicle. The only difference is that powering up the car will take a bit longer, depending on what kind of charging station you park at. The two options to choose from in the Accelerate Kootenays charging station network are DC Fast Charging (DCFC) and Level 2 (L2). DCFC is described as: Stop 'n' go—quick and powerful, get on your way! Level 2 is: Stop 'n' shop—slow and steady, explore the town!
The accelerate Kootenays charging network is a robust system that facilitates connected, reliable travel to and within the Kootenay region. The initiative boasts 1,870 kilometres of connected electric vehicle travel. The route covers 40 communities with 13 DCFCs and 40 L2s.
Paying a premium for preservation
Regardless of which environmentally friendly car you're looking to buy, you'll be paying a premium for saving the planet; however, that doesn't mean you have to be exceedingly wealthy to do your part in preserving the atmosphere.
"The Bolt isn't as expensive as a $100,000 Tesla," Genest said. "The Bolt's base price is $44,400. There are incentive programs through the B.C. government to help pay for it. There's a $5,000 rebate for electric vehicles and there's also the Scrap-It program. If you scrap your gas engine vehicle, they give you an additional $6,000. So you can get 11 grand off the cost of a new electric vehicle."
Are you ready to save the world yet or what? Regardless of how you feel about the state of our environment, it's undeniable that Accelerate Kootenays is achieving what it set out to do: create a clean, electric vehicle charging station transportation network within the region that is convenient and reliable.
Head over to Accelerate Kootenays to find out more about their Mobile Showcase and view an interactive map of all Kootenay charging stations.