Wolfy's Hair Den is open and fixing COVID hairdos in Kimberley
Owner Kellie Wolf sees new appreciation all around after the Great Pause of 2020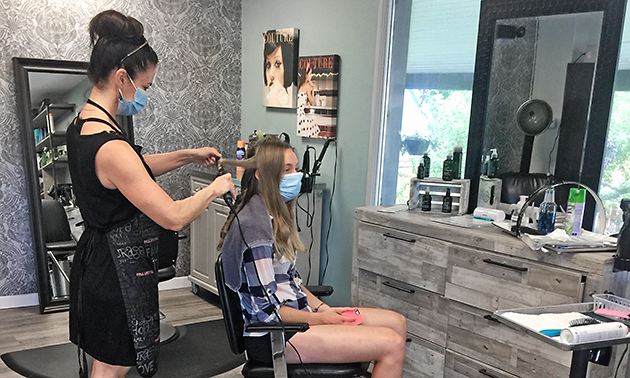 Now that the "Great Pause of 2020" is over (at least in British Columbia), many of us need to get our hair attended to.
Wolfy's Hair Den in Kimberley is one of many hair salons that are now open for business again after our pandemic stay-at-home orders, and hair stylists are busy fixing pandemic bad hair days … or months.
"We fixed many COVID do's and backyard haircuts," laughed owner Kellie Wolf. "We definitely had a couple good ones!
"Lots of mullets as the men just trimmed their sides and not the back. I had a client arrive with orange roots, and she said she just did a touch up. Yikes, that was bad! One lady came in who trimmed her bangs and they were bumper bangs, and she did not account for her cowlick. Funny! There were a couple clipper marks in men's cuts that their wifes cut for them.
"I think people have more appreciation for their stylists now that they gave it a try!"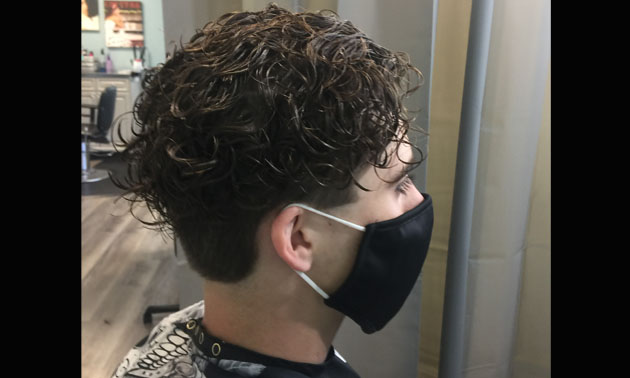 The Great Pause
Wolfys has three full-time and one casual stylist who could not work for nearly three months because of the pandemic lockdown.
"Mid-March posed very unsettling times across the globe, and for a small business it proved to be trying times for sure," said Wolf. "Nearly three months of closure was very difficult financially and emotionally. Not really knowing when we would return to work or what that might look like were difficult so I used my time to research and prepare."
Wolf spent her time purchasing PPE (personal protective equipment), specific disinfectants and cleaning supplies, disposable capes, gloves and masks. She also went to the salon to declutter, rearrange furniture and set up barriers between stations. And of course, bookings had to be postponed.
"During the lockdown, I used my personal time wisely and did many chores around my home and yard, then snowshoeing, hiking and biking. I was not bored at all," Wolf said.
Open again
"We are now up and running as smoothly as can be," said Wolf. "That includes masks, questionnaires and temperature checks to ensure our valued clients, staff and families will be safe.
"Bookings are a bit longer as double bookings are not permitted. So days are longer to fit everyone in. For the stylists to make the same amount of revenue, they must work longer days to make the same amount pre-COVID.
"Everyone is just so grateful to be back to the salon and get pampered again and we are too."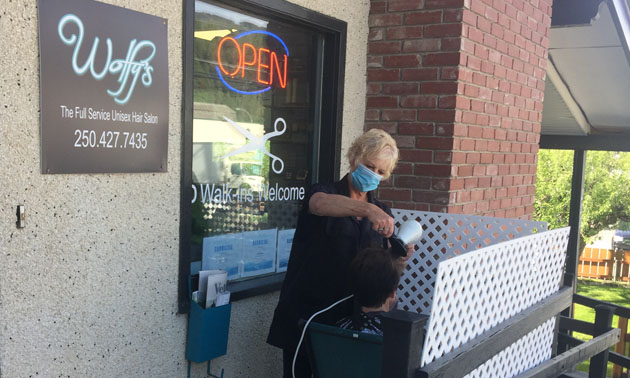 The past had challenges too
Kellie Wolf started her business 26 years ago and hasn't looked back.
"This community has provided so much for my business and others like it," she said.
The business has weathered past challenges like the closure of the Sullivan Mine, the city's major employer for decades.
"One thing you can count on is people need and want their hair done!" Wolf said. She reminisced about countless late evening appointments, socializing and sharing a beverage and a snack with clients and staff.
"It made the salon and your hair appointment a social event," she said. But that aspect has now changed with COVID-19.
Lessons learned
Wolf said the salon has figured out how to make the salon work smoothly.
"Most of us agree we are exhausted at the end of the day," she said, "but we are so grateful to be back behind the chair that it is all worth it.
"One thing I learned from this closure is to never take life for granted, including our jobs. It's an honour to work hard as many cannot. So I remind myself often to just keep moving forward and doing what I do. I am blessed that I do love my job, clients and staff."