Rossland is on a roll
Summer tourism runs a close second to the active winter scene in Rossland, B.C.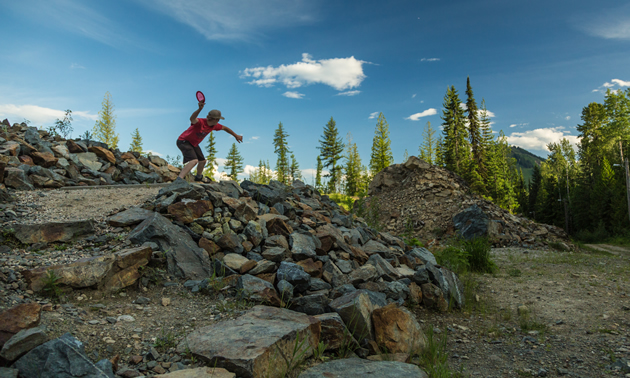 "In the last seven years, we've doubled our tourism numbers, as measured by accommodation revenue," said Deanne Steven, executive director of Tourism Rossland.
An exciting development driving the winter increases has been the Legacy Training Centre at RED Mountain Resort. The installation of snowmaking equipment on the T-bar in 2014 means the season can start earlier and end later, giving high-calibre athletes more time to train and compete. It also ensures that the resort can host high-level races.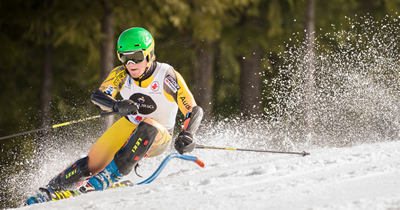 Steven said that a FIS (Fédération Internationale de Ski / International Ski Federation) race results in at least half a million dollars being dumped into the community in the span of a week to 10 days. "These are really great, high-yield events," she said. "The ski racers don't love all our beautiful Kootenay powder—they like hard-packed, icy snow, which is what the snowmakers give them."
Stress-free winter transport
Tourism Rossland has a new contract with the City of Rossland to manage the Resort Municipality Initiative. One project resulting from that agreement is the continuation of the daily Spokane airport shuttle in the winter, run in collaboration with the Nelson-Kootenay Lake Tourism and Whitewater Ski Resort via Queen City Shuttle. Steven said all the partners are happy with the arrangement and ridership is growing.
"We're also going ahead again with our free winter shuttle bus linking the downtown Rossland area with Red Mountain," she said. "That means you can have a social time after your day on the mountain and not have to drive—people from outside the Kootenays really aren't that keen on driving in our winter conditions. More than 19,000 passengers used the shuttle in its first year. Now we're getting ski groups coming in—we didn't get those before."
Focus on summer
Most of the tourism increase has been seen during the winters, and Tourism Rossland is focused on a few projects that will increase its summer numbers as well.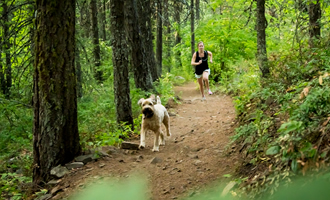 A new brochure and videos are being developed to promote Thin Air Disc Golf Club, Rossland's free 18-hole disc golf course;
Tourism Rossland is promoting the Columbia and Western Rail Trail, an extension of the Kettle Valley Rail Trail, for the hiking and cycling public. This little-known, family-friendly trail is an old railway line with only about a three per cent grade. The promotion is a big initiative that involves Castlegar and Christina Lake as well as Rossland.
Rossland has one of the best trail networks in B.C., and trail running has a lot of appeal for city dwellers who want to breathe fresh air rather than vehicle exhaust when they run. Tourism Rossland invites visitors from the Okanagan, Alberta, the northwestern U.S. and the rest of the world to come for a run.
The eighth annual Rubberhead Enduro race, hosted by Red Mountain Resort, will take place on July 7 and 8, 2016, and the Broken Goat Trail race is scheduled for July 15 and 16.
For the convenience of visitors, Rossland has a number of signage projects on the go, including a beautiful new historical-themed events sign on the highway, at the entrance to downtown.