Nowhere Special Hostel is a haven away from home
The Rossland hostel keeps visitors close to the slopes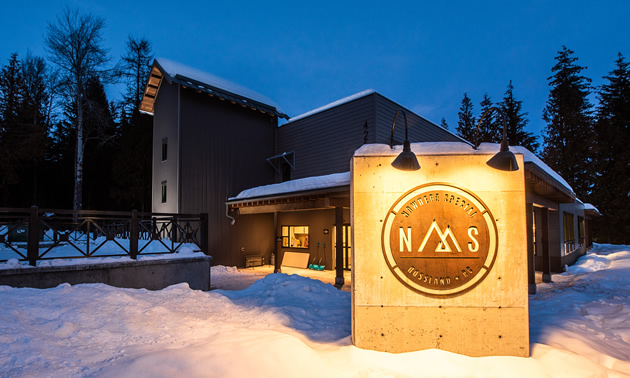 Red Mountain Resort in Rossland has launched the new Nowhere Special Hostel as an affiliate of Hostelling International Canada (HI Canada). The new hostel is part of the not-for-profit, member-based organization, and the world's largest hostel network made up of 3,500 hostels in 89 countries.
"Nowhere Special is the quintessential modern hostel, suitable for travellers of all ages who value community, connection and careful curation above all," said Nowhere Special's owner, Beth Johnstone. "The operating mantra since the napkin-stage has been the same one that's kept Red cool for over 100 years: everything you need and nothing you don't."
The hostel is located a mere two-minute walk from the chairlifts. The proximity to the slopes and the hostel's purpose-built modernity puts Red on the radar for young and young-at-heart adventurers and fuss-free travellers. Nowhere Special offers several floor plans catering to different needs for privacy, price and wheelchair-accessibility.
The business has revolutionized what the idea of a hostel can be. Johnstone answered a few questions for us about what makes her business one of our 2019 Best of Business winners.
1. What's your favourite service that Nowhere Special offers travellers and why?
The greatest service Nowhere Special offers is our amenities. Real-world needs like indoor bike and ski storage and an outdoor firepit with two gas grills make Nowhere Special nothing like our name. A clean community kitchen with two ranges, a commercial fridge, and all the silverware and dishes you might need to build a serious après-ski spread for your "new best friends" round out the offering. What really sets Nowhere Special apart, though, is our design. Our dedicated design team and architect have made sure that this building delivers the best in clean, modern design and usability.
2. What aspect of working for the business has surprised you the most?
The biggest surprise has been how diverse our guests are! People travel from far and wide, and we host people of all different ages. When people think of a hostel, they think of young travellers—but we've seen people as young as two months old, and as old as 92!
3. What's the No. 1 thing people should know before coming to the hostel?
The world of hostels is evolving where "hostels" no longer means run-down buildings full of uncomfortable beds sold cheap. The one thing you'll notice from our photos, Nowhere Special has a unique design. We've had people refer to us as "more than a hostel, more like hotel-lite!" Our dedicated design team and architect have made sure that this building delivers the best in clean, modern design and usability. But don't take our word for it, come see for yourself!
For more information about the hostel, visit the website at https://www.nowherespecialhostel.com/.