Janet Fraser, business mentor
Janet Fraser's influence goes beyond providing high-quality merchandise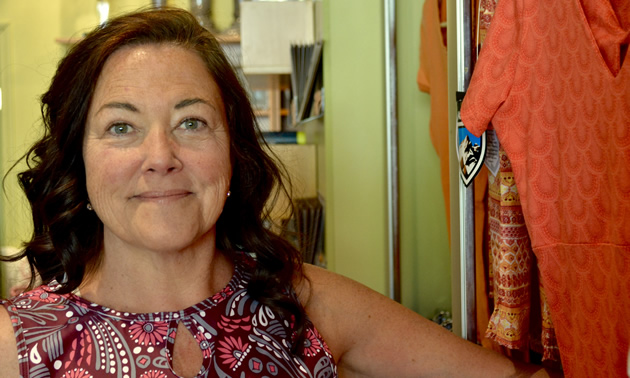 In 1995, Janet Fraser was ready to leave Rossland for her home province of Alberta to find a business to settle into. The day she was to leave, she got a call from her friend, Diane Johnstone, who made her a proposition.
"Diane called to ask if I'd like to work for her (at Out of the Cellar) for a couple of years and then buy the business," Fraser said. "That call totally changed the course for me."
Fraser has owned Out of the Cellar in Rossland for 20 years now. She stocks the kind of clothing that is, in her words, "what mountain girls want—technical streetwear that is active, versatile, high quality and fashionable. It's current and very appropriate for our lifestyle, and that's why we're all here—for the lifestyle."
Customers at The Cellar also find plant-based skincare products and a variety of giftware. Fraser initially carried only Canadian-made products, but eventually opened up to other suppliers who meet her standards for quality and market suitability.
Fraser's influence in the community extends beyond the impact of her own business. She takes great satisfaction from being a business mentor for any of her employees who are interested. Alicia Gray of Bombshack Clothing and Trinda Bowman of Curiosity Clothing & Gifts are former employees of The Cellar.
Fraser also contributes her time and creativity to a number of volunteer groups that support the quality of life in Rossland, including the downtown Design Review panel and the Rekindle the Spirit of Christmas committee.