Crafting in the Kootenays
Sarah Elizabeth Fibreworks is an integral part of Rossland's arts and culture community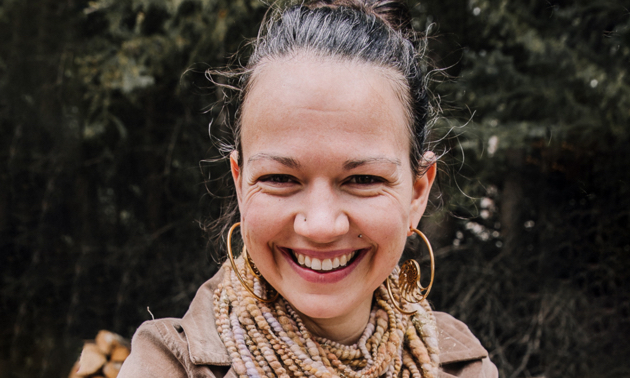 When Sarah Elizabeth started her company, Sarah Elizabeth Fibreworks, she brought dazzling fibre art and supplies to Rossland, B.C. She has her own eco-luxury brand and uses quality fibres sourced from small farms. She even instructs others on fibre art traditions and modern crafting techniques. We asked a few questions about her process.
Describe your business in a few sentences.
Sarah Elizabeth Fibre Works is a creative fibre arts supply business with a focus on local wools and sustainable processing. At the heart of what I do are all-natural fibres, hand-processed using a combination of the traditions of years gone by and the innovations of the present.
I have built an eco-luxury brand focusing on colour and texture, offering unique fibre blends, stunning colour combinations and a touch of sparkle. Primarily, I start with high-quality fibres hand-selected from small-scale fibre farms. I process the raw fleece to create small-batch, one-of-a-kind locks, batts, rovings, yarns, and finished knit, felted and woven products. I also hand-curate a selection of exceptional and high-quality tools to complement my line of hand-processed supplies.
What's something that happened in your business recently that you were especially proud of?
Being recognized as an entrepreneur in the community makes me really proud. Outside of that, definitely meeting all my business financial goals in half the time I projected. I am especially proud of this because when I started Sarah Elizabeth Fibre Works, my first child was a little more than a year old, and then late in year two of my business I had my second. My production studio is in my home, so they are always underfoot and very much a part of the day-to-day.
Tell me about something you struggled with to get your business established and how you overcame it.
In the fall, just at the start of my second year in business, I became pregnant with our second child and it was rough going from the start. After my first large show of the year, I was pretty sick and had to put my business on hold to keep my baby safe. Being on bed rest while running a production-based business, where I am used to running up and down stairs and carrying heavy dye pots, was extremely challenging. Everything went full stop and I cancelled what would have been two of my biggest shows that year, meaning huge revenue and promotion losses.
In spite of being at half capacity and then completely out of commission for a good portion of that year, I exceeded my goals and managed to grow my business. While I had to stop physically, my mind kept going and I kept my focus. I stayed in contact with the industry and said "yes" to opportunities that arose for later in the year, after my daughter was born. My second daughter is now almost two and last year was beyond my wildest dreams.
What's your superpower and why?
Not having regrets. I think, work and make decisions at lightning speed; I don't worry about the mistakes I make (because running your own business you get to make lots). I work with them and keep looking forward. That, and of course I am extremely good at multitasking. I bounce from project to project until I can check it off my list. I do this while I get snacks, read books, change diapers, interrupt disputes and spend mummy-time with my girls, including mornings hiking or skiing in the area. It is an exhilarating balance.
In terms of your business, what are you most excited about in the future?
I am most excited about being in a place with my business where I can devote time to developing an artistic body of work, weavings and multimedia pieces. As a practising artist, I also really enjoy instructing, from helping to kick-start the Itty Bitty Art program at the VISAC Gallery to local workshops and doing demonstrations at local events. I look forward to spending more time in my community sharing the fibre art traditions of the past and more contemporary practices.