5 ways to create a beautiful and eco-friendly yard and garden
Mélanie Mercier of Araucaria Gardening Services is passionate about pollinators and sustainable landscaping in your garden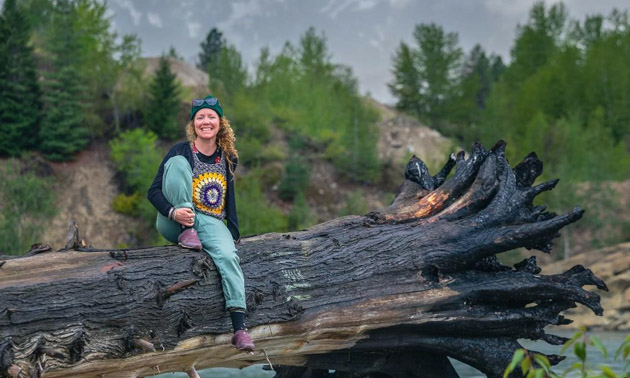 Mélanie Mercier wanted to make a change in her life and career and, as the former geologist puts it herself, that meant going from rocks to soil.
"I thought, there's something more that these green spaces could do to help our environment and help with climate change," she said.
In 2014, Mercier went back to school to study horticulture.
After originally working for the City of Vancouver, Mercier started her own business—Araucaria Gardening Services. She offered gardening maintenance and landscaping at the coast until 2019 when she moved to Rossland, bringing her expertise along with her.
"My business now mostly does pollinator habitat restoration, which means that it's either optimizing an existing residential garden by adding native plants to it, or I turn lawns into gardens," said Mercier.
The combination of climate change and the shorter Kootenay seasons have added their own challenges to her business, but she has been steadily growing the number of clients she serves. Moving forward, Araucaria Gardening Services is particularly excited to be looking towards doing more horticultural consulting throughout the Kootenays.
It has been a journey, but a satisfying one in regards to meeting the goals and vision she had at the start.
"There's so many levels to (working with environmentally friendly gardening practices) that are rewarding," said Mercier. "I can see the effects, and the clients can see the effects as well."
Mélanie Mercier draws from her experience working with native species and pollinator habitat to offer these five tips to backyard gardeners and landowners.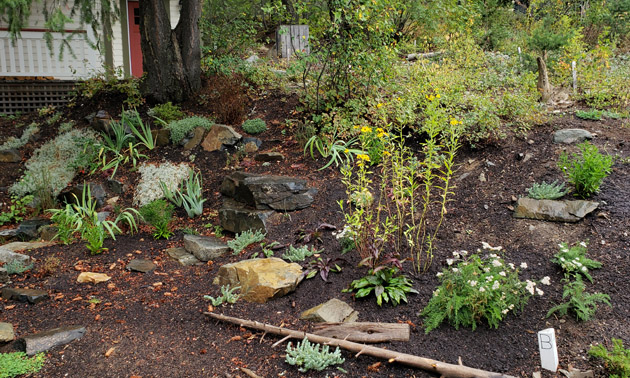 1. Make use of what nature provides
It's cheap, it's easy, and it's great for your garden.
Using what naturally exists in your yard is a winning strategy, and it's Mercier's first tip.
Using leaves and foliage helps to keep nutrients in your soil and moisture in the ground. Using recycled cardboard, which will break down naturally, can offer an accessible alternative when you're landscaping a new space in your yard.
"I see so many piles of fresh leaves on the side of the road, and it's like stripping away all the natural goodness that is provided right at your fingertips," said Mercier. "And then people go to garden stores to buy mulch and woodchips. It doesn't make any sense."
"I'm guilty of it—I've done it. I didn't necessarily understand the implication, but it's 2023 now and there are some things that we need to change in our habits. I've learned that certain moths and butterflies hibernate in leaf piles. So then, if we rake those early in the spring then we're probably killing a whole bunch of pollinators without even knowing."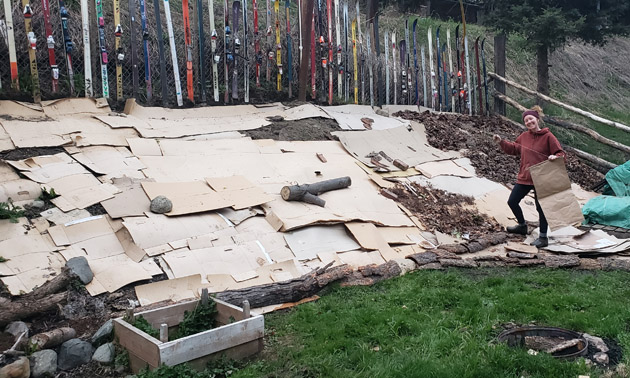 2. Keep a diverse selection of plants that flower throughout the year
One important aspect to consider, said Mercier, is providing a variety of plants that will be in bloom throughout the growing season.
"Typically there aren't a lot of plants that are flowering that provide food for the pollinators when they emerge," said Mercier. "So dandelions are a good one that are usually in lawns. And then sometime in mid-summer there's usually a gap and in fall there is a gap also, so having a source of food throughout the season really helps."
While planning your garden, Mercier recommends the Kinseed seeds and plants webpage (scroll to the bottom to view a seasonal calendar). The Central Kootenay Invasive Species Society (CKISS) EcoGarden Project is also a great place to check for an abundance of resources.
3. Avoid any pesticides and nurseries that use them
Mercier highlighted that, for a sustainable yard and garden that can benefit the ecosystem, it is important to avoid the use of any chemicals such as herbicides and pesticides.
"There are some products that can be found in garden centres that come across as environmentally friendly herbicides," said Mercier. "But chemicals are chemicals and herbicides are a type of pesticide. Even if they're chemicals that are available in the environment, having them at a higher concentration is still detrimental."
Even if you don't apply pesticides to your garden, you could be buying plants that have been treated with industrial fertilizers or neonicotinoids. The latter of these is a pesticide that is notorious for harming pollinators.
Check the CKISS website for a list of suppliers to consider.
4. Select plants that are drought tolerant
"With climate change, temperatures are rising and typically there is less precipitation," said Mercier. "Because the climate is getting warmer and there's less precipitation, plants need to be better adapted to these conditions and not rely so much on water.
"I do think people need to assess . . . the whole scale of their garden and see what kind of conditions they have and what kind of aspect the garden is facing."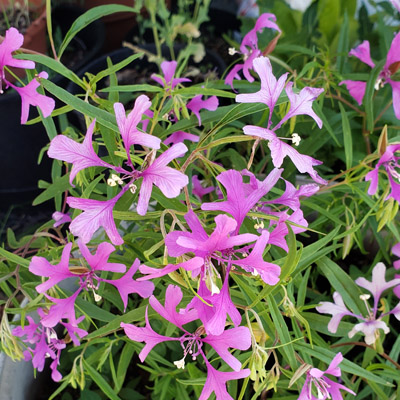 Choosing native plants will mean you're landscaping with more resilient foliage that is adapted to your area. See the segment at the bottom of this post for a list of some of Mercier's top suggestions.
5. Choose plants that will offer a variety of food for pollinators.
In order to have a thriving ecosystem in your backyard, you will want to choose a variety of plants that can tailor to the wide variety of wildlife and beneficial insects that we're lucky to have in the Kootenays.
And, yes. Several of these tips simply advise gardeners towards establishing a diverse selection of native plants. But, as Mercier points out, that isn't by accident.
"A diverse selection of plants serves different purposes," she said. "If you have diverse plants, then maybe some of them will do better than others so you'll still have a garden that is full instead of just having one type of plant for the whole garden. But then if you have different plants then they also flower at different times. And you'll also have types of flowering plants (for pollinators)."
Contact Araucaria Gardening Services through Instagram or Facebook to learn more about its services and consulting.