The little community that could
The small community of Riondel seems absolutely tranquil, but a dedicated group of volunteers is busy keeping it up to date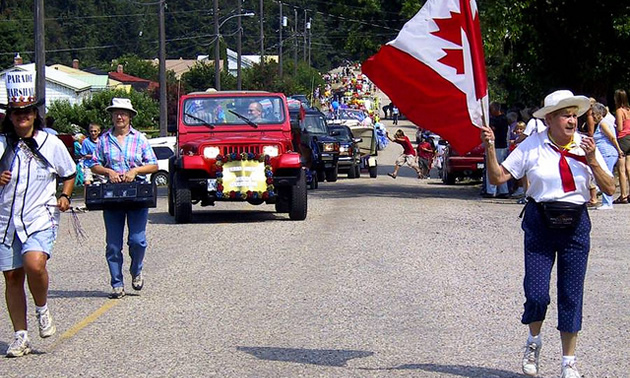 Apparently there's more going on behind the scenes of a picturesque little community than you might think—at least when it comes to Riondel. Situated 10 kilometres off Highway 3A, near the Kootenay Bay ferry landing, this unincorporated little town is full of people who live here simply because they love the lifestyle it offers.
With its ideal location on the shores of beautiful Kootenay Lake, many of its visitors make the drive from surrounding areas such as Nelson, Creston and Castlegar. What they find are friendly people and a relaxing atmosphere.
There aren't many people who get to call this area "home" throughout the year. With only several hundred full-time residents, there is a strong sense of community.
"Riondel tends to be run by a lot of volunteers because a lot of people here are retired," said Fran O'Rourke, who matches her own description as she is a retired volunteer with the Parks and Recreation Society. "There are a lot of retirement homes and a lot of summer homes, so often there isn't a lot of money in the funds to hire people to do these types of jobs."
All the same, these jobs are getting done. The town park has new bocce pits and the ambulance that serves the entire East Shore will soon have a new station. Originally a mining town, part of Riondel's unique draw is that most of the buildings are from the 1950s. Upkeep, however, can be a challenge. The Riondel Community Centre is one of the biggest projects currently in the works as it needs to be refurbished. The curling rink is also getting a lot of updates.
"We had a lot of buildings and the administrative structure wasn't there to do the repairs as the years went by," said O'Rourke, "so it's just in the last 10 years that we looked at them and said, 'Wait a minute. We need capital funding to do these things'."
The campground is an integral part of the village. In addition to bringing in visitors, it is run by a non-profit organization and generates money that goes back into the community. It also has the only beach that is easily accessible. An area has been delineated for access to day users and the community hopes to soon erect a picnic shelter. Hot showers have also been installed, and there has been a lot of attention paid to various safety aspects at the campsites. The hope is that it can better serve those who hope to stay for more than a short amount of time.
One draw for visitors is Riondel Daze, a festival that takes place during the August long weekend. In the past, the event has focused on a baseball tournament, but last year it expanded to so much more with an art show, scavenger hunt and fishing derby for the kids as well as a silent auction, dinner and a family dance. In fact, Riondel has put a lot of energy into maintaining the community as a great place for families to visit. With a little supermarket that still takes orders and will even do deliveries, three churches and a great family-friendly pub, Riondel truly caters to all ages.
"I think one of the big attractions (in Riondel) is that it's very beautiful as it's right on the lake. It's also safe and fairly quiet," said O'Rourke. "It's got a laid-back, relaxed feeling about it. People are friendly—they'll talk to you. You don't get that city feel. You get the feeling of being dropped back into the '50s."