The future of having fun in Revelstoke
Revelstoke bolsters its economy by investing in a snowmobile greeting centre and other local tourism infrastructure projects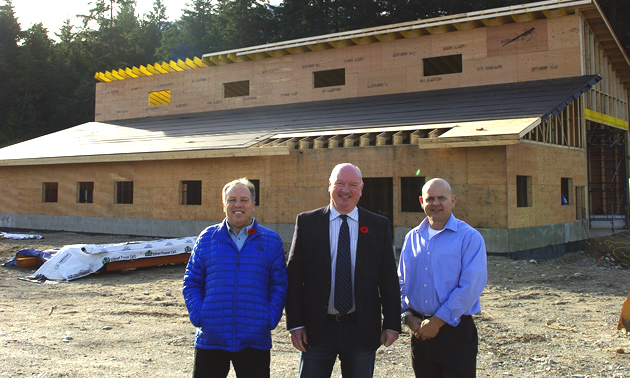 The sun is shining on a snow-cloaked Boulder Mountain as Mark McKee, mayor of Revelstoke; Alan Mason, director of community economic development; and Daniel Kellie, president of the Revelstoke Snowmobile Club (RSC), watch the city's new snowmobile greeting centre take shape. Plans for this $350,000 facility have been in the works for several years, and it is just one of many tourism infrastructure projects the city has recently invested in.
The greeting centre, which is located on Westside Road, sits at the gateway to Revelstoke's most popular snowmobiling area. Construction began in August and the 3,000-square-foot building is expected to be complete by April 2016. It should reach lock-up stage by the end of November.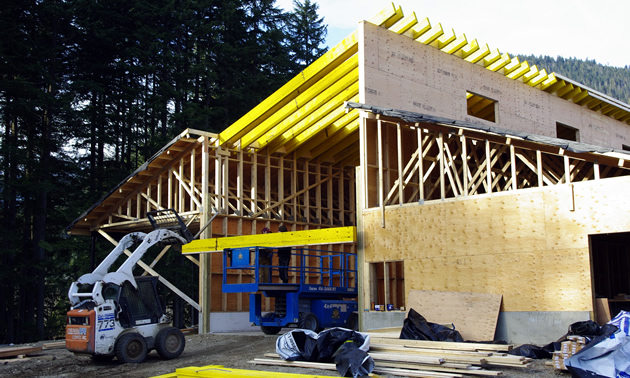 When complete, the building will serve as a welcome facility for snowmobilers, the place where they can obtain maps, purchase annual memberships and get information about avalanche safety and environmental closures. The building will also house the RSC office, clubhouse and its grooming machines.
Funding for the project came from grants, with $160,000 from the provincial government's Resort Municipality Infrastructure Fund (RMI); $100,000 from the city's Economic Opportunity Fund; and $90,000 from Columbia Basin Trust.
Kellie said this project will be of great benefit to visiting snowmobilers. It means a lot to the club as well.
"We'll have a place where we can all meet and where we can have all the groomers under cover and work on them," he said. "It just keeps everything next to our mountain . . . . "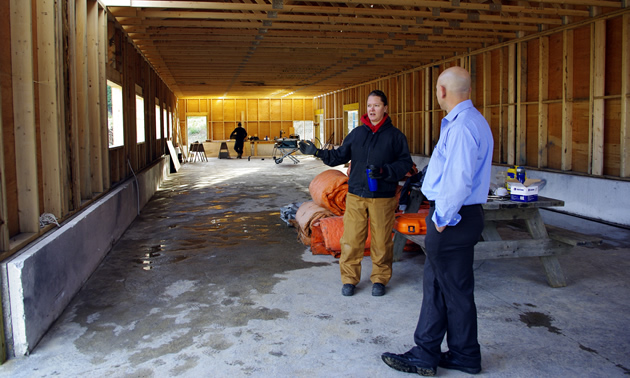 Business benefits
Revelstoke has become a prime destination in Canada for snowmobiling. Between 25,000 and 30,000 snowmobilers visit each winter, and those numbers are modest since the RSC can only track visitors on Boulder Mountain and Frisby Ridge. There are six other non-managed snowmobiling areas around Revelstoke.
The impact this user group has on Revelstoke hotels, restaurants and fuel stations is substantial.
"We estimate that snowmobiling contributes over $10 million to the local economy every year," said Mason.
The climate and geography lend itself well to snowmobiling, and people come from Alberta, Washington, Montana and as far away as Ontario to get a taste of the area's deep snow and prime mountain terrain.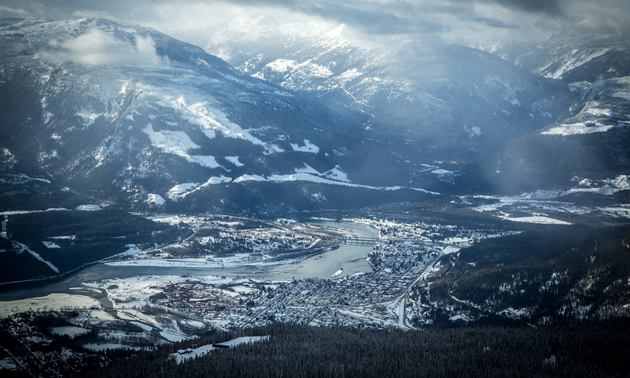 Since 2008, growth in Revelstoke's tourism sector has been on a steady incline, with annual hotel revenues increasing by over 35 per cent. It is now estimated that 20 per cent of the community's primary income (income generated from outside of the community) is driven by tourism.
"What is great for local businesses is that the growth has taken place in both winter and summer seasons," said Mason.
Adding to the mix
Revelstoke is eager to build its reputation as a year-round destination. Last summer, the city received close to $600,000 from the province's RMI program to support local tourism. Funds from the program have been allocated to the Revelstoke ATV Club to improve trails on Sproat Mountain, and to the Revy Riders Dirtbike Club to complete the club's track facility. As a result, the Revy Riders were able to host an event in September that attracted 200 riders to the area.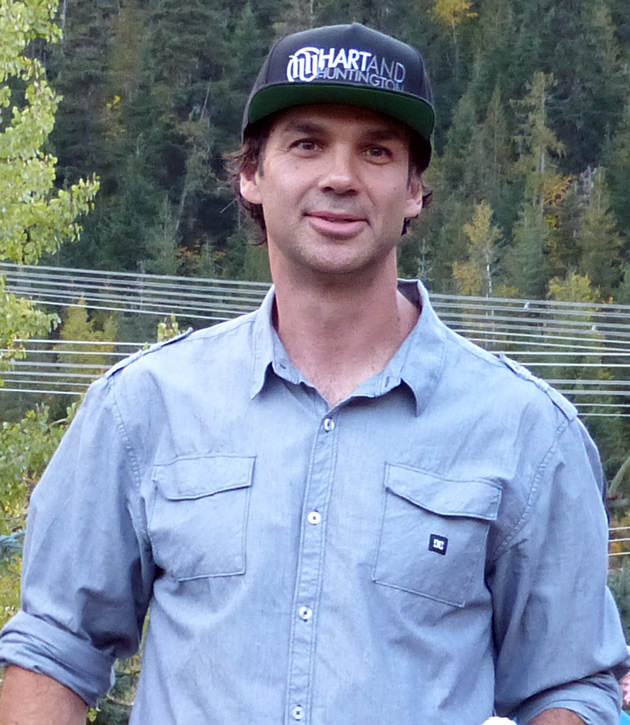 "Again, this is great news for us," said Mason. "It brings people to town. They are staying at hotels, they are spending money and it really contributes to tourism so we're really happy to be working with that group also."
Over the years, the city has invested in non-motorized recreation, too, including Nordic skiing, mountain biking, alpine skiing and hiking. According to Mason, Revelstoke is fortunate to have the land base for such a wide range of recreational activities. But the key to its success as a tourist destination could very well be the partnerships that are in place.
"The local groups that help to develop and maintain the facilities for these activities have a long history of working co-operatively and collaboratively to ensure there is little or no conflict with offering these activities to visitors," said Mason. "The city has developed a good working relationship with all the clubs that offer these activities and will continue to support them in whatever way we can."
With tourism identified as a key driver of B.C.'s economy, Revelstoke may be a model for other communities looking to market themselves as a year-round tourist destination.