Revelstoke's excellent boot fitters
Boots that fit are key for an excellent ski experience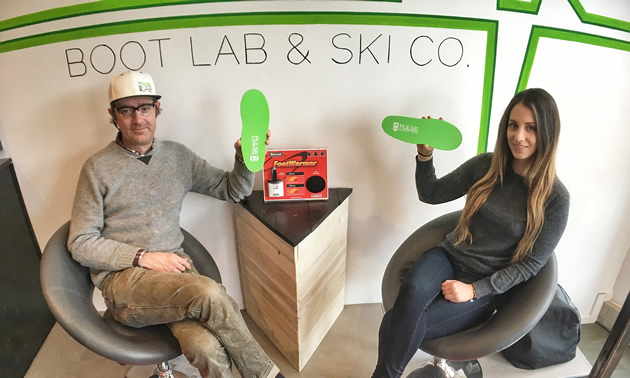 At Pulse Boot Lab & Ski Co., a Revelstoke business with a growing reputation for expertise in ski boot fitting, the owners write their own history rather than following the status quo. Kai Palkeinen and Kelly Hutcheson prefer to train new boot-fitting staff from scratch, to their methods and standards, rather than take on the task of overcoming ingrained and possibly incompatible training.
"Experience is relative, expertise is not," said Palkeinen.
Palkeinen is a remote-access paramedic with more than 20 years of internationally acquired expertise in ski boot fitting. Hutcheson is a multimedia artist who also worked in the ski industry. The two met in Ontario and four years ago decided to head West to live in the mountains they both love. Revelstoke felt like the right place to settle.
Timed for the trend
It quickly became apparent that the couple's expertise in ski boot fitting could be put to good use among the increasingly international, high-level skiers who were flocking to Revelstoke. Some people in the community doubted that such a specialized business could survive, but the couple knew the worth of their service.
They opened Pulse Bootfitting in 2015, and it didn't take long to convert the skeptics. In fact, they moved Pulse to a more central location and established the business as a strong retail partner for their key vendors in only their second season.
"Boot fitting is not a regulated industry," said Palkeinen. "At Pulse, we pride ourselves in doing our best to provide a high, professional, international level of fitting and service. That pride has led to the development of our own tools, systems and procedures, and will ultimately lead to the development of our own products. It's all pretty exciting stuff for us, but more importantly, it's exciting for skiers in general."
Hutcheson does most of the marketing for Pulse, as well as social media, advertising and organizing of appointments. She also does a lot of technical work, like grinding footbeds, making injected liners and shaping shells.
"Our tech area is in the shop," she said. "We want people to see what we're doing."
Pulse is a seasonal business that, within two years, has built a good following among local guides, professional skiers and recreational skiers.
"We have seen skiers travelling from as far as Colorado and the East of North America specifically for a visit to Pulse," said Palkeinen. "Last season, our late afternoon business was overwhelming. We've had to come to a system where we're taking appointments with online booking."
The basics of excellence
In order to provide their staff with six weeks of training, Palkeinen and Hutcheson do their hiring well before the season becomes busy. Hiring early is expensive, but it means they get their pick of the applicants, and those applicants have the best chance of finding living quarters in Revelstoke's tight rental market.
The hiring process also includes an aptitude test—employees need to be able to work with tools and quite literally have a feel for achieving a good fit. They learn foot biomechanics from Palkeinen, along with the ability to diagnose the causes of a bad fit.
"Our philosophy has always been to give the consumer as much information as we can, so they can make an educated purchase, whether it's with us or with someone else," Palkeinen said. "We've grown from one staff member in our first year to six staff members this year, including the two of us. Our clientele are skiing in other areas of the world, where a high level of quality and service is expected, and we're doing our best to provide that."
Apparently, their efforts are paying off. In November 2016, Pulse Boot Lab won the annual Entrepreneurial Excellence Award from the Revelstoke Chamber of Commerce.
The 20-centimetre benefit
Palkeinen and Hutcheson count on their staff to help build the reputation of their business, and in return they pay well and offer a special benefit.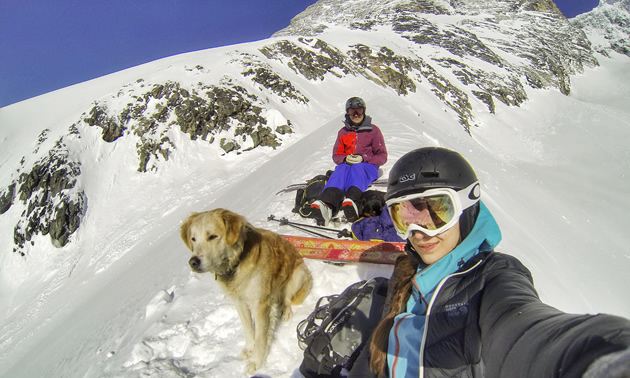 "We have a 20-centimetre rule," said Hutcheson. "If it snows more than 20 centimetres overnight, all staff get the morning off to ski. We either close the shop so we can all go out, or Kai and I will be at the shop but our staff can all get out to ski. We want them to be able to do what they love."
"It's still a small business," Palkeinen said, "and we've got a long way to go before we're at the place we want to be, but we're certainly on track."