Pleasing taste buds and touching hearts
The owner of the Revelstoke Sugar Shack is a promoter of smiles and sweet gestures in an otherwise difficult time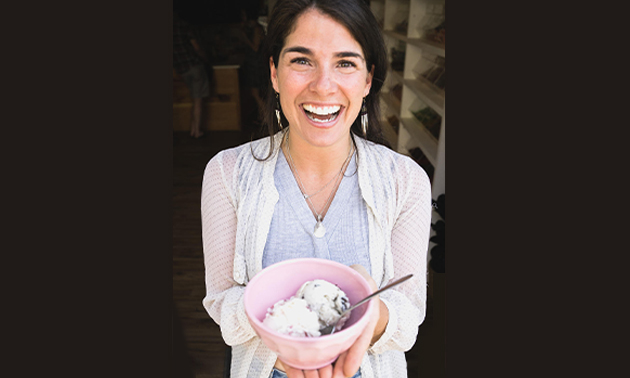 Amy Orlando owns the Revelstoke Sugar Shack now, but she started her first company while spending the summer at a family cottage on Savary Island, along the Sunshine Coast. She was saving up for university and recognized the need for a gathering place and sweet shop on the island. Her entrepreneurial instinct kicked in, and she ended up turning her parents' old tool shed into a quaint candy store. She didn't stop there.
"The following year I expanded with an ice cream truck that was situated down-island," Orlando said. "I hired a summer student to fill the position for managing the second location on the island. The Savary Sugar Shack is still in operation and is run seasonally by summer students."
Travel and a taste for adventure
Orlando is living a varied and interesting life. She completed an undergraduate degree in environmental science, and has worked overseas in the Congo at a Canadian-based exploratory gold mine.
After that she travelled for a year, starting in Nepal and South-east Asia, finally making her way back to Vancouver and then to both Central and South America over the next 8 months. Not long after, she decided to start a new chapter and relocated to Revelstoke.
"And now, to be honest, what I feel most accomplished for is having made the decision to take a risk and start something new in Revelstoke," she explained. "I now have the opportunity to live and experience this part of the country that I find so incredibly beautiful and humbling at the same time. It's interesting how life pans out, I remember walking by the building the Sugar Shack is in now, and it had a for-lease sign on it. I took the gamble to start something new, even though I was already lined up to go back to university the following year on Vancouver Island to continue my education. Despite what has happened this past year, I still feel a strong sense of community and a feeling that we will get through this and the businesses will continue to thrive and pull through these challenging times."
Facing the challenges of COVID-19 with professionalism, creativity and grace
Orlando took it upon herself to get creative with her marketing, thinking outside the box in response to a global pandemic that has been especially tough on her industry.

She began online, advertising "candy gram" services wherein a customer could order a custom candy gift bag and have it delivered to a loved one's doorstep. Friends and family are using this service to stay in touch and lift each other's spirits even if they can't visit one another in person.

"On sunny days we delivered an assortment of home-made ice cream sandwiches," she said. "This kept me busy, and I am so incredibly thankful for all the support and business during the spring when things were shut down. When Easter rolled around, I converted the Sugar Shack into the Easter Bunny Headquarters. Thank you to my supportive boyfriend and his family who were in my quarantine bubble; we all worked hard to prepare and fill Easter baskets orders before delivery day. That was so much fun!"

Orlando is also enjoying the outdoor recreation around Revelstoke, and looks forward to snowboarding and exploring the mountains in between her busy work days.