Jamie Mayes meets Revelstoke
New Revelstoke resident Jamie Mayes is the new executive director of the Revelstoke Chamber of Commerce
As a newcomer to both Revelstoke and her position as executive director of the Revelstoke Chamber of Commerce, Jamie Mayes is pleasantly surprised by the resources and support available to the local business community. She's also amazed at how much this small community tackles.
On May 29, 2016—her first day of work—Mayes attended the annual general meeting of the B.C. Chamber of Commerce. She was impressed to hear Judy Goodman, the outgoing executive director of the Revelstoke chamber, present a policy on short-term vacation rentals. That policy was passed unanimously and adopted by the provincial chamber of commerce.
Because of Goodman's work with the city's accommodation association in putting that policy together, Mayes was asked to be part of a panel at the Union of B.C. Municipalities convention that was held from September 26 to 30. Mayes said she was a little nervous going into the experience, but it was all part of growing and adapting to new challenges.
"Chambers are always working in co-operation with stakeholders in the community," she said. "With me being so new here, my first four months have been occupied with learning what the climate is here, what's going on, who's doing what, how we have been supporting the existing initiatives and how we can do that in future … just getting a gauge on the community is what I've been doing."
Mayes said she's blown away by the support provided by Columbia Basin Trust (CBT) and Community Futures to small communities in the area.
"I know that in larger cities, where I'm from, there's funding to some extent," she said, "but not anything like what I've seen up here. It's amazing what these groups do with the funding, too—really cool, progressive things are happening on the ground, and it's really exciting to see."
Mayes expressed her admiration for the strong network of people who support multiple organizations in Revelstoke. "Not that you don't see that in the larger communities, but in a small community your resource base is smaller and there are amazing people who extend themselves to fill the gaps."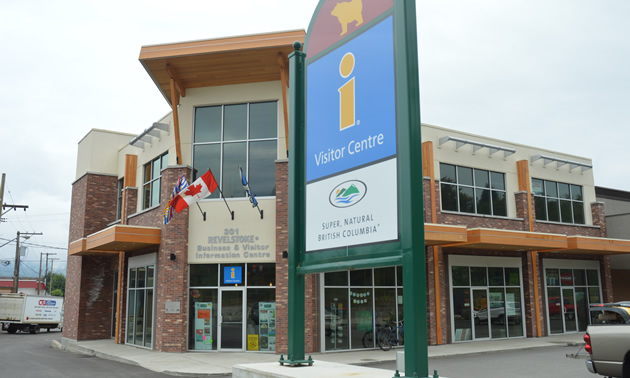 She said that she has received valuable support from the more seasoned chamber executives in her area, "And I have a pretty fantastic board as well—they're so good."
Mayes is looking forward to her first Business Excellence Awards in Revelstoke on November 5, and a new winter event called Miracle on MacKenzie, scheduled for December 10.
"A group of businesses are bringing a community perspective to the holiday season, making it not about the retail aspect of Christmas but more about the Christmas spirit," she said. "We're not doing a parade this year—it'll be more of a story that flows throughout our downtown, involving children and youth and our theatre community, and making it very contemporary, with a happy ending, of course. We'll also be lighting a really big Christmas tree in Grizzly Plaza on the same day."
Revelstoke will likely have a Business Walk at some point in the future, but in the meantime the chamber, Community Futures and the economic development department have developed an action plan based on recommendations arising from the city's recent Business Retention & Expansion Study.
With the approval of her board, Mayes looks forward to enrolling in the free Non-Profit Advisors Program offered by CBT. She believes it's perfect timing for her, coming into this role, to have an expert third party assess the organization and see the opportunities and gaps. She anticipates that CBT will provide the Revelstoke chamber with some insights for improvement and continued success.
Mayes said that she has some great ideas for programming in the new year, but no firm plans as yet. For now, she said, "I've got my nose to the ground and I'm figuring things out."