Forging the way: How this B.C. artist is taking blacksmithing to new heights
Kyle Thornley of Metal Mind Forge produces stunning metalwork creations in Revelstoke
Kyle Thornley is a talented B.C. artist creating fine architectural metalwork from his Revelstoke studio, Metal Mind Forge. He owns the company along with his wife, Katie Langmuir, who assists with the business side and also as a creative collaborator. Langmuir does get hands-on with some of the projects and runs her own photography studio, as well. Metal Mind Forge also has studio assistant Alex Pollard on hand to help with the metalwork creations.
We wanted to know a bit more about this B.C. artist, so we asked Kyle Thornley for some insight on his business and what makes him passionate:
Where are you from originally, and what made you decide to live and work in Revelstoke?
My wife and I are originally from the Barrie, Ontario, area and we both moved out west individually after highschool. I moved to Whistler to coach skiing and bartend, while trying to ski and snowboard as much as humanly possible. After moving around to different towns in the interior and attending trade school in Nelson for welding, something about the location of Revelstoke, the community feel of the town and the up-and-coming nature of the resort attracted us here.
What inspired you to get into the art of blacksmithing?
What inspired me to get into blacksmithing was going down the YouTube rabbit hole and realizing the endless creative possibilities that blacksmithing offers over more standard fabrication processes.
I loved the TV shows Monster Garage and American Chopper when I was a teen, and that got me keen on the first practical step of learning how to weld. The addition of heat in blacksmithing allows the material to react like stiff clay for short periods of time when it is yellow or red hot, and can be manipulated when pressure is applied with hammers/tools/machines to desired shapes and effects. It is quite an exciting process being 'in the moment' with hot bars of steel!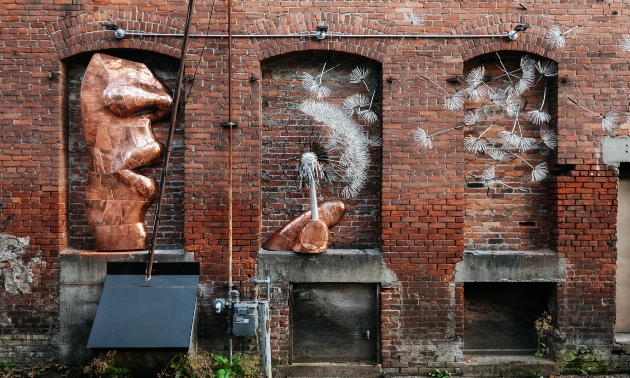 "A Simple Joy" - Photo courtesy Metal Mind Forge
Which of your creations are you most proud of, so far?
The piece of sculptural work I am most proud of at this point is my Art Alleries sculpture, 'A Simple Joy', here in Revelstoke. Art Alleries is a Luna Art Festival legacy initiative that turns the underutilized space of downtown alleys into an art gallery walking tour through downtown. It is the brainchild of creative superstar Rob Buchanan, and Arts Revelstoke.
The sculpture depicts a large, partial face, blowing on a mature dandelion blossom, and the seeds dispersing down the wall of the alley behind the Roxy Theatre. The idea touches on the simple, joyous act of blowing on a dandelion, which can be sometimes lost in adulthood, but also trying to challenge the perspective of many people who view the flower as a troublesome weed, losing sight of the important role they play in our urban ecosystem, with many beneficial characteristics. I often focus on trying to create a connection between people and nature, and this piece seems to have an impact.
This piece was assisted by metal artist/fabricator Jack Sutter, who added immensely to the outcome overall.
What has been your biggest victory since starting the business?
My biggest victory since starting my business is probably surviving the transition of relocating to Revelstoke. I don't know if it will ever feel easy, but it sure was a nail biting experience trying to establish ourselves in this small mountain town, with its unique challenges. We were really chasing the dream, and it feels like we are over the peak and gaining some momentum now. Being embraced by the strong arts community here sure helped things along with great opportunities and exposure.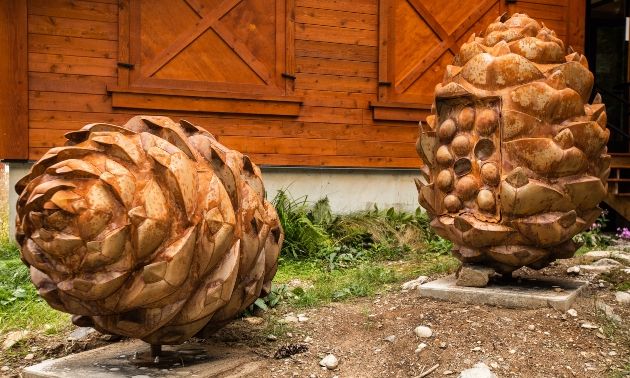 - Photo courtesy Metal Mind Forge
What are your plans for the future?
Our plans for the future are to continue to pursue meaningful public art projects and architectural works, but we really hope to be able to carve out the time to eventually provide weekend workshops, evening lessons, and open studio sessions to expose people to the craft. There seems to be a growing interest in blacksmithing as a whole, and it has always felt important to share the blacksmithing experience with others.
If you had one superpower, what would it be?
The business owner in me would love the superpower of replying to emails at lightspeed, wishfully, but a more superhero-like power would be having laser eyes to rapidly heat up the material.
Is there anything else you would like to tell our readers?
For those interested in blacksmithing, the Kootenays seem to be a national hotspot for it, largely in part to Selkirk College's Blacksmithing and Metal Art program, which is one of only a couple programs in Canada that focus on forgework. There is also the Kootenay Blacksmiths' Association which hosts meetings/demonstrations in the region a couple times a year. Here you can really get a taste for it, and talk shop with keen blacksmiths on how to get started. It is a great resource to become a member.