There's no 'I' in team
Parastone leaders believe that true success comes from building relationships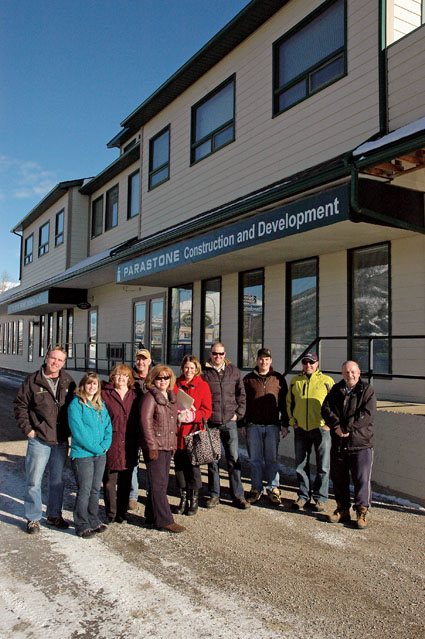 Simon Howse and Tony Dennis see opportunity where others see obstacles.
Howse and Dennis, along with a third partner, Jason Smith, form the backbone of Parastone Group of Companies, a Fernie-based operation that is responsible for several notable developments in B.C.'s Elk Valley, including Veneto Place and 901 Fernie. But Howse made it clear that Parastone wasn't a development company.
"We're investors, not developers," he said.
Howse, the CEO and general manager of Parastone—is part of Fernie's ever-growing group of Australian ex-pats, but he didn't come for the skiing as so many Australians do. Howse was travelling with his Canadian cousin, Joe Howse, through Far North Queensland in 1995 when Joe mentioned a dilapidated hostel in Fernie as a possible business venture. Howse was intrigued. So much so that he wagered a game of pool on Joe's open, transferable ticket home—and won. Within days he was on his way to Fernie to have a look at the Sundowner Hostel. Howse saw the potential but returned home. Two years later, he announced that he was moving to Canada, and the two cousins went to work cleaning up and renovating the now-renamed Raging Elk Hostel. (Joe Howse is now the sole owner of the hostel.)
The next venture was the Grand Central Hotel in downtown Fernie, a condemned heritage building that the partners and local investors gutted and refurbished, bringing new life to the corner it occupied. One success led to the next, and in 1999, the partners purchased the Fernie Hotel. They spent three years renovating it completely, tripling the investment by giving it what Howse called a simple facelift and new business model.
"We didn't reinvent any wheels," said Howse. "We just used good concepts."
Movin' on up
Parastone was officially on a roll. The next acquisition in 2003 was an apartment block that, in its day, was known as "The Ghetto." The renovations required were extensive, but today, the Fairview Apartments are an attractive, modern complex that has been estimated at approximately 10 times its original value. The success of this endeavour paved the way for Howse's most ambitious—and most spectacular—project to date: 901 Fernie.
The old Fernie school was built in 1908. The three separate buildings—the main school, the woodworking building and the science wing—had been deteriorating by degrees for years when the school was abandoned. While other investors toyed with tearing down the existing structures to build new in the plum location, Parastone was able to envision luxurious, state-of-the-art condos that conformed with the City of Fernie's desire to densify the downtown core. It was a daunting project but the results speak for themselves. 901 Fernie—with 44 residential units plus commercial space—has an urban, modern feel to it combined with the presence that one only finds in a substantial heritage building. It's old and new, modern and stately, small mountain town and metropolitan downtown.
The 901 project was complicated, and Howse called in one of his oldest friends from Australia, Dennis, to help. Howse and Dennis had gone to school together in Sydney and played on the same football team, and Howse was confident he could draw on Dennis's experience to support Parastone's business ventures. Dennis, who is now the director and general manager of the Fernie Hotel Group—came for the project and in short order, moved his family to Fernie as well. With the full team of Howse, Dennis and Smith (the director of the Parastone Group), Parastone was now officially a force to be reckoned with.
Something for everybody
901 Fernie is definitely a high-end project, but the team at Parastone wanted to ensure that Fernie and Sparwood were livable for everyone. The Veneto Place project is one that other communities are taking a good, hard look at.
"Here's our solution for the problem of the cost of housing in Fernie," said Howse.
The company moved on to three turn-key construction projects in Sparwood—20 affordable single-family homes on the Whiskey Jack golf course; the Cherrywood subdivision, a high-efficiency neighbourhood currently in development built to Green Gold standards (77 to 80 per cent efficiency); and Whitewood, a multi-family unit. The company is also working on the construction of four homes in the Wildstone development in Cranbrook.
Greater than the sum of its parts
Obviously, with so many projects on the go—not to mention running a number of food-and-beverage and retail businesses—it would be understandable to think that Howse and Dennis were stretched to capacity. Howse demurred. He said the company has a strong, year-round team of approximately 80 employees, plus the hirees for each construction project. Howse made it very clear that the company wasn't just him, or just himself, Dennis and Smith.
"The team is way bigger than the three of us," agreed Dennis.
In fact, it's the relationships that have been built since the incorporation of Parastone that Howse believes are the true bedrock of the operation. While they've matured with every project and each project has increased in size and scope, the network the team has created has made each succeeding venture doable. They've used many of the same contractors for each project, and have enduring business relationships within Fernie and Sparwood. The reason for that, said Howse, is that they're committed to doing business in a way that benefits the community in which they operate as well as the people they're working with.
"Our philosophy is that we want to create landmark projects that make a distinct difference to communities," said Howse.