Radius Retreat offers a slice of "Kootenay Life" with its unique ingredient—yurt accommodations
Radius Retreat's yurt adventures are a great stepping-stone into the East Kootenay backcountry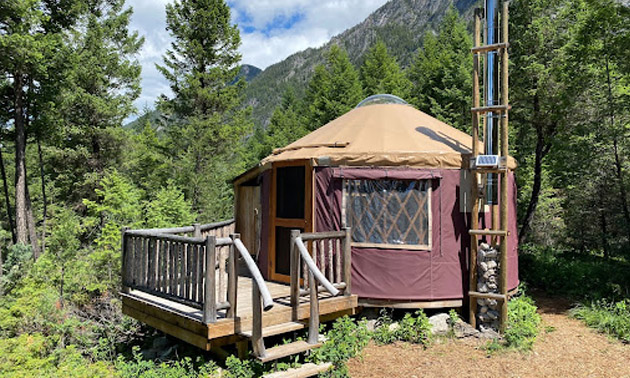 Everyone enjoys our Kootenay backcountry in their own unique way: some prefer to rough it with little more than a tarp and some cooking supplies, while others are more than happy to take it all in with a few added comforts of choice. Our backyard attracts people from all over the world, and many more who live close by.
Right next door to Kootenay National Park and just four kilometres north of Radium Hot Springs, Radius Retreat sits on nearly 400 hectares of wilderness with 12 kilometres of signed trails on the Elk Park property. Eight yurts provide guests with the opportunity to visit this paradise year-round.
Radius Retreat has been fully operational for the past three years, getting started five years ago by Brian and Loren Braat in partnership with Curtis Norman. After graduating from Mount Royal University with a degree in Ecotourism, Norman moved to the Kootenays to open Radius Retreat with the Braats, who he worked for during his practicum at school.
"We wanted to be within three hours of the big city [Calgary]," said Norman. "We love the pace of the area, and the vibe fits the business perfectly."
Sustainability and care for the environment are at the heart of everything they do. For example, the business runs fully on renewable energy, sourced from a creek that runs through the property.
So, what is a yurt?
As described by Norman, a yurt is a round-shaped structure that serves as a hybrid between a tent and a cabin. It is traditionally from Mongolia.
"The yurts are a good way to immerse yourself into nature," said Norman. "Everyone from experienced backpackers to newbies can feel comfortable in the yurts."
Their yurts are scattered across the property, all connected by hike-in trails. Guests can book different sized yurts with varying distance from the parking lot at the base of the park.
What to expect
The yurts are totally off-grid, and amenities include water, firewood, a BBQ stove and solar-powered electricity. Guests are responsible for bringing their own bedding, food, propane and outdoor equipment in their backpacks along the trail to their yurt. Choose your distance wisely.
From there, how you do your adventure is completely up to you. The owners encourage guests to explore Kootenay National Park next door if they are up for it.
Coming soon
Norman proudly announced that Radius Retreat has purchased two more yurts that they want to have built in time for the Christmas season. Looking further ahead, he said that they are gearing up to return to hosting outdoor events in the next year. Group retreats and even small weddings are on the itinerary for expansion.
Norman expressed his gratitude on behalf of his partners and himself to their community for all of the support they have received.
Curtis, Brian and Loren all are doing their part to abide by provincial health and safety guidelines during the pandemic.
It's safe to say that almost everyone could use a little escape lately, to unplug, unwind, and relax. Some fresh mountain air and a dash of adventure are the perfect additions to your next getaway.