Ashley Pederson, farrier
In a list of non-traditional professions for women, "farrier" has to be near the top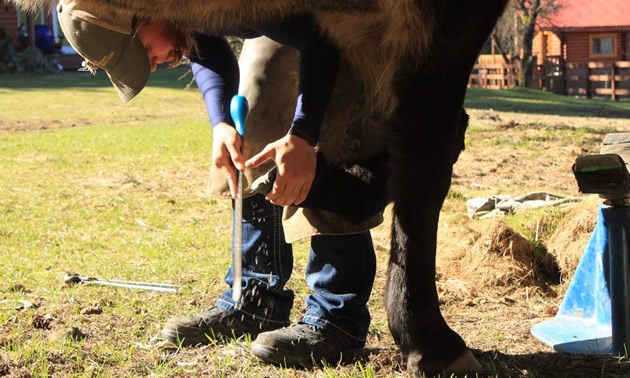 Why does she do it? The work of a farrier is seriously dangerous and physically exhausting, but for Saskatchewan-born Ashley Pederson, owner-operator of Timberlost Farrier Service and Training, the reason for doing it is simple: she loves it.
"I absolutely love everything about my job," she said. "I love the people, the places I'm in and the animals I get to work with, and I love teaching people. If I can sit and talk people's ears off about ticks or hoof care or other things that don't occur to them about their animals, I just love that."
A career as a farrier was nowhere in Pederson's consciousness when she finished high school. She planned to become a kinesiologist, but that didn't pan out, so she looked for other options. She knew very little about horses and even less about the work of a farrier, but she had seen her father pay good money to a farrier for a half-hour's work, so she decided to embark on the training.
Pederson now lives in Radium Hot Springs and works with equines throughout the Columbia Valley and the Elk Valley. Covering such a large area can be costly in terms of travel time and fuel for her vehicle, and she's hoping to find a new, more central location for her business. Somewhere near Cranbrook would be ideal.
Pederson works mostly with horses—including Clydesdales—but she has a particular fondness for mules and donkeys, and is something of a specialist when it comes to working with them. Her own mule, Honey, is a bit of a character—she smiles and does tricks and is virtually unflappable.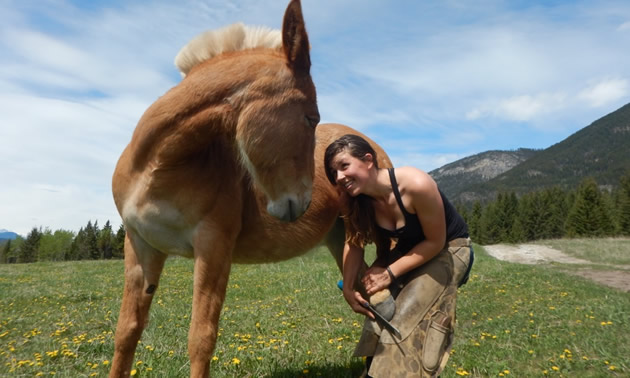 "She's a sweetheart; she's like a 700-pound dog," Pederson said. "I'd sell the farm to keep her."
So what makes the job so dangerous?
"Everything," Pederson said. "Absolutely everything. Horses are prey animals, so anything can make them jump—loud noises, dogs, cats—or maybe they're just being rude. If a horse decides he just doesn't like what you're doing, you've got 1,000 pounds of horse stepping on you or biting you or pushing you around."
In spite of the dangers, she loves the animals and she's become friends with many of her clients who, she said, are pretty much everyday people who want to take care of their animals and don't have unlimited budgets.
At just 30 years old, after 11 years in her profession, Pederson believes she has to consider what might be her next line of work.
"I might be halfway through my career, depending on if I get hurt or not," she said. "That's just the way the job goes."
Pederson has also worked in the logging industry, she knows a little about being a guide for fly-fishers and hunters, and she recently tried her hand at carving.
"I started carving skulls this last winter—kind of like wood carving—and that's actually quite lucrative," she said. "It's creating something beautiful out of something macabre. I've always had a kind of a gypsy soul. I'm independent and I like to always learn more."
She won't change careers unless she has to, though, and we hope that Pederson's love for animals and her skill in working with them keep her safe and happy in a career that's as long as she wants it to be.