These artists are woven into the fabric of Nelson, thanks to the Nelson Stitch Lab
The public sewing studio has been teaching and mentoring young and old sewists for eight years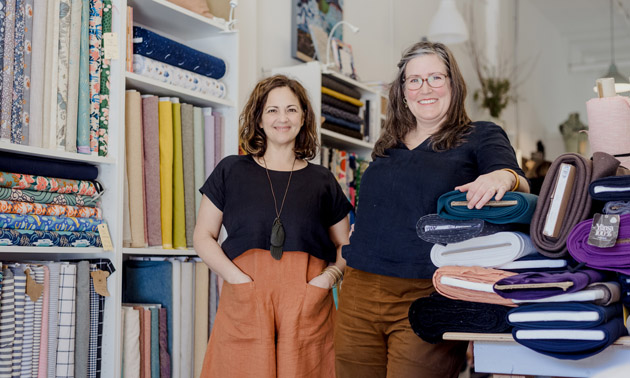 Nelson probably has more sewists per capita than many other Canadian municipalities. That's thanks in part to the dedication of Deborah Achleitner and Sarah Albertson, co-owners and teachers at Nelson Stitch Lab.
For example, their popular after-school classes are usually full, and since the pandemic, interest in sewing and needlecrafts has boomed. (You can add sewing machines to the list of toilet paper, bread machines and bicycles as items hard to find during the pandemic.)
Nelson Stitch Lab is a public sewing studio that has been churning out sewists through numerous sewing classes for eight years, including a drop-in option for those working on their own projects and maybe wanting a little advice and encouragement.
Deborah and Sarah also introduced me to a new word—sewist. This relatively new term combines the words "sew" and "artist," thus a sewist is someone who creates sewn works of art including clothing or other items.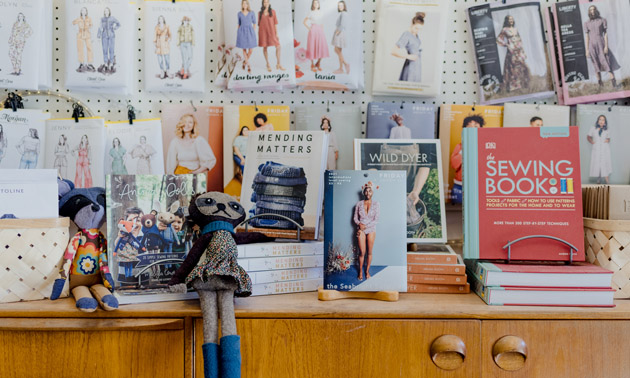 "We really love having a brick-and-mortar space," said Deborah. "We love seeing our customers in person, and it's especially wonderful to see their finished projects. We love being a part of Baker Street. It's always a good feeling unlocking the doors to the shop, putting out the sign board and cartful of remnants."
We interviewed Deborah and Sarah recently and learned a great deal about these happy shop owners.
Who are your primary customers for the public sewing studio?
We've been asked many times "who is your customer?" Our goal is to be an inviting space where the beginner can feel welcome to ask questions and where the experienced can come share their knowledge.
Some are retired and have a lot of time to develop their skills and delve into their creativity. Others are approaching it from a very practical perspective—they want to be more conscious of what they wear and how to keep their clothes going for years and years, so they come to learn to repair and alter clothing. Others love fashion and want to make that item of clothing they've envisioned in their mind but couldn't find on the rack. Others simply can't find clothes that fit, and sewing offers a solution to a problem.
We try to have something for everyone, including those who don't have an interest in sewing. For them, we have lots of textile-related crafts. Our goal is to provide people with the tools to make things and to make time for themselves. None of us are perfectionists, and we aren't trying to create perfect sewists. We just want people to be confident enough to sit down at a sewing machine and make something for themselves.
Which of your classes are most popular?
When we weren't worrying about COVID-19, classes like macrame, sashiko and embroidery were great ways to spend a Saturday afternoon. These hobbies don't require a lot of space or equipment, you can be mobile with them, and the results are beautiful.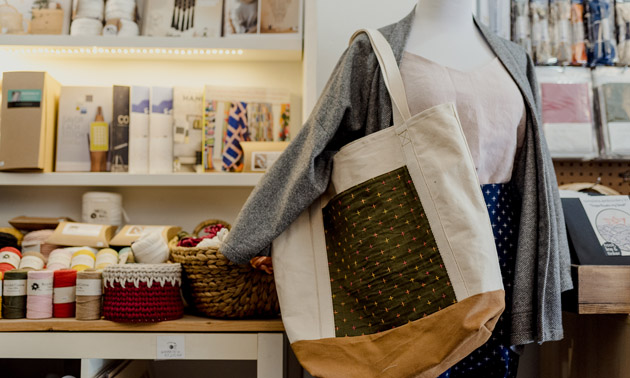 We have been easing back into project-based sewing classes in the evenings for a maximum of four people to a class. The classes are open project and skill level, so we have people who have never sewn before and people who have but want to focus on new techniques. We also offer a 10-hour punch card for those able to come in during the day for one-on-one sewing guidance.
Your after-school, spring break and homeschooler classes are a great idea. Do you teach many children?
We run a consistently full after-school sewing program four days a week. That's a lot of kids that have come through our doors, and that program has been running since 2013, so Nelson probably has more sewists per capita than many other Canadian towns and cities. The nice thing about sewing at Stitch Lab is that you get to direct your own learning journey. After you've learned the basics, you go your own way and pick your own projects. That's true of the younger students too.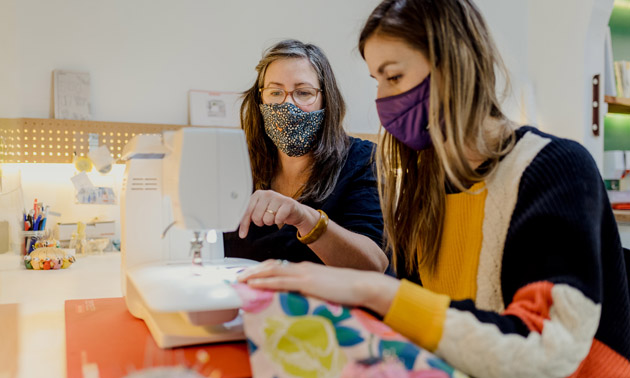 Many folks took up new hobbies during this pandemic. Have you seen an increased interest in sewing, quilting and other fabric crafts?
It all started with mask making. Slowly, we saw people think, "This is fun—what else can I make."
Interest in sewing and needlework has skyrocketed! Along with toilet paper, sewing machines have been hard to get these days between demand and parts shortages.
In this region, we are the Bernina and Bernette dealer, and it has been a roller-coaster ride keeping machines stocked. The experienced crowd are updating their machines and enriching their craft. The newbies are making a connection to where their clothing comes from and wanting to maintain and decide what they wear. Like slow food, we are seeing an appreciation for slow fashion and checking in with the true time it takes to make a beloved garment and precious quilt.
Hobbies are keeping us sane and keeping our minds on the task at hand, allowing us to use our imaginations in a positive way. We believe people will hold on to this when things open up again.
What else do you offer besides classes?
Nelson Stitch Lab is a fabric supply store with quality fabrics, notions, patterns, books and textile craft supplies.
We choose to make simple, comfortable clothing with clean lines and made with quality fabrics. We appreciate natural fibres like linen, bamboo, tencel, cotton and wool because they just feel and look good. When you step outside of fast fashion, you really want a timeless wardrobe with a few fun pieces thrown in. We sell patterns that tend to look great on people of any age, any body type and any gender expression.
We really love the prolific online offerings from independent pattern designers from all over the world. You can purchase a multi-sized sewing pattern with full instruction in a PDF format, print and tape it at home, or have it printed on our 36-inch-wide printer in our shop or from our online store.
A favourite pattern—we call the shop mascot—would be the Burnside Bibs overall pattern, although we are discovering so many new ones to create daily.
The online sewing world has exploded and is the most body positive, encouraging, inclusive space I have ever experienced, said Deborah.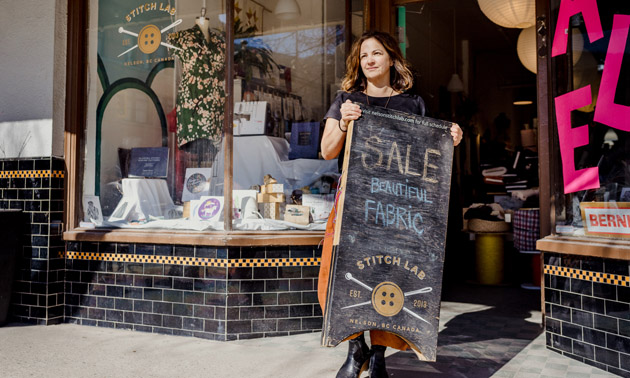 Please describe your journey to opening Nelson Stitch Lab on Baker Street.
Deborah first opened Nelson Stitch Lab on Herridge Lane in 2013 and a year later relocated to the front end of a sweet sun-lit, aqua-coloured bungalow on Stanley Street. The studio was conveniently located in the school district hub where she hosted popular sewing camps and after school sewing programs for kids. Deborah has done custom sewing work and repairs in the past; however, her dream has always been to share her love of sewing with adults too.
When Sarah moved to Nelson from Vancouver, she enrolled her daughter in the after-school program, and she enrolled herself in an evening class for Japanese flat pattern drafting. The class was marketed very casually, so as it turned out, Sarah was the only student.
After lots of chats and many dog walks together, they decided to reopen Stitch Lab on Baker Street and make it a store selling curated garment and popular quilting fabric, and a public sewing studio. Deborah would bring her extensive knowledge of sewing, textiles and teaching,and Sarah would bring her curatorial passion for fabric. They opened the shop at 505 Baker Street in July 2018.
How many employees do you have?
We have two employees, Laura and Daisy. Laura Kirby has been sewing garments for years, and she is prolific. She is part of a larger sewing community and helps keep us up on the latest indie sewing patterns. Daisy is Deborah's first student and is now studying for a BA in fashion design at Ryerson University. She is an excellent teacher and has patience and enthusiasm for young students.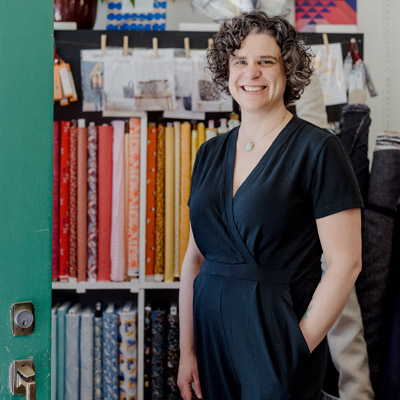 Is there anything else you'd like to share about your business?
We hope people know that you don't have to already sew to walk through our doors. Everyone is welcome.
For those living further afield, we have an online store, where we offer as much as we can get up online. We do our best to offer personalized service so we often do orders over the phone or by email. Please pop in to say hello to Deborah, Sarah, Laura and Daisy when passing through Nelson.