Five over 50 in Nelson B.C.
These five businesses have prospered in Nelson for more than 50 years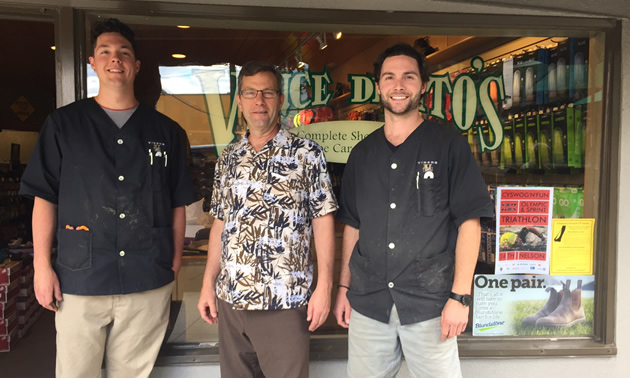 The oldest businesses have the richest histories. We found a handful of over-50-years-old businesses in Nelson, B.C., and did a little digging into those histories. Here's what our research revealed.
Vince DeVito Shoes:
Opened in 1926 by Vince DeVito
Subsequent owners: Vince DeVito Shoes has been family-owned for 90 years.
Current owner: Vincent DeVito
Cornerstones of success: DeVito's continues to offer shoe repair service along with specialty footwear for the hard-to-fit.
What's changed and what hasn't: The art of shoe repair remains the same, while the direction of the retail aspect has changed. DeVito's now offers custom orthotics and ankle bracing, and the digital age has brought many new connections thanks to the younger generation of DeVitos.
Wait's News:
Opened in 1937 by Walter W. Wait from Saskatchewan; he sold the store in 1960
Subsequent owners: W.M. Montgomery; Don E. and Ray W. Benedetti, Bill Morris, C.V. Hammett, and R.C. Heese; Don E. and Ray W. Benedetti; Ron Rubeniuk and Audrey Kemp; Steve Legros and Joanne Sanders; Fred and Mary Anne McClelland
Current owners: Jim and Mari Plamondon, since 2009
Cornerstones of success: Ice cream, lunch counter and friendliness
What's changed and what hasn't: In a nod to the digital age, Wait's posts a good morning update on Facebook almost every day. Services have been updated somewhat, but the store itself has held to its traditions in the best possible way.
Ted Allen's Jewellery:
Opened in 1896 by JJ Walker, who ran JJ Walker's Jewelry until 1923
Subsequent owners: 1923 to 1950 - John Balfour Gray; 1950 to 1962 - Howard Butterfield; 1962 to 2006 - Ted Allen
Current owner: Justin Pelant, since 2006
Cornerstones of success: Love of creating customized, unique designs for clients; community support and involvement
What's changed and what hasn't: The store has a computerized three-dimensional design centre for the creation of unique pieces for customers. Two beautiful, curved-glass showcases from 1896 are still being used, and Ted Allen's still provides great customer service and meets customers' individual needs.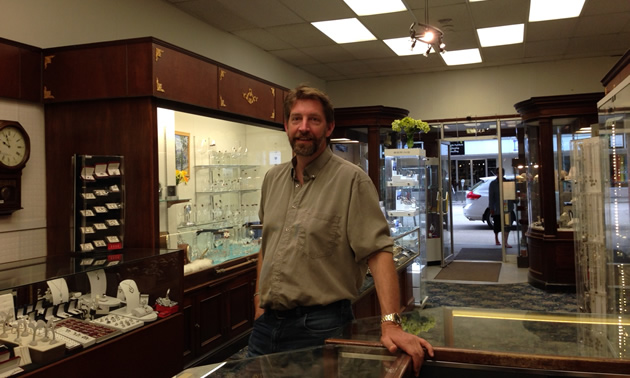 Vogue Photographic:
Opened in 1910 by Edward James Campbell. Its first name was Campbell Studio
Subsequent owners: George A. Meeres, Robert Nelson, Bill and Isabelle Ramsay; Helmuth and Alice Mayrhofer bought the studio in 1954
Current owners: Michael and Gabi Mayrhofer, since 1994
Cornerstones of success: Adapting to changing times and keeping up to date with new technology
What's changed and what hasn't: Technology has created huge changes in the marketplace, and Vogue's perennial willingness to diversify its services has kept it afloat even through hard times.
The Adventure Hotel:
Opened in 1913 as the Grand Hotel
Subsequent names: The New Grand Hotel, The Lord Nelson Hotel, the New Grand Hotel (again)
Current owners: Nelson Hotel Ltd., headed up by Danny Rickaby, managing partner
Cornerstones of success: Embracing the architectural features of the vintage building and creating an extraordinary, contemporary accommodation unlike any other. For more information, see this Kootenay Business article.
What's changed and what hasn't: It's still a hotel, but rooms and fixtures have been upgraded in style and quality, there are now three food-and-drink outlets, and the entire place has a cool, European vibe.