That'll be a penny, please!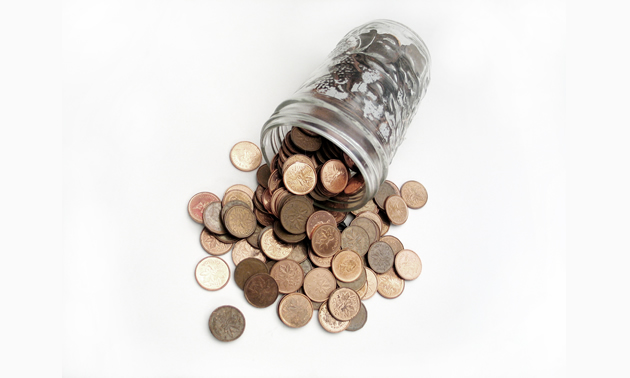 I'm going to begin this article with a quiz! What is something that was there when a penny had value, is here when a phone is a held-hand computer instead of a box on the wall that used short and long rings to identify your particular ring, and the age of which is usually stated by a child in three digits? The answer is ME!
I can remember buying three "tar babies," (gummy candies) for one penny, a Coke for three pennies with a two penny deposit on the glass bottle. So if you saved the bottle and could find two more you could get another Coke and have a penny left over.
Effective February 4, 2013, the Royal Canadian Mint will no longer supply pennies to financial institutions. This isn't going to change the world but will cause some confusion. This is not going to cause a rush to the banks with rolls of pennies as some thought when they first heard of the mint no longer making pennies. I was informed if you didn't get them deposited by a certain date you would never be able to deposit them.
The government decided it was not reasonable to produce something that cost more to produce then it was worth. One article I read said Australia quit minting pennies 23 years ago. It is interesting that the U.S. is not going to stop minting pennies however.
The Canadian Federation of Independent Business (CFIB) in its most recent newsletter has provided us with the following tools and tips to help our businesses make the transition to penniless cash transactions.
CFIB's 'Tools & Tips' — What does this mean for your business?
● Pennies are still legal tender, so if a customer has pennies on hand, they can still pay as usual.
● If a customer pays with cash and doesn't have exact change, round their purchase up or down to the nearest fivecents. For example, if the total costs $1.01 or $1.02, it will be rounded down to $1. If it costs $1.03 or $1.04, it will be rounded up to $1.05.
● Rounding is done only on totals—that is, after the calculation of all applicable sales taxes. As such, don't round prices on individual items. You also don't need to update your cash register.
● There are no changes to cashless transactions using cheques, credit or debit cards.
There are still a lot of pennies in piggy banks, cash registers and old coffee cans across the country—and pennies will remain legal tender—but they're going to become increasingly rare. The Government of Canada is encouraging businesses to start rounding cash purchases up or down to the nearest nickel.
For an accountant this produces a significant problem. We like things to balance to the penny so accuracy is obvious. Not balancing was like a finger nail scraping on a blackboard. For our real young entrepreneurs, I'll explain what a blackboard was at a later time. Now if cashiers take more or less pennies the cash registers balance for the shift or day will not balance to the penny, so management should ask: is that the 'new rounding problem' or maybe more than one significant problem in opposite situations coming to a total variance of only a few pennies? Many retailers for a long time now had a penny dish you could borrow from or leave your pennies in that solved this rounding problem.
This certainly is not a devastating situation but maybe significant? Oops! I have to go — my phone just beeped, reminding me I'm supposed to be somewhere else!