The gold in Griz
Grizzly Discoveries goes for gold in Greenwood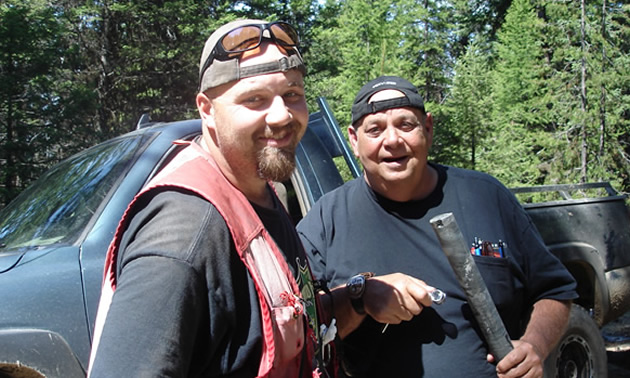 If you are familiar with the popular baseball movie Field of Dreams, then you are aware of the whispering in the wind that tells Kevin Kostner's character, ". . . build it and they will come."
With the president and CEO of Grizzly Discoveries Inc., Brian "Griz" Testo, the whispering in the wind is ". . . drill it and they will come," to his field of holes—and plenty of fields with plenty of holes he has.
The right address
"The best place to build a mine is right beside an old mine," said Testo.
Recently, a base was set up between Midway and Rock Creek, B.C., in the Greenwood area; the Grizzly Attack base was put in place in preparation for extensive drilling in late September. There are two or three mine potentials that were missed in the early mining days of the 1940s and '50s, and Testo plans to exploit them to their full potential. With up to 225,000 acres for a gold camp in a highly prospective area, Grizzly Discoveries has been doing the right science and geology over the last three years in preparation for drilling this fall.
"We already have some high-grade soil samples," said Testo. " We have some new targets in the area, and once we get started we will be drilling three or four months there."
Testo and his team are planning to begin surface diamond drilling to a minimum of 4,000 to 5,000 metres in the Copper Mountain, Ket 28, Motherlode and Dayton areas.
Grizzly Discoveries has been at the junior exploration level for some time, gathering extensive data and preparing for the big hit. Testo and his team have been gearing up for aggressive drilling in both British Columbia and Alberta this fall. In B.C., the hunt is for gold and copper while in Alberta it's potash. With potash demands increasing in China and India, buyers are lining up.
Grizzly Discoveries Inc. has acquired lands for potash exploration totalling more than 2.4 million acres along the Saskatchewan-Alberta border—a historically recognized region for potash activities.
A golden future
Testo is cautiously optimistic regarding his expectations about future findings.
"Go big, or go home," he said.
Be it gold in the fields of Greenwood or potash in east central Alberta, the next few months of drilling will be the tell-all-tale to the future for Grizzly Discoveries in both regions.