Growing and expanding
Fab Rite Services Ltd. builds upon its history of outstanding service with a new facility in Sparwood, B.C.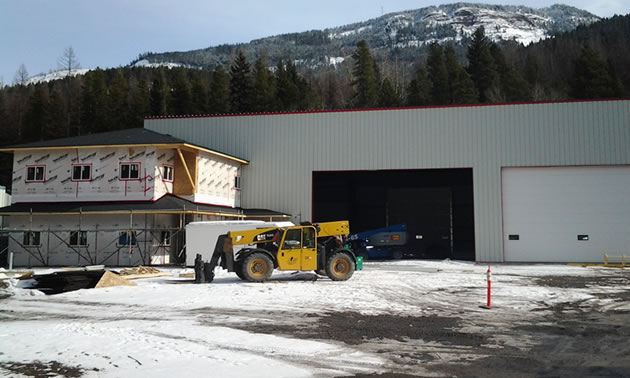 When coal mines in the Elk Valley need a shovel bucket repaired or a truck box assembled, it's not like they can visit their local Ford dealer—we're talking about 300-tonne equipment here. When it comes to steel fabrication and machine manufacturing for the mining industry, Fab Rite Services Ltd. has the expertise and experience to get the job done right. And now the company is in an even better position to serve the Elk Valley's rapidly growing mining industry.
Come spring, Fab Rite's new 10,000-square-foot facility in Sparwood will be officially complete. Located at 630 Sparwood Drive in the industrial park, the new facility has been designed to handle large projects. According to Mike Kozinuk, who is the owner of Fab Rite, the company can unload truck boxes on trucks as large as the Komatsu 930E right in its new shop.
Kozinuk said the new facility will serve as a base of operations for Fab Rite employees working in the Elk Valley. There are between 20 and 30 employees at the new facility. Fab Rite's diverse employee base includes machinists, welders, millwrights, steel fabricators and, of course, administration staff.
Fab Rite has been working alongside the Elk Valley's coal mines for more than 30 years. It was, in fact, the mining industry that got the company started.
"We worked (with them) when they were building the new mines, like Greenhills," said Kozinuk.
The new facility in Sparwood mirrors Fab Rite's main shop in Cranbrook, which is located at 2495 Theatre Road. Fab Rite has been experiencing growth ever since the Elk Valley's mining industry made a comeback in the late 90s. Kozinuk said the new facility in Sparwood will help his company meet the demands and better serve the needs of the five mines in the Elk Valley owned by Teck Coal.
Fab Rite also has a strong customer base in Western Canada's oil and gas industry as well as in the forestry and construction sectors. Kozinuk is confident his company will continue to grow by offering an unsurpassed level of service to new and existing customers.
For more information, see the company's website.