Greenhills at 30
Thirty years after Greenhills Operations began shipping steelmaking coal, the focus remains on safe, responsible mining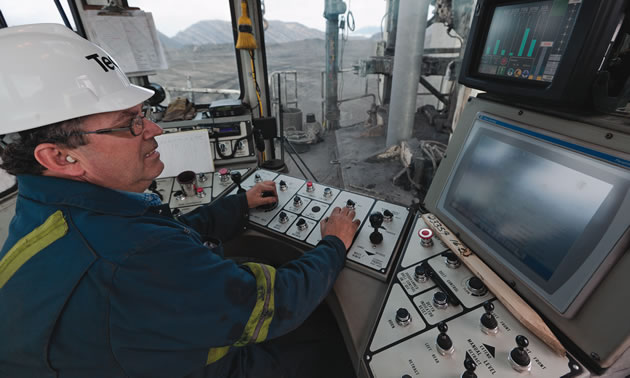 Teck's Greenhills Operations near Elkford, B.C., celebrates 30 years of operation in 2013, and general manager Don Sander said he is proud to lead more than 600 employees.
"As we celebrate our 30th anniversary, Greenhills' primary values are centred around our people, enabling the operation to demonstrate consistent improvement in safety performance, sustainability innovation and business competitiveness," said Sander.
As one of Teck's five steelmaking coal operations in B.C.'s Elk Valley, Greenhills is a major part of the local and provincial economy. It also provides a critical global product—the high-quality coal used to make steel. Growth in countries like China is increasing the demand for steel to build critical infrastructure like buildings and bridges. The Elk Valley coal operations make Teck North America's largest seaborne exporter of steelmaking coal.
Seeing the growth
One of Greenhills' longstanding employees is Brad Smith, who joined the blasting crew in May 1982. At that time, the operation was under construction by a small crew of around 12 employees. The first coal was exported by train in 1983.
Smith, who is now a senior training co-ordinator, said that Greenhills has always had "a unique culture cultivated by the people who work here."
"We try to make it a safe, pleasant work environment for our people to come to, and we hold them accountable to keep it that way," said Smith. "We follow the Courageous Safety Leadership program, which creates a safety-first culture. All our employees learn to do things safely first, and everything else follows on from that."
Smith also worked as a heavy-equipment operator and an operations foreman. Today, he trains others to operate equipment safely using simulators that replicate the cabs of haul trucks and graders.
"The biggest change I've seen is the amount of technology available to enhance people's learning," said Smith. "I believe this is the time to act if you are thinking about a career in mining. There are more people retiring, more skilled trades required, and you have the chance to work with the latest equipment and technology."
The evolution of equipment and procedures
Todd Kniert, who started work in 1987, is Greenhills Operations' superintendent. Having operated every piece of equipment before taking on his current role, he noted that the machinery has gotten bigger—the original 100-ton haul trucks have been replaced with 240-ton and 320-ton trucks.
Both Smith and Kniert said they have observed more deer, elk, coyotes and cougars migrating through and living at Greenhills. Smith said the growing resident wildlife population has even influenced mining technology.
"We have delay codes to show (when) a haul truck is stopped for refuelling or for a break," he said. "We also have a sheep-on-the-road code to show that a truck has had to stop to let a ewe and lambs cross."
Sustainability for future generations
Kniert is the third generation of Elk Valley miners in his family, and his nephews now work at Greenhills. He believes today's efforts to make mining a responsible and sustainable industry will mean coal mines will continue to be a big part of his family's future.
"Mining has given me a great way of life in a great community, and I would like that to continue for the next four generations," he said. "We have a moral obligation to the people in our local communities to ensure we operate safely, that we don't damage the environment and (that we) continue to boost the economy."
Kniert said he expects Greenhills will continue to be an industry leader in safety and responsible operations.
"That's because everyone who works here, right up to our leadership, is always trying for constant improvement," he said.