Shawna L'Heureux restores the Kootenays one float at a time
The owner of Zen Mountain Float + Wellness in Kimberley is an Influential Woman in Business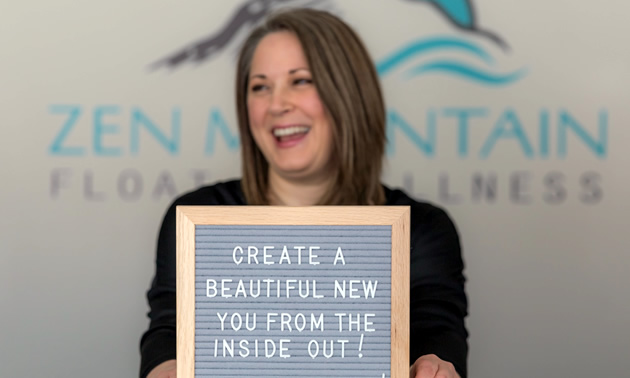 Shawna L'Heureux, owner of Zen Mountain Float + Wellness, entered the skin care industry in her 20s. After receiving her training at Blanche Macdonald Centre in Vancouver and becoming a certified esthetician, she began freelancing and found a love for working with people and helping them to feel better about themselves. Her love of helping others is one of the many reasons she took home one of Kootenay Business magazine's 2019 Influential Women in Business awards.
L'Heureux has worked in the TV and print photography industry with various photographers. In 2001, she studied esthetics at Marvel College in Calgary. After finishing her training there, L'Heureux opened a home-based esthetic studio, slowly building her client base. Each year brought a schooling upgrade to stay on top of industry techniques and trends. Between 2007 and 2008, L'Heureux took courses in Holistic Nutrition at the Canadian School of Natural Nutrition where she became a Registered Holistic Nutritionist (RHN).
"After taking the RHN program, I realized how much I love skin care, and how closely skin health and nutrition were connected," L'Heureux said. "I began to search out more skin care training. As soon as I sat down in the Pastiche - Advanced Skin Analysis Training, I knew I was home. I also trained in Oncology Esthetics with the OTI Oncology Esthetics Training."
In 2015, L'Heureux and her daughter moved from Calgary to Kimberley, where she opened a small shop in Marysville, called Shawna L'Heureux ~ Holistic Skin Care Specialist. In May 2017, Zen opened its doors, and in June 2018, L'Heureux became the sole owner of Zen Mountain Float + Wellness. With the help of her fabulous Zen team, the transition went as smoothly as possible.
"Everyone's lives are so busy, and it is so hard to carve time out for ourselves these days," L'Heureux said. "Zen was created to give people a place to take a deep breath and relax, even if it's a 15-minute brow shaping. So, every time someone walks through the door, takes a deep breath and leaves looking like they are more relaxed, is a reason to celebrate! The Zen team then knows we have done our job."
Visiting the centre
The float and wellness centre offers a multitude of services, including floating, infrared salt sauna, manicures, pedicures, advanced skin analysis and facials, massages, body wraps, ear candling, foot baths, waxing, tinting, reiki and reflexology.
Zen supports many local charities and sports teams with donations. The business has also worked with the Kimberley Dynamiters, allowing the athletes to float or use the salt sauna at no charge. Now that Zen is more established, it is looking at other ways it can give back to the community.
L'Heureux credits her success to her personal drive, passion and appetite for freedom.
"As an entrepreneur, you need to have that drive to push you to keep going," said L'Heureux. "I am very passionate about my work and what Zen represents. I feel blessed that I have been able to shape my career in a way that has allowed me to be there for my children but still grow my business, this for me is freedom."
For more information about Zen Mountain Float + Wellness, visit the website at www.zenmountainfloat.com, or see Shawna and her team in person at 315 Wallinger Avenue in Kimberley.