Best of the best: Kimberley's 2021 Business Excellence Awards handed out
The Kimberley & District Chamber of Commerce handed out its annual Business Excellence Awards earlier this year.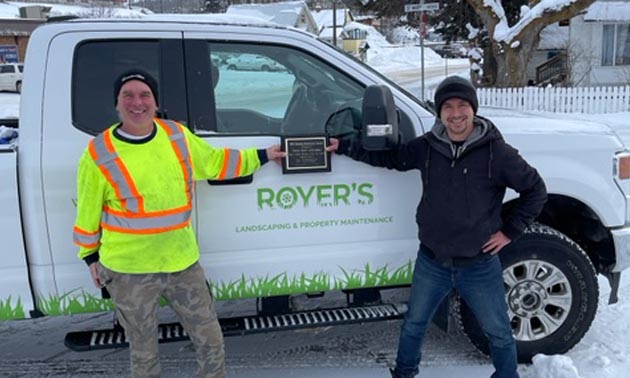 In a city that was recently voted B.C.'s Best Small Town by CBC, there's bound to be some exceptional businesses and individuals to celebrate. Earlier this year, the Kimberley and District Chamber of Commerce handed out their annual Business Excellence Awards for 2021.
There were 13 recipients, and awards were handed out personally to local businesses and individuals.
Congratulations to the following remarkable businesses and individuals that help to make Kimberley the best small town it can possibly be.
When disaster strikes—like an unexpected flood from a ruptured water tank or a fire—it's nice to know there's an honest and knowledgeable company on your side. Kootenay Disaster Restoration is a remediation and reconstruction contractor and receives rave reviews from their clients. The company specializes in water, fire and wind damage, as well as asbestos and lead removal.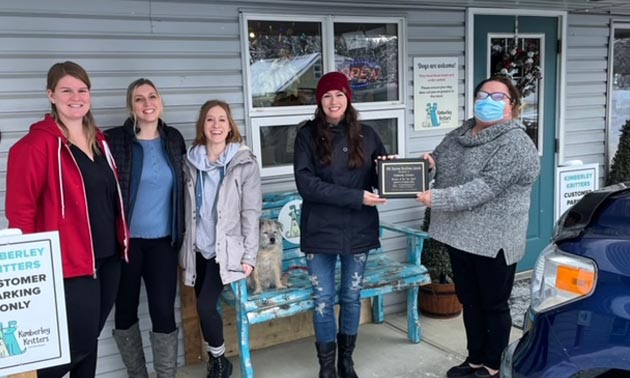 Since opening in 2017, Kimberley Kritters has grown from a small husband-and-wife business into a thriving pet supply store with five employees. Owner Erin Thompson and her team of hard-working staff keep Kimberley and area pets feeling pampered and healthy. The store stocks a range of high-quality Canadian-made pet food, as well as a huge selection of toys, treats, apparel and supplies. Kimberley Kritters is a devoted supporter of community causes and donates a portion of its sales on certain items each month to a local charity. Plus, pets are always welcome . . . because everyone loves fuzzy cuddles!
Consisting of a "Ride the Rails into Mining History" train tour, The Kimberley Underground Railway winds itself through the scenic Mark Creek Valley. Visitors get a guided tour of the Sullivan Mine Powerhouse and can explore the Orpheum Theatre, Northstar Schoolhouse, the Kimberley Caboose, Interpretive Centre and more. The popular Kimberley Underground Railway is rated as "#1 of 16 things to do in Kimberley" on Trip Advisor.
Storytelling through the camera is what Nicole Leclair, owner of Nicole Leclair Photography & Media, does best. This shutterbug is a branding photographer—she specializes in connecting businesses and customers through emotionally-based, authentic photography that expresses the heart-and-soul of what a business does. LeClair has created magic for a diverse range of clients—from across the Kootenays and beyond. Congratulations on winning the Business to Business Excellence Award.
Royer's Landscaping and Property Maintenance is beautifying Kimberley, one home at a time. From owner Steven Royer's start four years ago—with one weed-whacker, one almost-working lawnmower and no clients—Royer has managed to successfully expand his property maintenance business. Hard work, a strong work ethic and vision go a long way.
The Health, Wellness & Fitness Award - Iron Goat CrossFit
Iron Goat CrossFit is a health and fitness training facility that encourages its clientele to be their healthiest, most energetic and true selves. Through motivation, mindful movement and muscle-building, clients are empowered to improve their health and quality of life. Iron Goat CrossFit offers personal training, energetic CrossFit classes guaranteed to work up a sweat, and more.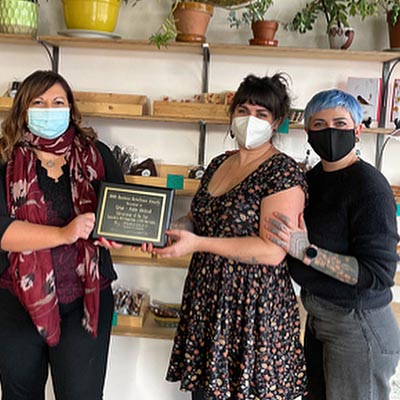 Entrepreneur of the Year Award - Katie Birdsell
The home baker behind Kimberley's Grow Cake + Chocolate shop, Katie Birdsell churns out delectable and delicious delicacies on a daily basis. Of course, all that chocolate and cake artistry couldn't be accomplished without the expertise and help of Birdsell's sister-through-marriage, trained chocolatier and pastry chef Caitlyn, at her side. Congratulations goes out to Katie Birdsell on her Entrepreneur of the Year award.
Save-On Foods has been going the extra mile in the community of Kimberley since 1957. A brand new 25,000-square-foot replacement building was built in 2021, featuring an expanded fresh meat and seafood department, a Grab n' Go kitchen with ready-to-eat meal choices and quick snack options, and a new bakery and custom cake department. Save-On Foods is a regular supporter of community events, initiatives and fundraisers.
Employee of the Year Award - Jim Mertz
Jim Mertz is one of the smiling faces at the Save-On Foods store in Kimberley. He's well known for his personable and friendly attitude with everyone he meets. He's a hard-worker and definitely goes the extra mile for Save-On Foods and all the people he interacts with on a daily basis.
Professional Services Award - Rockies Law
Rockies Law is a full-service law firm, serving the needs of the entire East Kootenay region. With offices in Kimberley, Fernie, Cranbrook, Sparwood and Invermere, the team at Rockies Law provides clients with a comprehensive range of legal services. Rockies Law is a committed supporter of community foundations and charitable organizations.
Retail Services Award - Moody Bee
Lip balm lovers know Moody Bee as the maker of the perfect lip balm—that's how the Platz-located business first got its start. Now, this successful Kimberley company offers a whole range of bee-related products—from body scrubs and hand-and-body butter to blocks of pure beeswax. Moody Bee regularly receives rave reviews for its excellent customer service.
Stan Salikin Community Impact Award - Chantel Delaney/Sprout Health Market
Chantel Delaney is a very familiar face around the community of Kimberley. She's been the owner of Sprout Health Market for the past six years. Delaney recently handed over the reins of this successful natural health product destination to another team member and is excited about new adventures on the horizon. She's also an avid film and music enthusiast and has been involved with the Kimberley Horror Fest and other artistic ventures.
The Grist and Mash Brewery recently celebrated its one-year anniversary with a barbecue and live music. The newest craft brewery in Kimberley, this inviting spot for craft beer enthusiasts boasts a cozy patio and a stage for visiting musicians. The Grist and Mash Brewery is family-friendly, so bring the crowd down for pizza and appetizers. Congratulations to this rising star on the Kimberley business scene.