This musical career came naturally for Tanya DuBois
At Tanya DuBois Music Studio in Invermere, the focus is on fun, skills and triumph over those performance jitters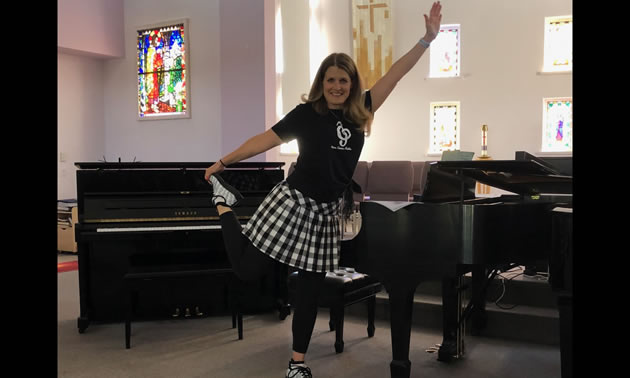 Tanya DuBois started teaching piano lessons at the tender age of 16. That early interest evolved over the years into her own business—Tanya DuBois Music Studio in Invermere.
DuBois has been teaching now for a total of 30 years. She taught in Medicine Hat, Alberta, for six years at the United Conservatory of Music. Then she brought her teaching skills to the Columbia Valley 22 years ago when she moved to Invermere.
"I didn't teach a lot while having my own three children but I really picked up the pace starting 10 years ago," DuBois said. She started out with five students, a number that has grown to 63 today.
DuBois teaches group piano lessons in the Music for Young Children program, and she also teaches private piano lessons that prepare students for Royal Conservatory exams.
"I really love teaching children music and I also love teaching adults," she said. "It's never too late to embark on a new adventure of piano and learning. It is my goal to help my students achieve not only an education but a feeling of achievement and self-confidence through preparing for recitals and exams. Piano is an instrument that takes patience, dedication and practice. Watching my students succeed at learning the piano is fulfilling for me; I love to see the smile and confidence they get from working hard and achieving their goals, whether big or small.
"I am also very fortunate to be able to rent a room at Christ Church Trinity," DuBois said. "I have six pianos in my room to allow for the group piano lessons. What is so amazing is that there are not one but two grand pianos in the sanctuary of the church. The church allows me to teach on a grand piano for private lessons—what a treat for the students! I did not play on a grand piano until I was 16 years old."
DuBois is a Kootenay Business magazine Influential Women in Business nominee for 2019. She was pleased to answer a few questions.
What's something that happened in your business recently that was cause for celebration?
A few years ago, one of my piano students received the highest mark in Canada in her Royal Conservatory exam. She received a 98 per cent score and was awarded a gold medal at an awards ceremony in Vancouver. I went along to watch her receive this medal. I have never had a student receive that high of a mark before!
Another cause for celebration for my students and me are the recitals we have twice a year. The recitals always involve costumes and dressing up. My students pick interesting piano pieces and wear amazing costumes to match their piece. Then we finish up the recital with a tasty potluck, cake and celebration.
My goal is to try to make piano recitals a fun, relaxed and feel-good experience for my students. It also makes it much more interesting for the audience. I try to avoid a stuffy atmosphere, which is not very fun for the performers. Playing in front of 150 people can be terrifying! We all have a lot of fun at the recitals and the students look forward to it.
How do you give back to your community and motivate others?
I feel that music is so important and should be a part of everyone's life, whether it be guitar, singing, violin, drums, dance or piano. I feel like I help to motivate others by helping them achieve their goals. During my lessons with my students, I aim to have a lot of fun and keep it light-hearted. I also ensure that after every single lesson they leave feeling happy, confident and motivated to practise. Every student learns at their own pace, but moving forward at all is reason to applaud them.
What is your superpower?
I feel like my superpower is to have fun with my students! My goal is to make music a part of their lives in a fun and relaxed environment. I, myself, struggle with performance anxiety. I'm happy to share this with my students and I push myself to perform at my own recitals. We talk about the fear of performing and how to overcome it.
I commend all of my students who struggle with performance and exams. I love to talk with them and help them strive towards overcoming this fear. I believe it helps create a huge amount of self-confidence in them and a feeling of achievement, which is so important in everyone's life. For this reason, I have been working on my ARCT degree in piano and plan to do my exam in August. This is so far out of my own comfort zone, but I'm going to do it! My students are all rooting for me.
In terms of your business, what are you most excited about for the future?
I am so excited for the future of all my piano students. I love watching these students progress into musicians and pianists. Every year, so many of them prepare for conservatory exams. This takes nine months of practising the same pieces and learning new technique and ear training. I'm always very sure to commend them on their hard work every single week.
We always have a lot of laughs during our lessons. Every year, I also watch my little five-year-old students walk in for their first Music for Young Children class, playing only one note on the piano at first, and then graduate the final year of the program, which takes four years to complete, finishing with a Grade 1 conservatory exam. What an accomplishment by both the students and the parents—it's the parents who ensure that their children practise, bringing them to lessons and paying for lessons. Without the parents, my job would not be a success.