Feastify landed in the Kootenays in 2019 and plans to expand beyond Cranbrook and Invermere
The food delivery company's niche is smaller rural communities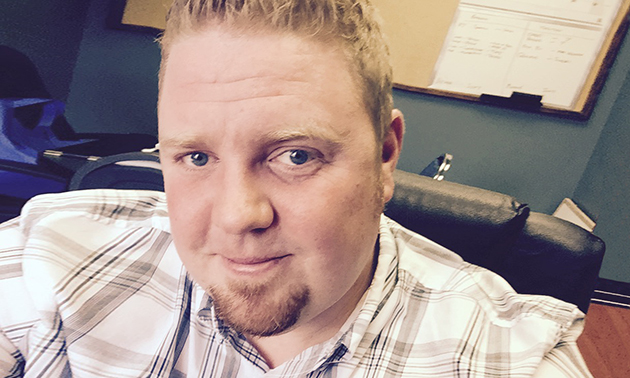 Feastify's founder and CEO Chris Thomas has found his niche in the food delivery app world, and it's proving to be extremely successful. Thomas is currently adding six to eight new communities a month across Canada, and he has restaurants calling and asking when he can come to their communities.
"We're hyperfocused on rural communities," Thomas said. "Every single person that works in the company is from a rural community—we know rural communities."
The bigger competitors like Grubhub, Uber Eats and SkipTheDishes generally won't go into communities less than 25,000 people, he said.
As an example, Thomas drove from his home in Brandon, Manitoba, to Cranbrook in the summer of 2019. He stayed in his camper in a local campground and launched Feastify to this community of just over 20,000. He currently has 11 drivers in this market and can have three or four drivers on a supper shift.
"It's going very well [in Cranbrook]," he said. "It went very well out the gate but it has never stopped growing—it's getting busier and busier."
At this time, Cranbrook's restaurant options total 12, but because Thomas recently added a few more national partners, that will open up more options in Cranbrook. At that same time, he launched in Invermere (population about 3,400).
Currently with 25 employees and a sales force of four people, Feastify is scrambling to keep up with demand. (The drivers are all contractors, not employees.)
"Right now we're in 83 markets, but we're launching six to eight markets a month," Thomas said. "I feel bad for restaurateurs … sometimes they want us to get there and we're still a small team and we just can't get everywhere at once. There are 60+ communities across Canada that are interested and the list keeps growing."
Not only is Feastify's business growing like our pandemic waistlines, but partners and customers are very happy with the food delivery app.
Thomas's background in food apps
How did Feastify get to this golden place of growing success?
Back in Brandon, Manitoba, Thomas had a sales background, selling cars and other items, but he and his wife loved food.
"We were foodies and we liked to go out to places and go out for appies and drinks with our friends or go out for supper," he said. "We started with an app that put people into restaurants by listing menus and specials to get people into restaurants in the city. It was just a side project. It was basically for ourselves."
The app was well received and it grew from there. He brought on partners and incorporated in 2015 and then he went to bigger cities like Winnipeg, Regina and Saskatoon and then throughout Saskatchewan. At this point, he changed the platform to a delivery app as the only competitor in the area was SkipTheDishes.
But Thomas found it hard to compete with the bigger competitors, which generally won't go into communities with less than 25,000 people. That's when Thomas discovered his niche. He found that quite a few cities in the 15,000 to 20,000 population range weren't being serviced so he abandoned the bigger cities and went to smaller markets with no competition.
"There were restaurant people who were waiting for someone to come and offer delivery [service] to them and there were people sitting at home waiting for options that were more than just pizza and Chinese food for delivery," he said.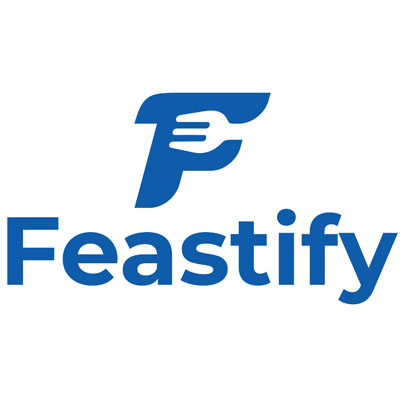 Thomas has had success in even smaller communities.
"What we've found is that we have markets that are 4,500 people that are working quite well," he said. "People want delivery wherever they are."
In smaller communities he might limit the hours or days, for example, to make it work.
Up until December 2020, Thomas was running his company as Dash Delivers. He had to rebrand from Dash Delivers to Feastify, but a non-disclosure agreement prevents him from talking about the details except saying that DoorDash acquired his trademark.
Feastify has expanded across Canada—from Vancouver Island to Ontario. Thomas said he is now looking at a few places in New Brunswick in the next month or two.
"Eventually, I think we'll be everywhere," he said.
The pandemic panic
"Third-party delivery was on a rapid rise year over year since 2013 or 2014 when SkipTheDishes first came to Canada," said Thomas, and COVID-19 only increased that demand.
"When COVID-19 hit, restaurateurs were in a panic everywhere as all dining was shut down," he said.
Feastify was in talks with a few national companies that were asking "how fast can you get to our people?" Thomas said he expedited the process to get to some places quicker and he still hears desperation in some restaurateurs' voices when new COVID rules hit.
The pandemic also forced the Feastify sales team to work virtually.
The benefits to restaurants of food delivery apps
Restaurants pay a commission fee to be partners with food delivery services.
"The cost of service in urban areas can be very high," Thomas said. "I believe we have the lowest cost for all national partners."
In his experience, Thomas said some businesses are a bit hesitant to start but when he checks in with them a year after starting, they often say, "This was the best business decision we ever made."
Thomas is not surprised by that. "We're bringing extra revenue to every restaurant we go to," he said. "It can be anywhere from a small uptick to huge uptick."
Obviously, some restaurants benefit if they don't have their own delivery service. But even companies that have their own delivery, like Pizza Hut and Boston Pizza, team up with Feastify because they see the benefits, said Thomas.
Another factor partners need to consider is whether they will need extra staff or space to handle the increase in business.
Thomas said that in big cities, restaurants might need to buy new equipment or to hire extra staff to handle the demand created by a delivery service, but restaurants in rural areas can often handle the increased demand with their existing staff and equipment.
Why customers like food delivery service
Customers like food delivery for many reasons, and Thomas thinks one of the main reasons has to do with their phones.
"People don't want to have 17 apps on their phone," he said. "They want to have one app that they can order from everybody."
Moreover, some markets have 20+ restaurants to order from so people like the wide diversity of food options, he said.
Another benefit of food delivery is that it is safer to stay home than dine in a restaurant during the COVID-19 pandemic. Thomas said Feastify used to use debit machines at customers' doors but since the pandemic, his company offers contactless delivery—in some locations contactless is mandatory—and the bill is paid online through the Feastify app.
"You get a text from the system when the driver pulls up," Thomas said. "The driver will knock on the door or ring the doorbell, set the food on the step, then walk away, make sure the customer gets their food and then drive away."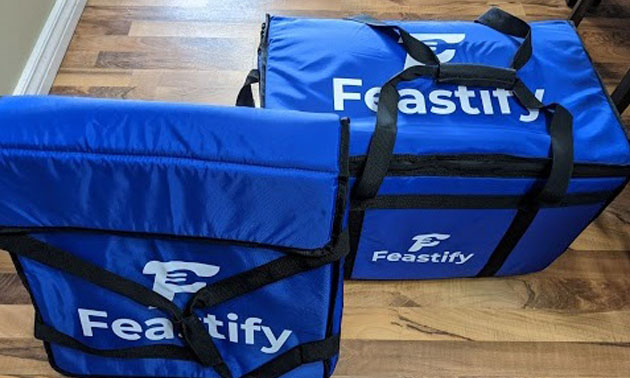 If you want to save money, Feastify also offers pickup, which has a lower fee, and some restaurants offer contactless pickup as well.
Thomas believes that ease of use is another popular reason people choose food delivery.
"People are busier than ever before," he said. "And if household members want different types of food, one order can include food from three or four different restaurants."
If customers want alcohol included in their meals, they're out of luck in B.C. at this time. Regions of the country have different requirements around alcohol delivery, and in some areas like B.C., drivers need to be certified to include alcohol in deliveries.
The busiest times for food deliveries
The busiest day and time of the week is Friday nights followed by Saturdays, Thomas said.
Surprisingly, the busiest day of the year is often the Thursday before Good Friday because most people have off Good Friday so that Thursday is like a Friday to them. Predictably, other very busy days are Valentine's Day and Mother's Day.
"We don't see the same uptick on Father's Day," he said.
Future directions for Feastify
One trend that is impacting Feastify is the increase in virtual or ghost kitchens, which are cooking facilities set up for the preparation of delivery-only meals.

"We're seeing a big uptick in those," Thomas said. "They're very successful."
Thomas foresees even more markets in the Kootenays in the near future. He said he is looking at Castlegar and Nelson and eventually Fernie.
"Basically, we've got two B.C. markets we're launching per month," he said.
Thomas will likely reach his goal of being "everywhere." He has restaurants calling him from new areas all the time, saying "How soon can you get here?"