Make the year colourful and bright with 2019's Pantone Color of the Year
Let your interior and graphic design pay homage to the oceans' coral reefs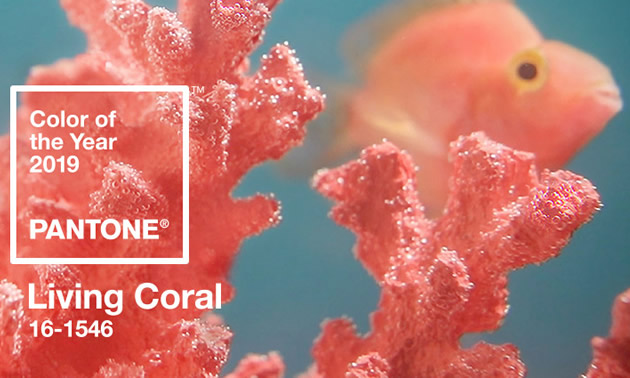 The Pantone Color Institute refers to this year's colour, PANTONE 16-1546 Living Coral, as "an animating and life-affirming coral hue with a golden undertone that energizes and enlivens with a softer edge." The institute considers Living Coral a combatant to dullness and monotony in digital technology and social media, and hopes it provides users with experiences that enable connection and intimacy.
Living Coral is linked to tactility and human connection, making it ideal for workspaces and homes in terms of interior design. It adds a welcome pop of colour and draws attention to focal points within an office space, a store shelf, an Instagram layout or a business website.
The Color of the Year has been running since 2007, and last year's colour was Ultra Violet. The year's colour creates new ways for fashion designers, interior designers, graphic designers, packaging and product designers, social media experts and beauty industry professionals to communicate through a unified colour scheme and trendy palette. The colours are easy to implement, whether you're working with CMYK, CMYK-OGV, RGB or HEX/HTML codes.
Here are some of the unique ways your business can use the colour in design projects this year:
Redesign or create your brand's logo with Living Coral
Paint a feature wall with Living Coral in your office or home workspace to encourage productivity, increase human connection and revitalize energy levels
Design 2019 product packaging with the colour to bring attention to your design on store shelves or on your website/online store
Add the colour to brochure designs to make them stand out on business racks
Use the colour in Instagram spreads to draw the eye to what you are trying to promote or display
Embed the colour into promotions and posters to make any event seem trendy and sophisticated while retaining an element of fun.
Colours that are synonymous with your business's brand image, inclusiveness and environmental stance (crazy that a colour can indicate all of those things) should be cohesive in appearance across all of your logos and products. Pantone numbers ensure your image doesn't change from one printer to another.
The Pantone Institute sells colour chips, colour sheets and guides books, in addition to the CAPSURE bluetooth colour matching tool, to make it easy to read and match current and future projects' colours. Advanced X-Rite technology should be used to remain consistent in colour over a multitude of printing material and finishes on whatever you choose to design.
An awareness of colour trends keeps businesses and designers current and in the know. For more information about Living Coral, visit the Pantone Color Institute's website.