Looking young and feeling vibrant
These facilities can address everything from medical concerns to cosmetic therapy, all in a relaxing spa setting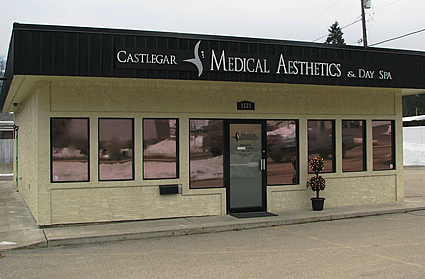 Rossland and Castlegar Medical Aesthetics and Day Spa is a revolutionary therapeutic and cosmetic treatment business with two locations to serve the West Kootenay. The spas are owned by Dr. Stephanie Cameron and Dr. Jane Grey, respected local physicians who have also obtained credentials in the field of medical aesthetics. Dr. Cameron took the time to answer our questions about this beneficial facility, and its impact on the health of local residents.
How long have you been in business?
We opened our Rossland location in November 2006 and our Castlegar location in May 2008.
What type of treatments do you offer?
Being medical spas, we offer a combination of medical aesthetic services plus spa services. Our spas are tastefully decorated and provide a relaxing environment for our clients. Some of the medical aesthetic services offered include skin peels, advanced facials, permanent hair removal, treatments for acne, rosacea, sun-damaged or scarred skin, plus we can address lines and wrinkles with Cosmetic Botox and soft tissue fillers. We also offer treatment of excessive sweating, chronic headaches and blepharospasm with Medical Botox.
Spa services include pedicures, facials, manicures, gel nails, body wraps, waxing, relaxation and therapeutic massage. We can accommodate side-by-side treatments and small groups (bridal parties, for example). We also provide a large range of retail items at affordable prices such as pharmaceutical-grade skin care products, Youngblood mineral makeup, dermal skin rollers and more. We offer gift cards, which make great gifts for almost any occasion.
Have you found that people are becoming more interested in spa and resort facilities? If so, why?
People want to look and feel their best. For some clients this means improving the condition of their skin or wanting their external appearance to more closely match the age that they feel inside. Also, men and women are interested in managing the stress in their lives on a regular basis instead of waiting for their yearly vacation. Spa treatments are an inexpensive way to relax and rejuvenate.
How do your treatments benefit clients?
By improving their confidence and general well-being.
How supportive do you find the Rossland and Castlegar communities?
The whole West Kootenay/Boundary area has been very supportive and the majority of our clients are from our local areas. They appreciate that we provide amenities that are usually only available in larger centres. Visitors from larger centres tell us that our spas are on par or even exceed those that they usually frequent.
Is there anything else you would like to tell our readers?
Our friendly staff are happy to answer any questions and our website offers a lot of information about our services and products.