Gettin' groovy at this Golden, B.C. campground outfitted with vintage VW vehicles
Camping in the Woods is a retro-inspired campground for nostalgia lovers, old-school hippies and friendly families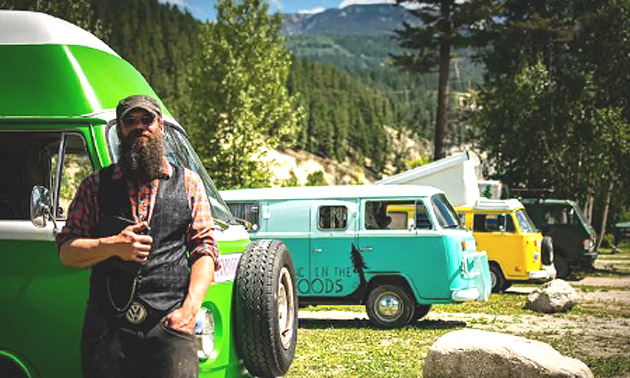 "After a four-and-a-half-year road trip in a 1975 VW bus, I had a dream about creating a place where people could experience a retro camping trip. A safe spot for single parents to bring children and make camping memories and a place for old-soul rockstars. . ."
Jeremiah Woods' dream came true in 2019 when he opened Camping in the Woods, a boutique "bed and bus-fest" camping experience based in Golden, B.C. He's a modest, down-to-earth dreamer who successfully pitched his retro camping idea to a panel of tough-skinned Dragons on the popular CBC TV show Dragons' Den in 2020 and walked away with a deal.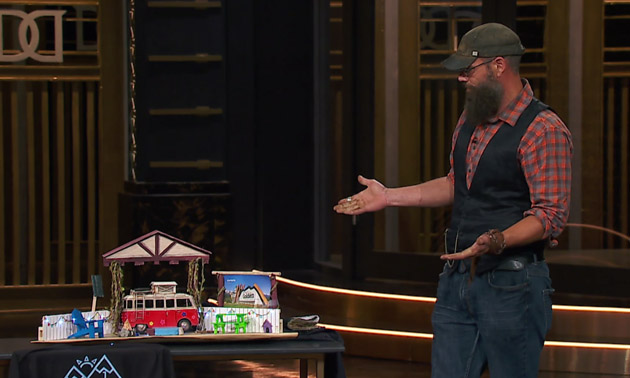 Woods owns one of the largest air-cooled Volkswagen collections in Western Canada—he recently acquired a twelfth VW bus and also owns five VW Beetles.
"My passion for the little 'freedom wagons' started at a very young age," said Woods. "I started collecting Volkswagens when I was 16. During the '60s and '70s Volkswagen had no idea they were building [one] of the most iconic vehicles the world has ever seen."
Camping in the Woods retro style
It's those iconic vehicles that form the foundation of Wood's nostalgic camping adventure business, which he bills as a "unique twist on a Canadian classic."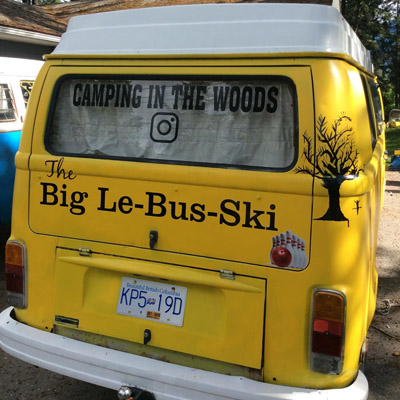 Set in a picturesque mountain setting, Woods's fleet of refurbished and fully-equipped VW vans are available for rent to adventurous souls looking for something a little more groovy in terms of the usual camping fare. The property is decked out with quaint white picket fences, picnic tables, lanterns and twinkle lights. In the VW vehicles, all the little necessities are taken care of: cutlery, dishes, BBQ, stove and propane. The only thing campers need to bring is bedding, food, water and a taste for spirited adventures and the hip vibes.
Many of the vans are set up with unique themes and matching names. There's the bright yellow bus nicknamed the "Big Le-Bus-Ski"—a throwback to the popular cult classic film The Big Lebowski. "Unit 007 - License to Chill" is a great option for those seeking more relaxed accommodation, and the vodka martinis—shaken, not stirred—are optional.
The world's first VW hot tub and a visit from the Rust Valley Restorers
The most unique addition to the Camping in the Woods experience undoubtedly has to be the V-Tub.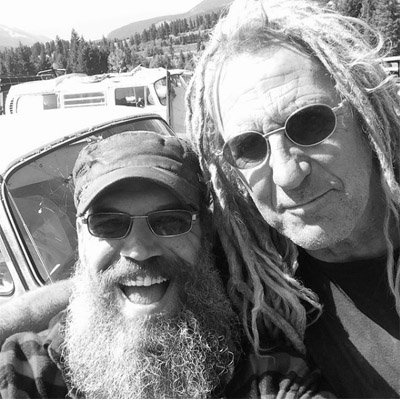 "I took a 1979 VW bug and turned it into a hot tub BBQ machine—the world's first!" said Woods.
This tinkerer's dream machine even caught the attention of the team behind the popular History Channel show Rust Valley Restorers. In a recently-aired episode (see Season 3, Episode 9) of the hit show, avid car collector Mike Hall and his right-hand man, Avery Shoaf, stop in for a night at the campground. Their thoughts on the V-Tub?
"The V-Tub is a Volkswagen with the roof chopped off and a wood stove right in the middle. I can honestly say I've never seen anything like it," said Hall. "The VW hotel is something that has to be seen to be believed. Vans all set up with a different theme—it's pretty off the wall, but cool!"
KootenayBiz chatted with Woods about his time in the Dragons' Den and his future plans for his groovy, retro-inspired campground.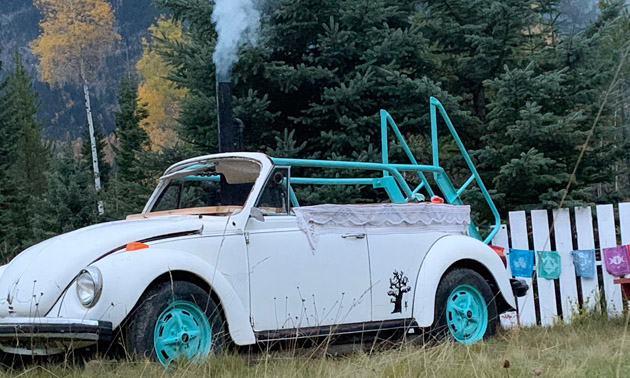 You appeared cool and collected in the Den, but I imagine the experience is intimidating and stressful. How would you describe your experience?
I knew I only had one chance to pitch my dream to the Dragons. I had driven five days in a 1975 VW bus to get to Toronto. [I had] two flat tires and a breakdown in Kitchener, Ontario, that left me having to MacGyver parts from a boat shop. Nothing was going to hold me back from arriving in Toronto with my Volkswagen bus and my dream. I walked on stage with one thing on my mind: to have fun.
Was there a point in the Den where you felt nervous you wouldn't get a deal?
I knew [when I was] leaving Golden there would be a chance the Dragons would say "no" and I could be returning with less than I had before. When I stood on stage and faced the Dragons, I knew my idea was unique and if the Den said "no," I'd have to be OK with that outcome. I was there to be an ambassador for my hometown and for my company, Camping in the Woods. I believed in my dream, and I believe in me.
What are your future plans for your business?
As I add more refurbished VW vehicles to the campground, I plan on developing an eco-friendly adventure tourism accommodation concept. It will be an "into-the-wild geocache" camping experience where you hike into the woods to find your Volkswagen camper bus hidden in the forest.