Carpentry for robots
The robotic carpenters of tomorrow are here today at HübertHaus Timberframes in Golden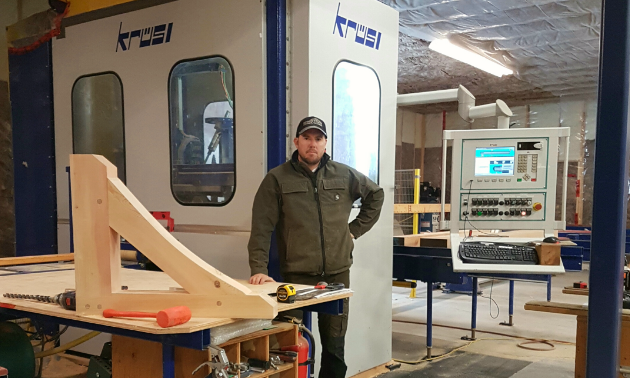 Robots seem to be everywhere these days, and in the construction industry they come in the form of computer numerical control (CNC) robots used for building beautiful homes. What makes these construction robots so special? "I can produce stuff that's higher quality, more accurate and 10 times quicker (than hand cutting)," said Kurt Huebert, owner of HübertHaus Timberframes in Golden. If anyone is able to handle a million-dollar piece of machinery like a Krüsimatic G1 CNC robot (Krüsi for short), it's Huebert.
"I've been around the wood industry all my life," he said. "I was as young as I can remember running around the mill yard."
Huebert cut his teeth in the timber framing industry at Canadian Timberframes in Golden back in 1998. Canadian Timberframes is still in operation and Huebert's father was one of the company's founders. Huebert worked on the sawmill's production line pulling timbers and slabs, which he described as "not an easy job."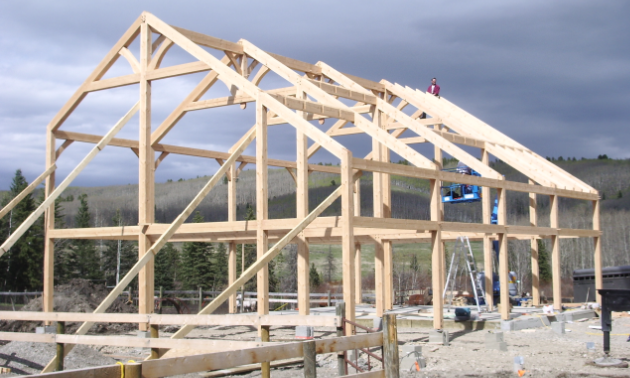 In 2002, Huebert graduated from SAIT and dove into architecture using cadwork, a software program designed for wood construction, framing and carpentry. "My interest has always been in timber framing," said Huebert. "At the time—2002 to 2005—there was nobody designing homes in Western Canada that would apply this architectural cadwork model. I was designing homes with the timber frame included in the design and ready to plug into the machine."
The robot
The Krüsi, a Swiss/German-built machine, is a CNC variable-drive timber-processing centre equipped with 14 motors. "It's a sophisticated machine," Huebert said. "It's like a Swiss watch. You can calibrate that thing down to a tenth of a millimetre. It's really well built."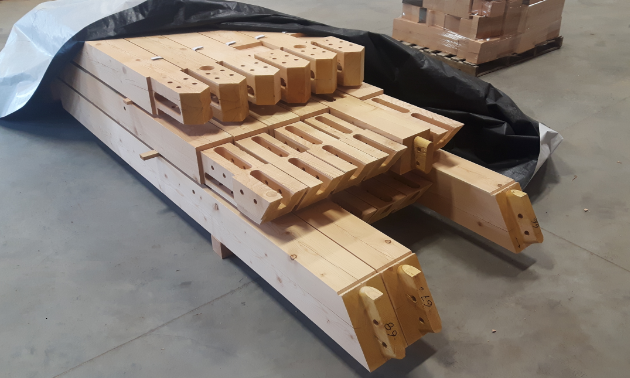 Wood goes through joinery detailing before entering the Krüsi. Most of the timber frame is wooden joints with oak pegs. Once the calibrations are set, Huebert inserts the wood (fir, cedar or pine) into the machine one piece at a time. He watches the array of tools run their assignments and measures the wood upon completion to pass inspection. Then it gets sanded, coated with a UV yard treatment and packaged. "It's a unique process," he said.
Golden frames
Huebert has done over a hundred different projects across North America but the majority of his work is closer to home. Golden's landscape is blanketed by Huebert's handiwork. Kicking Horse Mountain Resort alone sports over 20 timber frame homes. Of those, 14 were designed architecturally by Huebert.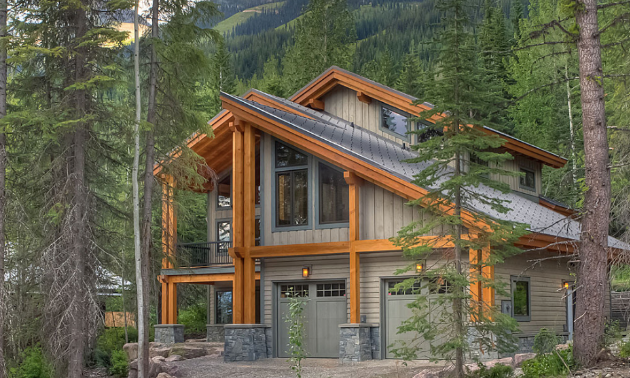 Huebert has created his own company based on hard work and ingenuity. "For the last two years I've built my shop, acquired land, bought a machine and done all the infrastructure," he said. "I've got the whole facility now, and a mill that supplies all my fibre right beside me. You come to me and I can do architectural design, timber frame and supply."
Mammoth-size housing isn't a requirement to procure Huebert's expertise either. "I'm geared toward doing smaller projects," he said. "I'll do a porch, gazebo, deck, table, chair, bench and signs. I manufacture for other companies too."
Oh the humanity
Even though Huebert's primary cohort is a complex piece of machinery, his interactions with others are anything but robotic.
"I want to be personable with people," he said. "I love to meet people and draw the house up for them with the timber frame and personalize it for them. Cut it, put it up, and become friends. I didn't start this company to (look at) people as a production number. I want to enjoy this. I want people to enjoy this. I want it to be a very positive experience."
Perhaps the future of the forest industry won't be entirely robotic after all.