Kootenay lumber mills have roots that run deep
The Kootenay forest and lumber industry helps form the backbone of our local economy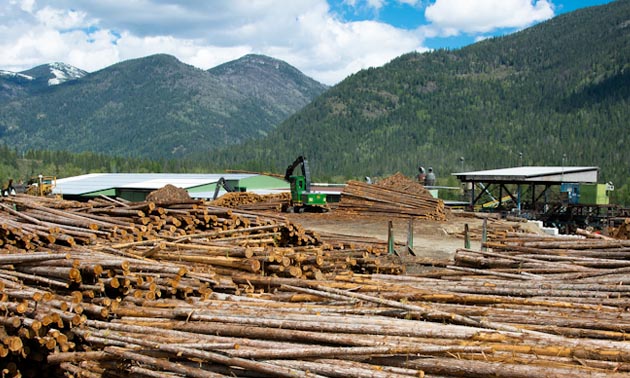 British Columbia's forest industry is a major contributor to the provincial economy. Here in the Kootenay region, the forestry sector creates and supports 10 per cent of the workforce in the area, coming in second only to the mining industry.
According to a 2019 PWC report, British Columbia's Forest Industries and the Regional Economies, over 6,800 jobs—direct, indirect and induced—are supported by the forestry sector in the Kootenay region.
Our region has a rich history of forest-related industry, spanning back to the early days of logging. Several of the companies on our list of Kootenay lumber mills have been in business for several generations. Over the years, many smaller community-based companies have been bought up by a handful of large forestry companies, but there are still a number of family-run businesses that have found success in the industry. For example, one of the forward-thinking companies on our list has been in business for over 80 years and is home to North America's most advanced, multi-species mass timber facility.
Here's a list of Kootenay-based lumber mills, followed by the estimated annual capacity of each mill in million board feet (mmbf):
Canfor, Elko, 212 mmbf
Canfor is one of Canada's major forest product companies and has a rich history dating back to the 1930s. The Elko mill was bought from Tembec Industries in 2012. The Elko sawmill produces SPF (Spruce-Pine-Fir) dimension lumber, Canfor RED lumber and specialty products.
Interfor is one of the largest forest products companies in the world and has operations across North America. The Castlegar mill was purchased in 2008 and produces high-quality dimensional lumber.
Canfor, Radium Hot Springs, 192 mmbf
Canfor's Radium sawmill plays a large role in the company's global operations and high-value forest products strategy. The Radium mill produces SPF (Spruce-Pine-Fir) dimension lumber, Canfor RED lumber and specialty products.
Interfor Corporation's Grand Forks lumber mill was acquired in 2008 and completely rebuilt between 2012 and 2013. The facility produces dimensional lumber, including MSR and J-grade SPF lumber destined for Japanese markets.
Downie Timber has a long history in the Revelstoke area. The company was founded in the 1950s and acquired by Okanagan-based Gorman Bros. Ltd. in 1990. The company produces multi-species wood products and quality cedar used primarily for finishing.
This multi-generational family-owned lumber company has been in existence for over 80 years. Their success comes from their commitment to diversification. The company offers over 1,000 different products in both custom and standard dimensional sizes and is home to a 110,000 square foot mass timber facility.
Canfor, Wynndel, 67 mmbf
In 2016, Canfor completed the purchase of Wynndel Box and Lumber Ltd. (WynnWood). The mill produces four grades of high-quality, specialty boards that are ideal for furniture, siding, fascia, fine woodworking, doors and windows.
Established in 1945, the Galloway Lumber Co. Ltd. was sold to well-known entrepreneur Brian Fehr in 2019. The mill produces SPF dimensional lumber that is destined for North American and Japanese markets. There are plans to retool the sawmill at some point in the future.
Porcupine Wood Products is a family-owned company, consisting of a sawmill, planer mill and a re-manufacturing plant. The business was established in 1993 and produces a range of decking, fencing, tongue & groove boards and dimensional lumber from second-growth Western Red cedar logs.
Since 1927, J. H. Huscroft Ltd. has been producing high-quality boards and specialty products like paneling and flooring for the North American market.
In operation since 1955, this sawmill produces fine boards and timber beams cut from Western Red cedar, hemlock, spruce, pine, Douglas fir and more.
McDonald Ranch & Lumber Ltd. is a family-run business, producing custom wood orders in pine, fir & cedar.
Bear Lumber Ltd., Cranbrook, 3.8 mmbf
Bear Lumber Ltd. runs a small sawmill and specializes in timber cut exclusively from salvage wood. Products they produce are destined for markets in North America—mainly for home-building—and also the oil industry.
A fixture in the community of Invermere since the 1970s, Northstar Hardware specializes in supplying custom cut timber, fascia boards, paneling, siding, flooring and more. Products are made on-site with quality fir, cedar and pine.
This ecosystem-based forestry company sells lumber products directly from their mill and maintains an environmentally-progressive forestry operation. Their forest products include rough-sawn and surfaced lumber, paneling, decking, siding and more.
Greenslide Cattle Co Ltd., Revelstoke, 1.0 mmbf
The Greenslide Cattle Co Ltd. owns a small sawmill in the community of Revelstoke.
This specialty sawmill specializes in creating custom wood products, including flooring, timber and trim.