Columbia Lake Centre welcomes the Valley
The Columbia Lake Recreation Centre will pay tribute to the past and embrace the future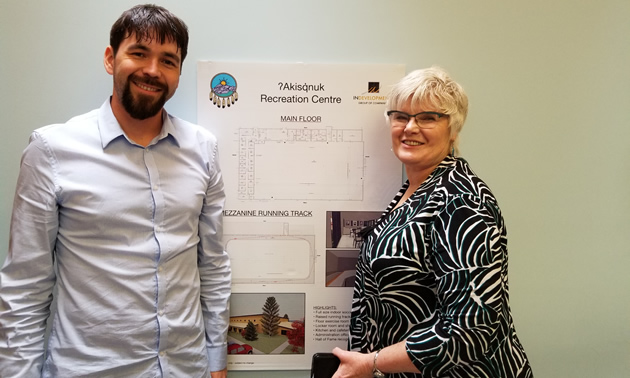 In going ahead with the construction of the Columbia Lake Recreation Centre, the ʔakisq̓nuk First Nation (AFN) is making both a leap of faith and a confident testimonial. Half the funding for the $4.05-million project is in hand, and AFN economic development officer Heather Rennebohm is busy with her list of potential funders for this long-desired facility.
The idea for a First Nations recreation centre in the Columbia Valley was first floated more than 25 years ago, and the initial feasibility study was done in 1983. Years of research, community input and financial planning have gone into the project, and in late October 2017, it was given the go-ahead by the AFN chief and council.
The pre-engineered building will be located south of the band office on Highway 93/95 in Windermere. Materials are on site, ground has been broken, and completion is planned for August 2018.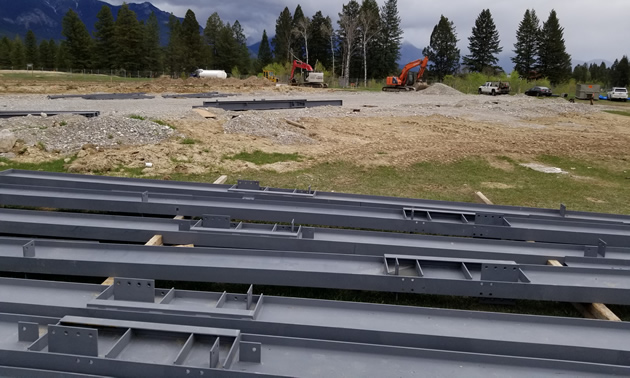 "We're at 52 per cent of the funding," said Rennebohm. "Our chief and council have not only put $1 million into the building but have ensured that our cash flow is always there. If it takes us a little longer to bring in all the funding, our chief and council will make sure that all our bills get paid as they need to be."
Rennebohm, her associate Bryan Armstrong and their advisory committee are making sure that all of the funds raised for this project are applied appropriately, so that in the end, the community has a beautiful asset and no outstanding bills.
"I've been visiting adjacent rec centres, and a lot of community members have come to me and expressed their excitement for this project itself," said Armstrong. "Manny Osborne-Paradis called me personally and expressed his excitement about it, and how glad he is that we have a strong sports component to it."
Significance to the AFN
Rennebohm said that quite a large aspect of the identity of the ʔakisq̓nuk First Nation—both traditional and modern—has to do with games. The words "Columbia Lake" are used in the name of the rec centre in a nod to the names of several local sports teams from the past.
"In terms of the significance of this structure," Rennebohm said, "it's all about well-being and lightheartedness, and yet it still has a deep significance to the history of this community and the futures of individual athletes and community members.
"It's a reflection of how the ʔakisq̓nuk intends to honour athletes of the past by supporting athletes of today and tomorrow. This is another example of this First Nation opening up to and integrating our community up and down the Valley."
Rennebohm paused for a moment to reflect. "In some ways," she said, "I look at the rec centre as being one of our ways of responding to several of the calls to action within the Truth and Reconciliation report. There are several calls to action about sport and youth engagement, and this is one of the ways that ʔakisq̓nuk is upping the profile."
Armstrong added, "A number of really strong athletes have come from our reserve and our area. If many more athletes had a place where they could train and hone their craft, we'd see more of our youth end up in collegiate programs here in Canada and maybe even down in the States, through sport and physical activity."
Attractions at the centre
One of the features inside the building will be the ʔakisq̓nuk Athletes Wall of Fame, honouring past athletic excellence and inviting the names of current and future athletes.
"We specifically designed the rec centre with several unique features that don't appear in other centres in the East Kootenay," Rennebohm said. "One is the 180-metre elevated running track that we plan to have accessible for at least 15 hours a day."
The more than 2,000-square-metre (22,400-square-foot) centre will have a sports floor covering almost 1,115 square metres (12,000 square feet). It will be adaptable to different functions, and Rennebohm is marketing the facility to groups for indoor soccer, pickleball, dance classes, volleyball, basketball and other sports. Future amenities could include a climbing wall.
"We will have a commercial kitchen and a cafeteria area," Rennebohm said, "so we foresee supporting indoor tournaments and cultural gatherings like pow-wows and craft fairs and markets."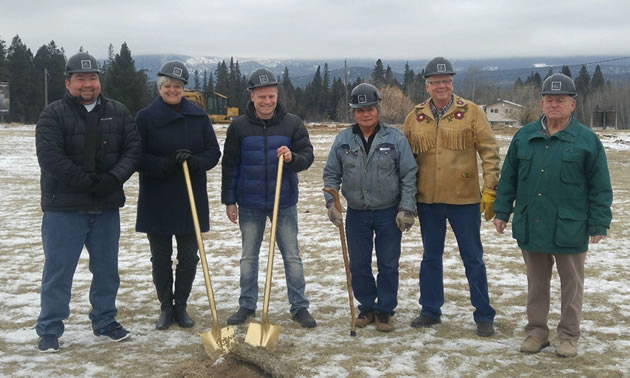 The centre is an economic development initiative, and as such will be expected to sustain itself. To that end, it welcomes community engagement. A membership policy is in place, and Rennebohm indicated that early-bird memberships may be available in July.