ʔaq̓am's progressive new fuel station and retail store now open
The ʔaq̓am Trading project began in 2016 and it was completed in three phases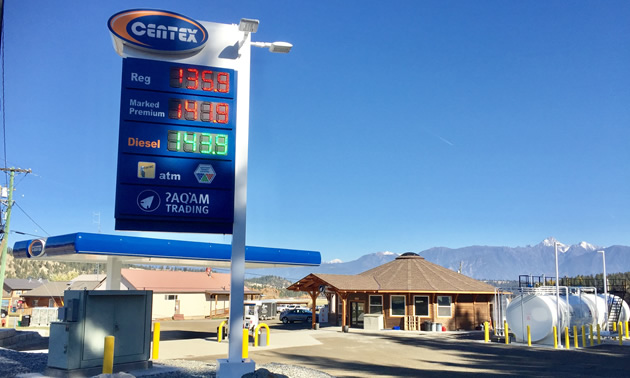 The ʔaq̓am Community is home to a beautiful new retail store and Centex fuel station. ʔaq̓am Trading officially opened on September 7, 2018.
Located along Mission Road, right across from St. Eugene Resort, ʔaq̓am Trading offers all fuel grades, including diesel and marked premium. The store is also part of the FLO Network and is equipped with two electric vehicle charging stations.
Inside, ʔaq̓am Trading offers a wide assortment of First Nation-themed gifts from local, west coast and prairie artisans, along with the usual convenience store items and a selection of healthier snacks and drinks. The interior of this eco-friendly round house, which was manufactured by Nelson-based Mandala Homes, is also adorned with the work of local artists, and it features a comfortable sitting area that faces Fisher Peak and the Rockies.
"We wanted a space where people can come in and kind of just be blown away, sit and have a coffee or a bite to eat," said Christopher McCurry, CEO of ʔaq̓am Community Enterprises (ACE). A green space has also been built behind the store and, when established, will be open for patrons to enjoy with beautiful views of the Rocky Mountains to the east.
Part of the bigger plan
Everything about the new ʔaq̓am Trading store is progressive and this, according to McCurry, aligns well with the Community's strategic plan to create a sustainable and self-sufficient economy.
"Part of that plan is to support employment, training, education and revenue generation for our community," he said.
At present, ʔaq̓am Trading employs five Community members, including co-managers Leslie Joseph and Shelley Collinson, who have been involved in the project from its start. A training program is in place to assist new managers and staff in building their skillsets. Reinforcing a strong sense of customer service is part of the business's unique operating model. ʔaq̓am Trading is owned by ACE, which is the development corporation for ʔaq̓am. According to McCurry, net profits from the store stay within the Community, contributing to the communities' economy goals of "A profitable, sustainable, and self-sufficient community economy that optimizes our diverse skills."
A truly unique project
The ʔaq̓am Trading project began in 2016 and it was completed in three phases. Although this approach did stretch the completion date, it helped prevent crucial mistakes from being made and most importantly saved the Community a lot of money.
"When we first sent the project out for tender, the bids we received back were anywhere from $3.5 to $7 million to complete the whole project with one general contractor." said McCurry. "So, we went back to the drawing board and Chief and Council decided on the phased approach, which ended up saving the Community a minimum of $1.5 million."
The completed project ended up costing just under $2 million. Cranbrook-based Silverado Industries was the general contractor throughout the three-phased approach. Quite surprisingly, ʔaq̓am Trading is the first and only First Nation fuel station in the B.C. Rockies, a region that's home to the four Canadian communities of the Ktunaxa Nation.
"It has been a decades-long vision of the ʔaq̓am Community and we are all very delighted to see it finally come to fruition," said McCurry.
ʔaq̓am Trading's spring, summer and fall operating hours are 7 a.m. to 10 p.m., seven days a week. The store will be switching to its winter hours beginning October 15 from 8 a.m. to 8 p.m., seven days a week. You can contact ʔaq̓am Trading anytime at 250-420-2766 or [email protected]. Find them on Facebook at "ʔAq̓am Trading Gas Bar."