Columbia Basin Trust annual report reveals positive community impacts
The Basin region has received nearly $100 milllion in funding through Columbia Basin Trust projects, grants and initiatives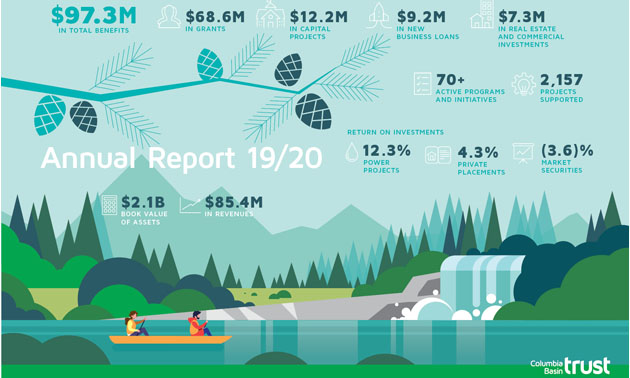 The Columbia Basin Trust continues to provide positive impacts to the people and communities in the Basin as revealed in their 2019/20 Annual Service Plan Report. Over $97.3 million has been earmarked for programs, initiatives and capital investments in our region, including $68 million in grants, $12.2 million in projects to support economic development and broadband infrastructure, and $9.2 million in business loans.

"Working with partners and communities, we've kept moving forward on the things that the people in the Basin have told us matters to them including affordable housing, childcare and the environment," said Johnny Strilaeff, Columbia Basin Trust president and CEO. "We are grateful for their vision, support and collaboration over the last 25 years and are deeply appreciative of how we have been able to grow and evolve as we worked together to serve the people and communities in the region."

The Columbia Basin Trust adheres to 13 strategic priorities set out in the Columbia Basin Management Plan, and they guide the Trust's efforts to support communities. Along with the introduction of new programs and initiatives, over 2,100 projects were advanced throughout 2019/20. Some of these initiatives include:
For 25 years, Columbia Basin Trust has been supporting your ideas and efforts. To learn more about the Trust's resources and support, visit ourtrust.org or call 1-800-505-8998.