Two of Fernie's longest tenured creative builders divulge what makes them tick
Ian Larsen and Steve Whelan fit right into Fernie's makeup of skilled and creative innovators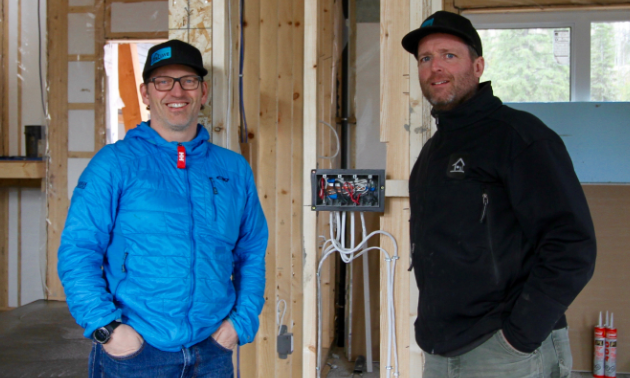 The best businesses aren't always built on foundations of lifelong passions, but rather finding the right place to fit in and a business partner to complement your skill set. Both Ian Larsen and Steve Whelan are Fernie transplants who travelled to the East Kootenay community to ski. Feeling the tug of Fernie's embrace, the two men became carpenters, friends and business partners committed to living and building homes in the Elk Valley. They started up Larsen Whelan Enterprise (LWE) nearly 20 years ago and the only time they look back is to admire their creations that dot the landscape in Fernie.
How did you come to choose this line of work?
Larsen: When I first moved here in the early '90s, it (construction) was a route to stay in Fernie. I was here for winter work. Once I had a winter under me I was like, "I gotta stay here." There was an opportunity to start as an apprentice, I jumped on it and have been doing it ever since.
Whelan: I moved here from Newfoundland in '93 to be a ski bum. I fell into construction as a summer job. It grew from there. I worked for a local contractor for a number of years and got my journeyman ticket. Then we decided to start a company.
What is it about your work that has you excited to get out of bed in the morning?
Larsen: No project is ever the same. It's not mundane. Everyday is a bit different.
Whelan: Creativity. It's one of those jobs where you can walk away and see something tangible that's been created. I don't build these by myself by any stretch (laughs). I feel more like a quarterback nowadays. I spend a fair amount of time with my project manager on the design side of things—that's where my real passion lies.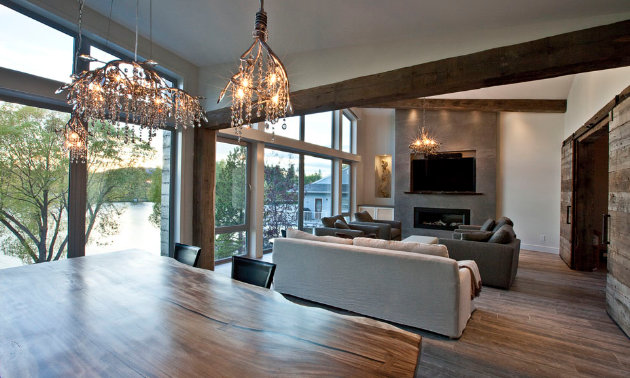 Where do you like to spend your downtime in the Kootenays?
Larsen: On the bike trails and the ski hill. "I came for one ski season." That's a quote used by many, I'm sure.
Whelan: I'm a homebody, but I try to remember why we moved here in the first place. We try to get back out in the mountains and ski whenever we can. We try to hire people that are skiers and snowboarders, mountain bikers and climbers.
What has motivated you throughout your business journey?
Larsen: To grow, learn and do unique projects.
Whelan: I still ski and mountain bike with clients that we built for 10 years ago. That's a really cool thing. Fernie is a small town. It's important for us that things go well for our clients. Sometimes I drive around and go, "Oh yeah, we built that. I remember that. That was a crazy project. We had this insane roof system that we had to lift into place." I drive past the ski hill and see three or four projects that we've done on that drive alone. It's a neat feeling, for sure—to see what you've been able to create and build, even in our own little area. Projects we've done around town are still around and will be for a long time and they look cool.
For more information about LWE visit www.lwebuilders.com