Tourism Fernie shines with a sustainability award win and new technology
The latest initiatives putting Fernie on the map as a sustainable and tech-savvy destination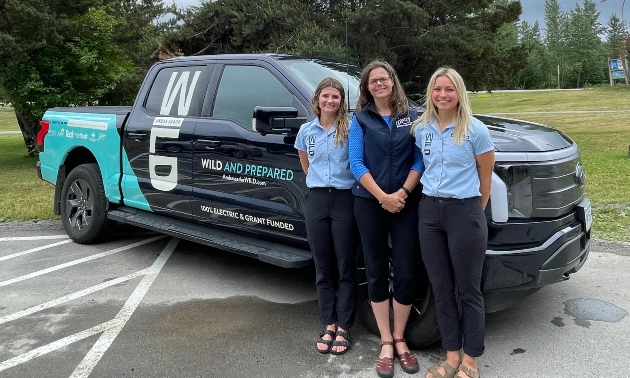 Tourism Fernie has been making waves with their commitment to sustainability and cutting-edge technological advancements. Christine Grimble, the manager of media, travel, trade and projects for Tourism Fernie, discusses the recent recognition they received for their sustainability efforts, the launch of an innovative smartphone app, and a new YouTube series showcasing the unique charm and beauty of Fernie. Join us as we dive into the fascinating world of Tourism Fernie and learn how they are revolutionizing the way we explore and appreciate this remarkable destination.
Can you tell me a bit about the new smartphone app created by Tourism Fernie?
The Iconic Fernie app was launched June 30, 2022 and provides visitors and residents with an easy-to-use tool to explore local experiences through thematic self-guided tours.
Utilizing the GPS map function on your device, users can easily find desired locations and can even collect points for local rewards.
Current themes include: Exploring Nature, Best Views & Photography Spots, Taste of Fernie, Family Fun & Yum!, Artistic Explorations and Local Heritage.
The app is available for free download from the Apple App Store and Google Play, and additional information can be found at the Iconic Fernie website.
Can you tell me about the YouTube video series hosted by Sadie Rosgen?
Our new video series is called "This is Fernie!" and the first episode was launched in November 2022. This is a new travel video series hosted by local Sadie Rosgen who shares her love, passion, enthusiasm and curiosity about Fernie.
This series celebrates the Fernie community by showcasing stories of unique people, places and experiences—fostering a greater appreciation and understanding of what one can enjoy (to both visitors and residents).
We have just released Episode 5 – The Sounds of Fernie.
What other things are you doing to promote the community?
Tourism Fernie promotes our destination through a variety of marketing efforts with a focus on advertising, promotion, content creation, media and travel trade initiatives that drive and support visitation to the community and overnight stays.
How has Fernie evolved in recent years to be even more welcoming to visitors?
A Tourism Master Plan was undertaken in 2018, involving a significant collaborative process with key stakeholders in the tourism sector and community. It is funded by the Columbia Basin Trust, Tourism Fernie, City of Fernie, Fernie Chamber of Commerce and the Regional District of East Kootenay. The purpose of this plan is to ensure the long-term success and sustainability of tourism in the community and support for tourism by the community. This plan was developed to evolve as market dynamics and local needs change, with the focus on strategic directions and specific action items for 10+ years.
The Fernie Ambassador Program is a partner-led initiative aimed primarily for front line staff/ volunteers (though we do also welcome interested residents) as an educational opportunity to improve customer service skills and broaden overall knowledge of what the community of Fernie has to offer for visitors.
Is there anything else you would like to share with us about the initiatives Tourism Fernie is working on right now?
Sustainability and destination management are important areas of focus with a number of key initiatives in progress:
AmbassadorWILD: an innovative program that supports sustainable tourism and recreation by helping to take care of important nature-based locations, collect data for quality decision-making, and promote safe and responsible front and backcountry recreation. As part of the recent $200,000 grant awarded to Tourism Fernie, a fully electric truck has been implemented and is used primarily to support the AmbassadorWILD program.
Grant for Sustainable Tourism Initiatives:
Silver Springs Project – addition of/improvement of amenities
Elk River access improvements
Heiko's Trail and wilderness camping enhancements
Signage, communications to support safety, education, user etiquette, natural interpretation and sustainability at key locations
Tourism Fernie Wins Award for Sustainability
Tourism Fernie's AmbassadorWILD Program was awarded the BCEDA Community Project Award, a true testament to the community's dedication to sustainable solutions.
Learn more about the initiatives of this vibrant community: Visit the Tourism Fernie website.