Pottery perfection: Sarah Pike is a Fernie-based creator in clay
Sarah Pike is a talented and much-in-demand potter with an Instagram following of over 101,000 people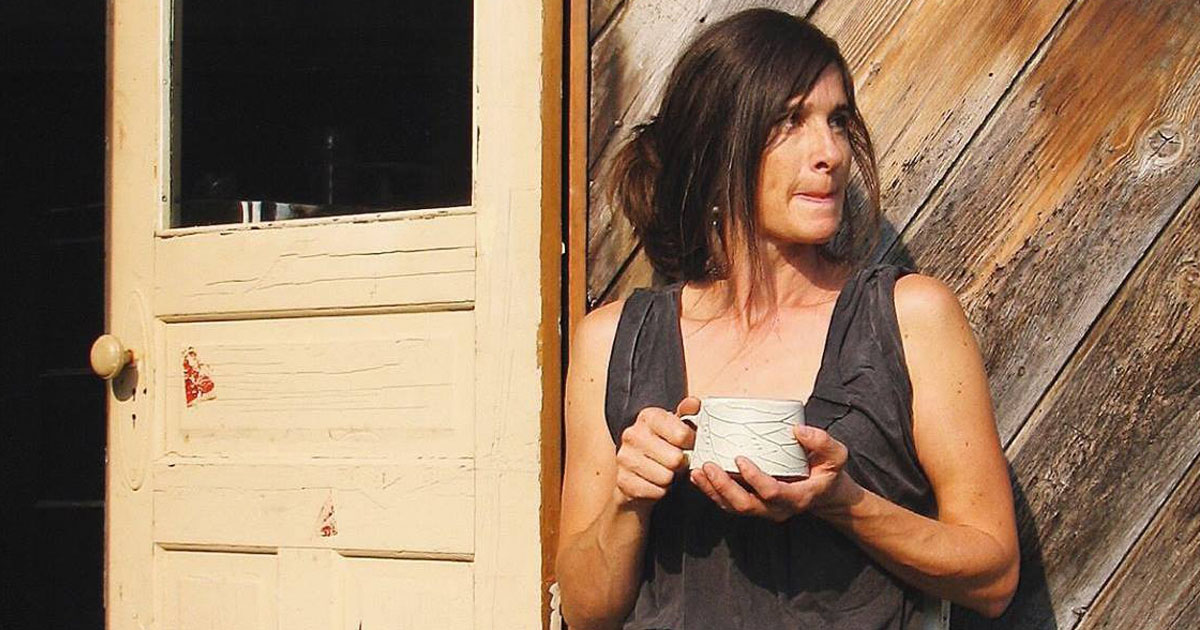 If you visit the website of Fernie artisan Sarah Pike Pottery and have a peek at her online shop, you'll notice that every single item is sold out. When Pike's online sales happen, you have to be quick on the mouse button as her slab-built pottery pieces are popular—very popular.
"It usually takes a couple of minutes to sell out an average of 150 pieces," she said. "Mugs and teapots sell quickly. A lot of people collect handmade mugs."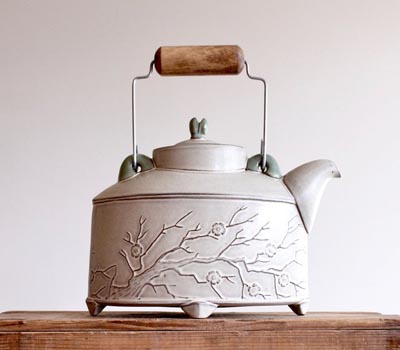 This free-spirited mountain girl didn't always live in the mountains, but she's always had a love affair with clay. Pike grew up on the West Coast of British Columbia and later in Alberta.
"I took a lot of art classes as a child, but clay was always my favourite," Pike said.
As a teen, she worked at a restaurant on Saltspring Island and saved up all her earnings in order to purchase a rickety old kiln.
"My dad set it up in our basement, and I made pots and sculptures and fired them in that little kiln," she said. "Seems crazy to me now. It's like I knew I'd be a potter all these years later, but I didn't!"
Finding her way to Fernie
All these years and many roads later—including attending art schools in Calgary, Colorado and Minnesota, Pike now finds herself firmly rooted in the mountain community of Fernie. Pike, her fly-fishing guide husband and two children have now lived in the area for 12 years.
"We wanted to move to a small town with a sense of community and a love for the outdoors," said Pike. "When I visited the area, the people here seemed genuinely happy and friendly. I was drawn to the beautiful mountains and all the fun things you can do in this landscape."
Of course, if you ask Pike's husband, the fact that the Elk River is widely known as one of the finest fly-fishing rivers in North America may have played a role in the family's decision to settle in the area.
"Fernie fits on so many levels!" said Pike.
With both of Pike's children starting school, the move also allowed her to spend more time in the pottery studio and enabled her to pursue her passion full time.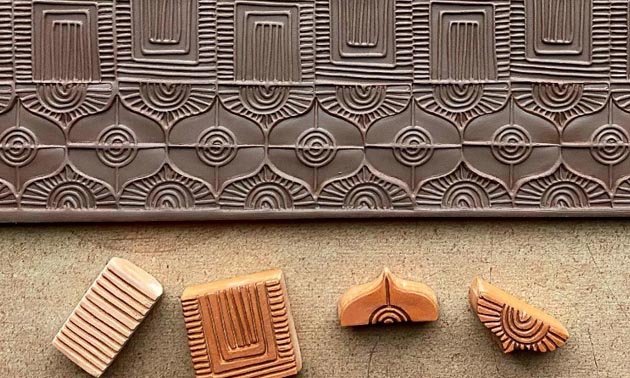 In the pottery studio
Pike's handbuilt clay creations are full of texture, whimsy and architectural-like decoration. As a slab-built potter, Pike doesn't use a traditional pottery wheel in her work. She rolls out flat pieces of clay on a smooth table and textures the surface using her hand-made texture tools. Much of her unique work consists of repeat pattern designs using hand-carved stamps pressed into clay slabs, using a technique called tessellation. Essentially, tessellation is a pattern of shapes—often repeating— that fit together perfectly without any gaps.
The end result is an item that is truly one-of-a-kind, whether it's one of Pike's lovingly-crafted mugs, a functional teapot, a vase or a tumbler. Her inspirations are many: ceramic history, fabric patterns, tinware, pressed metal and the natural world around her. Pike's work is full of emotional imagery: naked winter trees that delicately branch across the surface of a glazed teapot, a pressing of leaves or snowflakes, and intricate geometric patterns that circle her creations.
"My favourite pieces change over time, but I often come back to mugs and teapots," said Pike. "Mugs are particularly sensual in how we use them. Their contents caffeinate and/or calm us. Our hands wrap around them for warmth, our lips touch their rims. Using a handmade mug brings beauty into our daily lives and literally makes coffee taste better."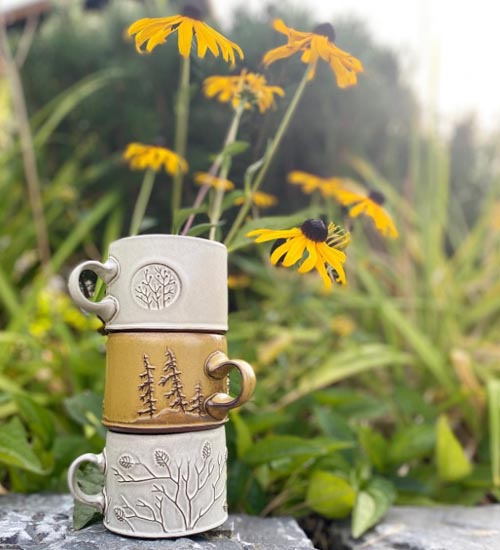 The artistry behind pottery-making: Sharing the love
It's apparent to anyone viewing her work that Pike puts an immense amount of love and devotion into her creations and it's a love that she willingly shares with others in the form of workshops.
"Over the past couple years I switched gears a little (who didn't?!) and started teaching more virtually, but with the world opening up again I'm making plans for in-real-life workshops too," she said.
Some of Pike's past workshops have included mug-making demonstrations, texture-rolling, and the art and process of creating your own stamps.
The best way to stay informed about Pike's upcoming workshops and sales or to purchase her beautiful pottery creations is through her website. Interested parties can also subscribe to her newsletter.
"I have shop updates on my website every couple of months," she said. "I usually announce my sale dates on social media and through my newsletter about a week before the sale starts."