Fernie's movie theatre is still in vogue
This Elk Valley movie theatre is a Best of Business award-winner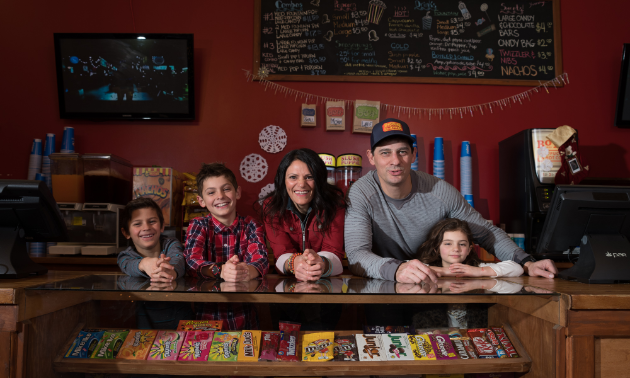 The Vogue Theatre in Fernie, B.C., has been hosting plays and movies since 1908. That's 110 years of entertainment.
In the 1950s, the Vogue Theatre was converted from a live action theatre to a movie cinema. In the '90s, the main theatre was split into two theatres. In 2007, Dennis Djonlich bought the building and morphed it into its current manifestation.
Thanks to a loyal following of residents within Fernie and the surrounding communities, the Vogue Theatre is a 2018 winner in Kootenay Business magazine's Best of Business Awards.
Djonlich discusses the magic that still exists in going out to see a movie at such an iconic location.
What makes your business special?
It's a pretty cool little theatre.
When I bought it, we renovated it completely. I basically took it down to the studs. We kept the old charm of the theatre—lots of wood and craftsmanship. Then we went full digital. We spent a lot of money on that, seats, screen and the sound system.
It's a good movie-going experience.
What's a recent trend in your business that you're excited about?
We're getting busier every year. There are more tourists coming to town than there has been in past years. We have a solid base of locals and folks from surrounding neighbourhoods like Sparwood, Elkford, Jaffray and Elko. We're thankful that they're a part of our loyal following. They're the ones that keep our lights on. The tourists and everyone else that comes to town is a bonus.
We're one of the few things in Fernie that you can do inside that doesn't involve drinking. It's a family establishment. It's a place to come and be entertained for a couple hours indoors. We don't have a lot of options like that in Fernie.
What is your favourite product in your inventory and why?
Popcorn.
We take a lot of pride in the product that we serve. We've got it dialed in pretty good. Most people would agree that it's a delicious little treat for the movie-going public. From what we're told from our patrons, they seem to like ours—a lot!
What is your superpower?
Customer service.
We take a lot of pride in making sure that our customers have the best possible experience that they can possibly have at the theatre. We take a lot of pride in making sure that folks are looked after. They're greeted when they come in and made to feel at home.