Feast upon the Kootenays' untamed elements
Professional chefs, divine wine and local greenery make up the Untamed Kootenays Culinary Event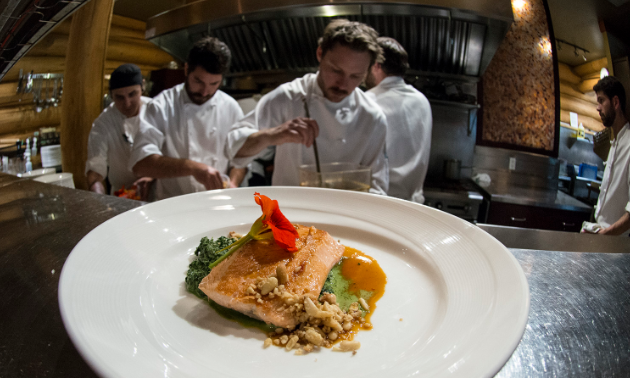 When going for a walk in the woods, do you ever look down at the vegetation and think, "Mmm, I wonder if I can eat that?" Some of the best chefs in the world utilize this curiosity by turning yesterday's foliage into tonight's dinner. That's the idea surrounding Island Lake Lodge's Untamed Kootenays Culinary Event. The first annual event took place from June 16 to 18, 2017, in Fernie at Island Lake Lodge.
"We feel that Fernie and the Island Lake culinary team are underrated and we wanted to highlight some of the creative talent we have," said Mike McPhee, director of sales and marketing. "Our unique microclimate (supports) a lot of edibles in the forest around us. Our chefs love the challenge of foraging and using the ingredients in creative ways."
Island Lake's chef Keith Farkas invited two notable Calgary chefs to join him in the kitchen for the weekend. Award-winning chef Justin Leboe, proprietor of Model Milk and Pigeonhole, and winner of Enroute Magazine's Best New Restaurant in Canada in 2015, along with executive chef John Paul Pedhirney of the highly acclaimed Bridgette Bar, joined Farkas to create a memorable weekend, showcasing the culinary expertise found within the region.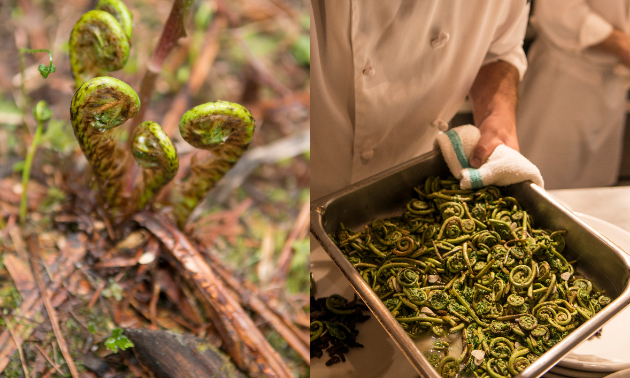 For the 60 people in attendance each night—it was sold out a month in advance—refreshments included some of the highest quality wines and foods in the area. Friday night was a winemaker's dinner hosted by BC Wine Studio. Winemaker Mark Simpson gave a talk about winery processes and select vintages with pairings for each course. The Island Lake chef team showcased four courses with four select wines. On Saturday, patrons took part in a half-day guided hike. They foraged in the forest with chefs as they gathered ingredients for that evening's dinner. Saturday night was a chef showcase as five chefs prepared five courses, for example, elk osso bucco, truffle cheddar polenta and fireweed gremolata. Each course had a local Kootenay theme, and each dish contained at least one item foraged from around the lodge.
Next year's Untamed Kootenays Culinary Event may take place a little earlier in the year and might be even bigger than this year's edition. It'll likely sell out early, as it did this year, so reserve your spot ahead of time. If not, you'll have to find foliage in the forest by yourself. You could do that, or you could let a professional show you how it's done.