CBK-X Winter Blitzville 2.0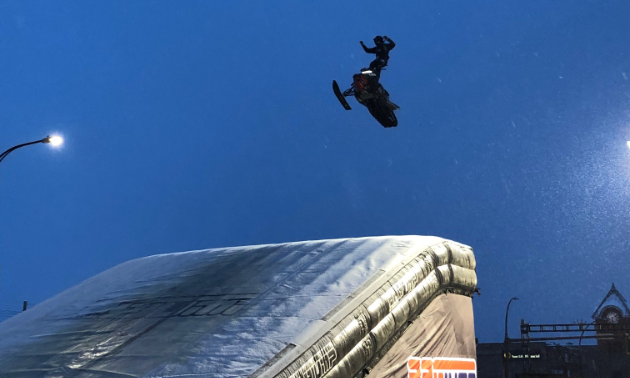 Gold medalist X games champion Brett Turcotte is coming back to Cranbrook for the second annual CBK-X Winter Blitzville. The event will once again be held on the B.C. Family Day long weekend, on Saturday, February 15, 2020.
Like last year, several ramps will be set up with pyro, except this time at the new site—the parking lot of Western Financial Place. Turcotte and his crew will perform multiple shows where they will pull off death-defying, high-energy stunts in mid-air while onlookers marvel at the triumphant feats of magnificence.
The excitement continues to grow for Winter Blitzville, with five tents, two sets of ramps, two giant LED screens, a thirty foot high mountain of snow for the snowboard rail competition, which is all going to be topped off with some of the coolest low altitude fireworks ever seen.
To get a better understanding of what to expect at CBK-X Winter Blitzville, check out these 8 wicked pics (and 2 rad vids) from last year's inaugural event.
CBK-X Winter Blitzville:
What: Free outdoor event featuring fireworks, live music and three of the most talented freestyle snowmobilers on the planet.
Where: Western Financial Place parking lot, Cranbrook, B.C.
When: February 15, 2020, from 5:30 p.m. to 9:30 p.m. Fireworks at 9:15 p.m.
Who: Brett Turcotte and other high-profile freestyle snowmobilers.
Why: To blow your mind with explosive awesomeness.