Let it grow naturally
An environmental advocate encourages people to use organic gardening techniques to grow healthy-looking lawns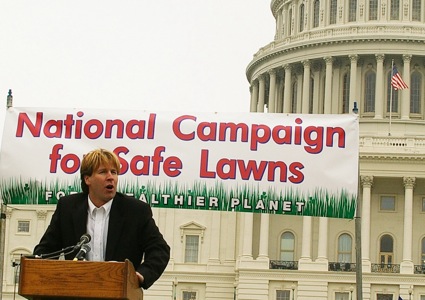 Every gardening season, green thumbs struggle with the age-old battle of trying to get rid of weeds that never seem to die. The typical method of dealing with such pesky vegetation is to spread pesticides or herbicides on the grass to get that picturesque, weed-free lawn.
Not so fast, says Paul Tukey, a lawn-care professional and environmental advocate who has been touring around the Kootenays to promote the benefits of having a chemical-free lawn and garden.
Reaching out
Tukey recently came through East Kootenay communities to promote his documentary A Chemical Reaction, which explores the people and efforts behind the first cosmetic pesticide ban in Hudson, Quebec, and the subsequent backlash from lobbying groups.
Tukey created SafeLawns.org in 2006 and operates a blog where he gathers information on all kinds of organic practices and techniques that homeowners can use to get their garden growing the way they want it. He has also written a book—The Organic Lawn Care Manual—a project he started while he was trying to cut pesticide use out of his own landscaping business.
The key to organic success
A healthy organic lawn can be grown and maintained, but it takes a mental shift to be able to approach the problem of weeds without resorting to pesticides, said Tukey. The most important factor to having a healthy lawn or garden is healthy soil, and weeds are simply an underlying symptom of soil that isn't capable of growing grass.
"Weeds are messengers sent by Mother Nature," said Tukey, "and we can kill the messenger all day long—we can dig it out, we can burn it, we can fry it with a chemical—but until you change the underlying soil conditions, those dandelions are going to keep wanting to grow back."
A former newspaper journalist, Tukey started up his own landscaping company in the early 1990s using pesticides as part of his business. However, over time, he grew ill with symptoms such as nausea, rashes, blurred vision and nosebleeds—something his doctor diagnosed as acute chemical sensitivity.
Having a medical diagnosis was all the convincing Tukey needed, and soon after, he told his clients that he was changing his techniques and moving to organic products and practices.
Raising awareness
Tukey is on the self-described front lines of the battle to get pesticides banned from use on lawns and in public parks, and his advocacy—along with support from groups like the Canadian Cancer Society—has encouraged municipalities and provinces across the country to enact their own restrictions.
There has been a growing movement to ban cosmetic pesticides ever since the first ban was put in place in Hudson over 20 years ago, said Tukey.
While municipalities have taken it upon themselves to pass their own anti-pesticide bylaws, some provinces such as Ontario, Quebec and New Brunswick have enacted legislation banning cosmetic pesticide use within their provincial jurisdictions.
"I've been to Hudson 20 times and the property values are still going up," said Tukey. "Properties have not been overrun by weeds, the playing fields have not been overrun by weeds. People have learned to deal with a different way of gardening without pesticides."