Fulfilling the vision at Good Company Coffee in Creston
At Good Company Coffee you will find good company, and good coffee, which is exactly how the owners planned it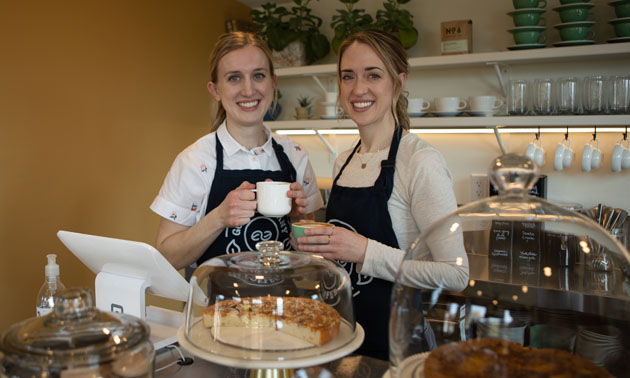 When sisters Stephanie and Cassidy Tilling opened their coffee shop they settled on the name Good Company Coffee.
As they moved through branding and opening in Creston, BC, it became increasingly clear that their decision was the right one.
"Especially coming out of COVID, because we started in the midst of that," said Stephanie. "Seeing people get out again and build relationships and see the value of nourishing community—it has just been really neat and special to witness. I feel like the name really came alive."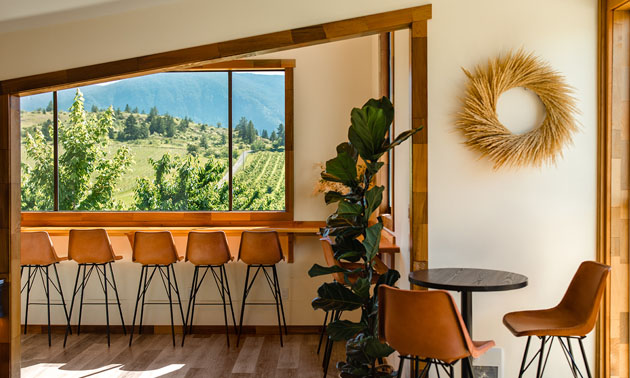 The space before the plan
The sisters had been talking for some years about opening a business together, but the pieces had never fallen in the right order. Stephanie's twin, Brittany Tilling, was already operating Brittany's Flower Farm from a small converted space in the neighbourhood where the entire family lives and works.
When Brittany outgrew her small shop she expanded to fill a bright new addition on the building, leaving her previous spot open.
"All of a sudden our dad was building it (into a coffee shop)," said Cassidy with a laugh. "He has the construction companies, so he set up his guys to do it. He had windows and wood and a water tank and he had all these pieces—he had a vision and he kind of designed it together. Then me and Steph were like, 'Okay. Well, I guess we're doing this.'"
So, in an unusual twist, Good Company had a space to operate before there was even a business plan. The Tillings partnered with a fourth sister, Victoria, and mobilized towards opening up their dream business.
Stephanie and Cassidy instinctively had an idea of the atmosphere and culture they wanted to foster through Good Company Coffee. From day one, they were committed to top-notch ingredients and leveraging their own experience and love of coffee. They had an idea of the gaps in Creston, and wanted to bring a special option to their customers.
"I think intuitively we just kind of went with what felt right," said Cassidy. "I had lived in Vancouver, so I kind of knew what I wanted the coffee shop to feel like because I felt like something was missing here for the coffee . . . what we really enjoyed and what kind of shop we would want to go to—a place that embodies all the things that we value."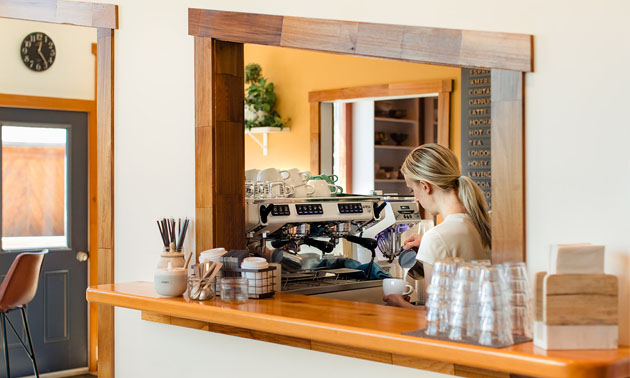 Not too far afield
As the only coffee shop in the valley that is located outside of the town of Creston, there was a possibility that customers wouldn't travel out of their way to find good coffee. Locals tend to be accustomed to short commutes.
However, a visit to Good Company Coffee has proved to be easily worth the five minutes it takes to find it. The sisters say that customers are so encouraging and appreciative that they find joy in offering a place where others can enjoy a visit and the beauty of the location.
Although it's not central to downtown, Good Company is next door to two of Creston's burgeoning wineries. It is also attached to Brittany's flower shop. The small interior of the cafe is clean, bright and welcoming. However, it's the patio that is favoured with its view of orchard slopes.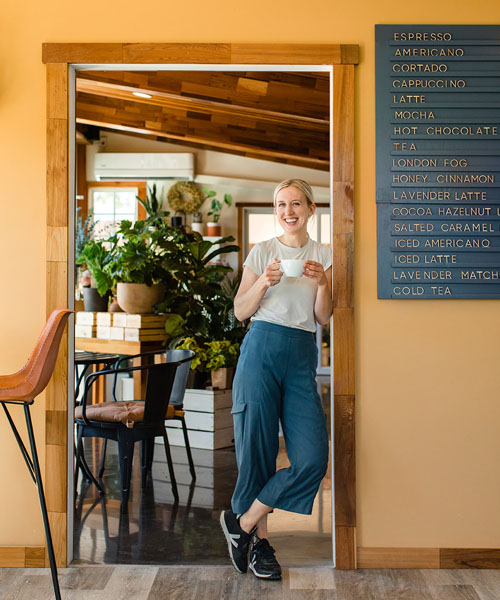 Doin' it right
Another marker of a visit to Good Company Coffee is the focus on quality, from the homemade syrups and local organic milk to the handcrafted baking created by a local pastry chef at Luv at First Bite.
The Tillings agree that this commitment to quality was always a part of their vision for the business. While these details mean extra work, the women feel that the results speak for themselves when a customer tastes the finished product.
Focused on the vision
The cafe maintains a small food menu with cakes, macarons and, sometimes, fresh sourdough. Even the coffee menu is relatively simple.
"We don't offer meals like lunch or anything—it's a very small menu," said Cassidy. "So I think it can be a bit of a challenge reaching a bigger audience when you're specialized like that . . . I think it's always a little scary coming in with something just a little different and new and you're just not sure how people will respond."
While they have felt the tug to broaden their offerings and have something for everyone, the Tillings are confident that they have found the right niche and are ready to grow into the future.
"We've just been taking the plunge—take it or leave it, this is us." said Cassidy. "We're staying true to what we wanted Good Company to be, because you can easily just start doing other little things and bringing this or that, but I think we would start to lose what we wanted it to be."
And the coffee shop is a busy little place that reflects its name—good company and good coffee.
"I've just so enjoyed coming to work there and just looking out at people and the relationships that have been built," said Stephanie "My Creston perspective has changed in very good ways. There are just some really beautiful people here—I would never have met them if it wasn't for Good Company.