Creston organic farmer is aiming for year-round food without fossil fuels
Cartwheel Farm is the first farm in the Columbia Basin (and possibly B.C.) to install Chinese-style greenhouse technology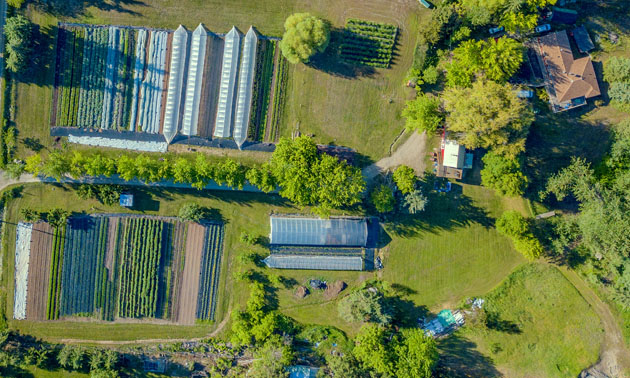 It is shaping up to be a big year at Cartwheel Farm in Creston, B.C. With a number of new projects underway, owners and growers Nigel and Laura Francis are watching dreams that became goals turn into reality.
"Because we started this as novices, and because we're both cautious people in some ways, we've tried to be careful in understanding what the farm will take to work before making any really major investments," said Laura. "So this year is a turnaround year."
"I would say that the slow growth that we've had has been good in some ways because it has prevented us from making some unwise decisions," added Nigel. "I think we're feeling pretty ready and confident that we're making good investments."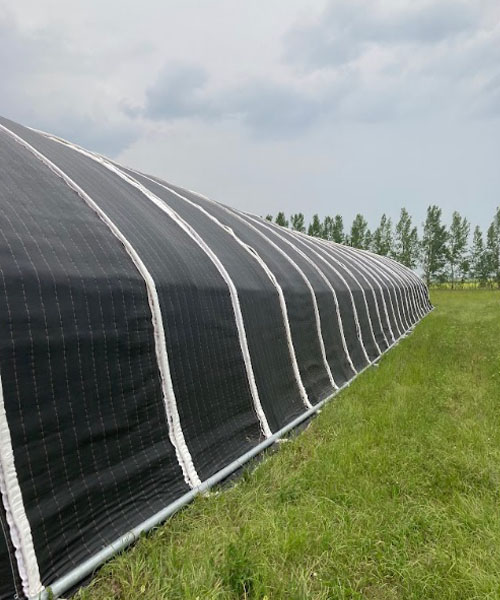 Changes needed to make change
And what are these new projects? With help from various funding sources, including Columbia Basin Trust, the Francis farm is installing a 96-panel solar array, which will supply energy to their new Chinese-style eco-high tunnel greenhouses.
These synergistic systems will support the farm as it moves towards some of its objectives. Laura and Nigel ultimately plan to operate Cartwheel in a way that is free from fossil fuels. They are also looking forward to producing food throughout the year, instead of only during the traditional growing seasons.
Both these goals are ways of addressing some of the pressures and responsibilities of a changing environment.
"As with anyone who is farming, we're really standing on the frontlines of the climate crisis," said Laura. "We're making these investments in a large part to protect our way of life from climate pressure and to try to buffer what we do from growing climate insecurity. Over the last five years, the amount of loss that we've dealt with in the field because of climate pressure has felt like it has been mounting."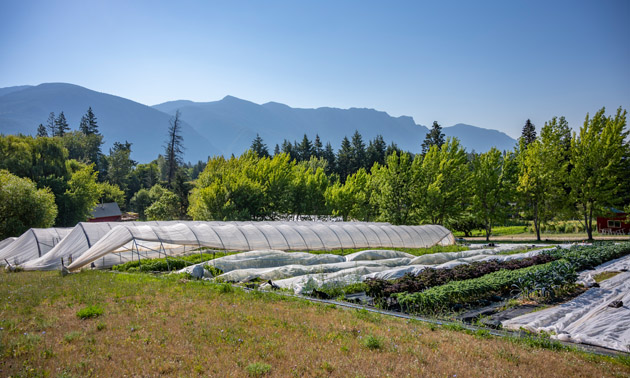 Greenhouses—bringing a new approach
Currently, Cartwheel Farm has one greenhouse, which is critical to supporting production and the ability to start seedlings early in the year. However, it is heated with natural gas, as most greenhouses are. Even though it is heated minimally, a recent energy assessment showed that 93 per cent of the farm's emissions burden comes from the use of this one structure.
With a desire to transition to electrical energy, the traditional greenhouse system wouldn't make this feasible.
By their very design, the average greenhouse isn't well insulated. The high-tunnel greenhouses that Cartwheel is working to install addresses this by integrating an insulated quilt-like layer that rolls down over the structure at night. It can be used during peak sun to protect plants from extreme light and heat as well.
While this system is ubiquitous in Northern China with countless acres of agriculture grown using this system, it is a new concept to North America.
"Dong Jianyi, who's been helping us—he's at Fresh Pal Farms in Alberta—he didn't start his career as a farmer, he started his career as a geologist in oil and gas," said Laura. "When he came to Canada and saw that farming was happening here with harsh winters in the absence of technology that he was familiar with, he decided that he would farm and that he would try and spread this technology in Canada."
A sensible technology
The process of importing and building these Chinese-style greenhouses has left the couple feeling like pioneers. They are the first farm in the Columbia Basin—and possibly the province—to implement this system. It has been challenging to both bring the greenhouses to their farm and Creston, and then to build the structures without experience or instructions.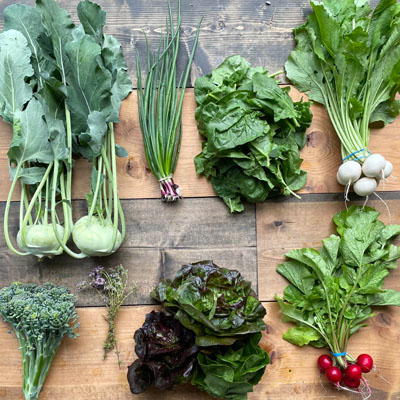 "We're definitely feeling like early adopters," said Laura. "There's a lot of barriers to the import process. We wouldn't have been able to do all of that without Jianyi and his language support and all the lessons that he learnt bringing it here—and he's doing it mostly because he wants to see other people farming in this way."
Sharing the value
Laura and Nigel hope that once they are fully operational their structures—both 12 metres by 35 metres—will be able to function as a demonstration site for the Chinese-style eco-high tunnels. They want to serve as inspiration to others in regards to what they consider to be a simple technology.
At the end of the day, the big changes at Cartwheel Farms will serve the purpose of providing quality organic food to the couple's home community. The couple is deeply invested in bringing beautiful produce to local tables, and finding ways to engage their customers with the act of eating.
"One of the things that is beautiful about being a small business is that we're making people's dream of how they want to get a product that we offer come true," said Laura.
"How would you most want to receive the food that you eat? We want to be that. I think for a lot of small businesses we can sometimes forget that's a really important part of what we do—being able to offer our product and service in a way that people most want to receive it. I guess that's the thread of the many projects we have going on this year—trying to be the farm that we want to be and that people want us to be."