Community and commitment at Cartwheel Farm in Creston
Nigel and Laura Francis traded in big-city living and academia for farming—and couldn't be happier.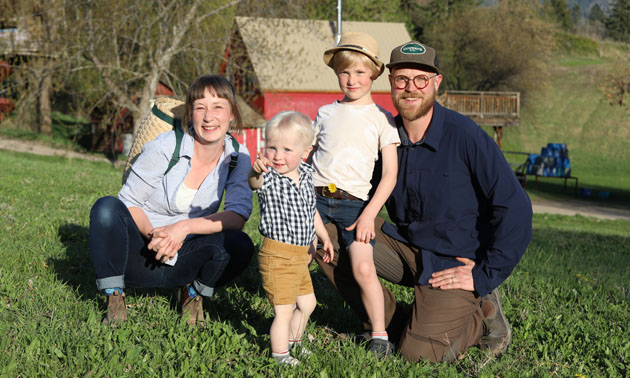 Nigel and Laura Francis did not intend to be farmers. That's not to say they stumbled across it—it was certainly a process with plenty of hard work and intention.
The couple originally met at an international boarding school on Vancouver Island, and they went forward in pursuing careers in law and academia. However, the path before them just didn't feel right in some way. Something, somewhere was missing.
"We had a number of years before we started farming where we really were kind of in crisis about our livelihood," said Laura. "We knew that we wanted to be useful in the world and make a difference."
Intention and inspiration
There are people who just take opportunities as they are presented to them. Nigel and Laura are not those people.
To talk to this couple is to be inspired. It is to catch the vision of feeding communities and the importance of agriculture that is sustainable on every level. It is to feel the value of hands in the dirt, seeds in the ground, and real food grown for real people.
Feeling burnt out and disillusioned in their academic journey, Laura and Nigel took a holiday to Boswell, on Kootenay Lake, between Nigel completing his masters in philosophy and starting studies at law school.
It was during their stay that they met an older couple who would become their mentors and the impetus to their future.
"They invited us over for coffee. They asked us what our plans were and we told them what our plans were," said Laura. "And they said, 'You don't seem very excited about those plans.' And we said, 'Hmm.'"
Nigel promptly dropped out of the law program he was about to start. They came to call Creston home, feeling some connection to the place and the community. Laura was able to work remotely, and it felt right.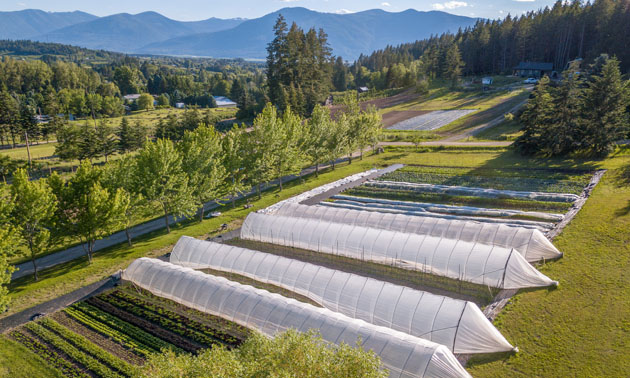 Providing nourishing food is a responsibility the Francis family takes seriously. The soul-inspiring views at Cartwheel Farm are a bonus. - Photo courtesy Laura Hannant
A question brings clarity
When they took an online course in food sustainability through the University of California, Berkeley, the couple had a moment of clarity.
"It was beautiful minds—big, big thinkers in the world of food security doing lectures with students from around the world," said Laura.
During the last class the students asked what they should do if they really wanted to make a difference in the way that food is grown and how people eat.
"The instructor said, 'Well, that's obvious. Then you step away from your desk and you farm,'" said Laura. "That really hit us hard. It felt like we had to question the set of options that we had thought were available to us. We were here and we were in love with this community and we didn't know quite how to figure out jobs for ourselves here—and suddenly the idea of being able to have a farm and to be of service just felt like it was the idea we had been waiting for."
Feeding the community
And with that, the couple decided to move towards their new calling. They started Cartwheel Farm in 2014, which followed a community-supported model from the start.
Even with no background in farming, the couple immediately felt that they were in the right place doing the right thing.
"I would say it felt like a relief making that decision," said Nigel. "It was also so completely terrifying, but a relief because then it was something that really felt like we were inspired about."
Today they feed hundreds—maybe thousands—of people throughout the valley that has become home. Their commitment to their values has grown alongside their fields and their produce.
They are adamant that their customers are more than just consumers, and providing quality food is a responsibility they take seriously. They feel that they are building long-term relationships with those who eat their produce. In some cases, they are feeding multiple generations from a single family.
Growing more than vegetables
Several years into their journey with Cartwheel Farm, the duo started another adventure together when their oldest son, Callum, was born.
"The first time that we could take him outside and walk him through the garden there was just a whole other layer of meaning and sense to what we've chosen to do," said Laura. "We now love having a community-integrated farm like we have that our kids get to feel a part of."
Today they have two young boys who are very much part of the fabric of Cartwheel Farm—threads running through the meaning they have found in their vocation and lifestyle.
"There's more of a feeling of a family or a network, and that sustains us and fuels our beliefs," said Laura. "Our customers don't just buy vegetables from us—they're buying something else.
"Like, the product is not just vegetables and it's not just organic vegetables and it's not just home-delivered-curated-with-recipes vegetables. I think for a lot of our customers it's part of how they feel that they're contributing to building food culture and to ecological renewal in some way—that they get to live out their beliefs by supporting our business."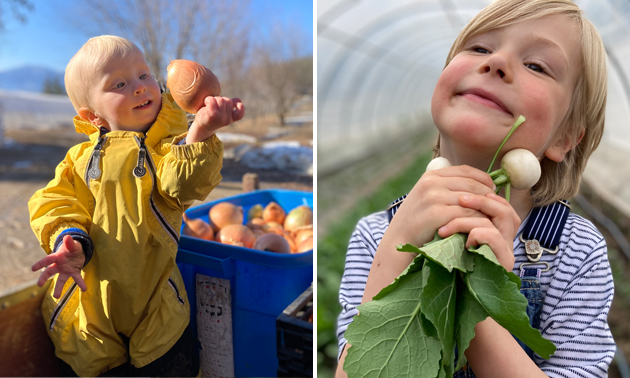 The Francis family have embraced the farm life, including their two young boys. - Photo courtesy Laura Hannant