Time capsule dedicated in Cranbrook
Local businesses helped make this Sam Steele Days project a reality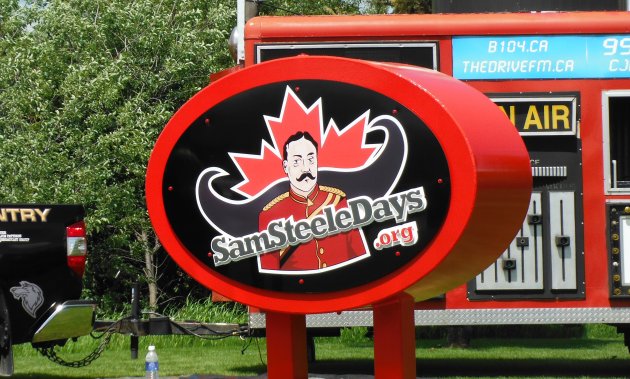 It takes a business community to raise a time capsule.
The Cranbrook time capsule commemorating the 50th anniversary of Sam Steele Days was dedicated during the 2014 edition of the community event. It will be opened on the 75th anniversary of Sam Steele Days in 2039.
The dedication took place at a public luncheon sponsored by Canfor (Canadian Forest Products).
The following businesses helped make this project, co-ordinated by Sandy Zeznik with lots of assistance from Sam Steele volunteer Maureen Frank, a reality:
Fab-Rite Services Ltd. donated materials, design and construction of the time capsule vessel.
Roderick's Skid-Steer Service Ltd. prepared the location and the rock slab on which the capsule is mounted, while EFM Towing transported the rock slab. Signal Collision provided the custom paint job, with Lordco Parts Ltd. supplying the quality paint.
Wolfpack Signs & Printing did the custom 3-D logo on the vessel identifying its significance, and Interior Trophies & Sports created and donated the plaque inscribed with the dedication at the foot of the capsule.
The time capsule contains 103 items from 23 businesses, 24 citizens, 10 schools, 38 clubs and eight government-related organizations.
So what's in the time capsule? Well, among other things, the contents include a paddle from the Abreast in the Rockies dragonboat team, which gives an idea of the size of the capsule. There's also a digital interview with well-known thespian and gentleman-about-town Bud Abbott, a letter from current mayor Wayne Stetski to his future counterpart, a vest with buttons from all 50 Sam Steele Days, a signed book by the grandson of Sam Steele, and an ultrasound of an unborn baby who will be 25 years old when the time capsule is opened.
Whoever unseals the vessel in 2039 will also receive a nice surprise: a bottle of Crown Royal whiskey.
We think Sam Steele would have been proud.