River's Crossing offers an elevated lifestyle
Launch 50 offers a unique opportunity for people to purchase a lot at a substantial discount.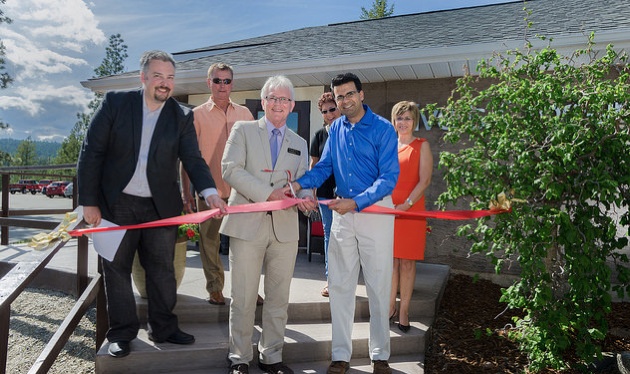 It's elevated living at its best at River's Crossing located at Shadow Mountain Golf Course in Cranbrook. The recent purchase of the golf course and the surrounding real estate property by two Edmonton companies has brought financial stability to the River's Crossing development.
Situated in the heart of a world-calibre golf course, the River's Crossing development is now offering a wide variety of building lots at unheard-of prices. The new program is called the Launch 50 and, as the name suggests, only a limited number of lots will be available starting as low as $99,000.
"As part of stimulating sales in the development we have come forward with our Launch 50 program," said Munir Virani, CEO of Westpoint Capital Corporation. "This is a unique opportunity for people to purchase a lot at a substantial discount to what these lots were selling for previously. We have already seen some great traction, with builders wishing to put up show homes. Ten of these 50 lots will be absorbed by these builders in very short order. On completion of the Launch 50, these prices will not be seen again in this community."
Shadow Mountain Golf Course offers stunning mountain and riverside scenery, extraordinary golf course design, pristine playing conditions and varying terrain—from rugged alpine heights to open dunes. With four tee boxes at each hole, Shadow Mountain is designed to provide an enjoyable golfing experience for golfers of every skill level.
"We recognize that the development has had its share of challenges," Virani said. "Westpoint Capital has the expertise, skill and knowledge to navigate these challenges and ensure that the roadblocks facing the development are systematically dealt with in a professional and competent manner.
"There are several key ingredients to making a project such as River's Crossing successful. The first is financial stability, which Westpoint can provide. The second is the support of the community, especially the City of Cranbrook. The third is clear, transparent and honest communication about our intentions and realistic expectations for the completion of the outstanding work that needs to be done still," Virani said.
River's Crossing at Shadow Mountain is perfectly located for a fly-in/fly-out lifestyle, being just five minutes from the Canadian Rockies International Airport, and it is also situated only seven minutes from downtown Cranbrook.
Come for the golf and stay for the elevated lifestyle at River's Crossing at Shadow Mountain.