Mike Adams, Cranbrook Citizen of 2017
Cranbrook celebrates Mike Adams for his influence and many contributions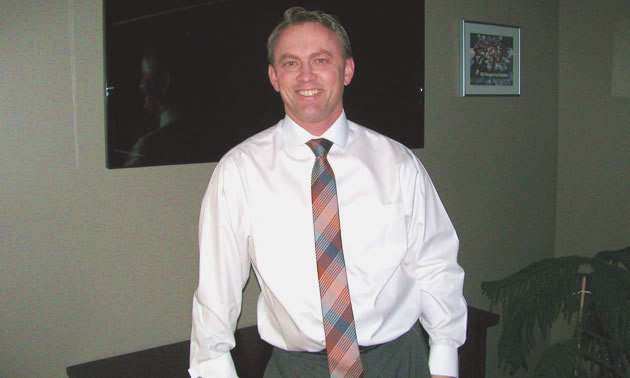 At the Cranbrook Citizen of the Year dinner held in honour of Mike Adams on January 19, 2018, Adams was acknowledged for the contributions he has made to the community, especially through his volunteer activities. In his typical style, Adams deflected praise for his accomplishments to the people surrounding him.
Adams is the managing partner of Taylor Adams Chartered Professional Accountants in Cranbrook. He said that everyone in the firm has a personal investment in the community, and they all contribute their time, energy and funds to worthy projects.
"I think that when you have the opportunity to do something for the community, it would be a waste not to use it," he said. "I'm lucky that I've got the financial opportunity and time flexibility so that I can get away to do volunteer jobs. The people in this firm have similar ways of thinking, and they make it possible."
The attitude that transforms
Adams was a founding member of the Cranbrook branch of Junior Chamber International (JCI), and he said that because of the people he worked with in that organization, many of their projects didn't feel like work.
"Having a positive attitude is so important," he said. "It's a strength. When you're happy and enthusiastic about what you're doing, at home or at work or volunteering, the people around you want to be a part of it. My friends from JCI share that mentality, and made our work there rewarding even when it wasn't the success we hoped for."
While Adams was a member of JCI, the organization hosted and grew the Sam Steele ball tournament into an important summer event and visitor attraction. They also conceptualized and raised the funding for the development of a playground at Moir Park, among other projects. Under Adams' leadership they hosted the national JCI conference in Kimberley in 2012.
Adams said the friendships that he formed in JCI are still strong and vitally important to him.
Making a difference, making things work
For 10 years Adams sat on the board of the Cranbrook Society for Community Living, contributing his expertise in the realm of finance. He was a director for the Cranbrook Chamber of Commerce for several years, serving as president for one year. Taylor Adams supports Cranbrook's Gran Fondo road cycling event as its headline sponsor.
"We're not the ones doing the work, though," Adams said. "It's the volunteer committee that does that."
Adams grew up in Creston, B.C., where his parents are dairy farmers who continue to be active in supporting their community. His father, Wayne, was named Citizen of the Year in Creston almost 30 years ago. Adams absorbed the culture of volunteering that was modelled for him at home.
"Many of us spend so much time at work, it's nice to do something different, new and challenging," he said. "It re-energizes us. It's the same with volunteering, and it's nice when you can see that it helped somebody. My dad always said, 'A change is as good as a rest,' and it's true for me."
And there's more
It's clear that Adams knows there's more to life than work and community service. His pride in his four daughters was obvious as he spoke about them, and he ended his address with a loving tribute to his wife, Tracy, for her strength, love and support throughout their marriage.