Family and fro-yo at Twisted Peaks in Cranbrook
Twins Robyn Hansen and Becky McArthur have a successful frozen yogurt business—and Cranbrook is grateful to have them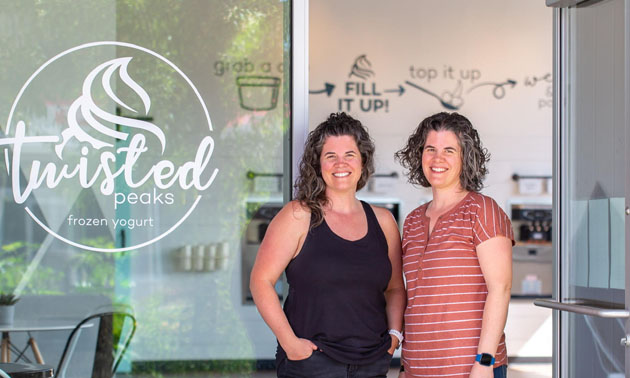 If you talk to Becky McArthur and then Robyn Hansen, you're likely to get a sense of deja vu.
These two women are not just business co-owners, or even just sisters. Hansen and McArthur are twins. All of this helps to explain why they both have very similar answers to questions around their experience as entrepreneurs.
Today McArthur and Hansen own Twisted Peaks in Cranbrook, B.C. This frozen yogurt shop has been popular since the day it opened in May of 2020. It is a super fun spot to visit, with an array of flavours and toppings at the self-serve bar that span from whimsical to classic.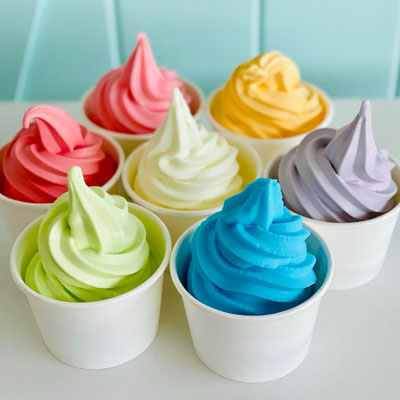 Working well together
However, Twisted Peaks isn't the first business that these women have owned together. In 2008, the business that Hansen was working at, MJ's Floral and Gifts, went up for sale.
"I had been an employee there for a couple of years," said Hansen. "They'd been interested in selling. One day it was kinda like, 'oh, maybe I should buy it.' Becky was like, 'I'll do that with you.' We just decided to go for it together."
Neither Hansen nor McArthur had any experience with business ownership at that point in time. Nonetheless, the sister-entrepreneurial team was born. Here at Kootenay Business we had a Q&A with McArthur regarding their first business in 2012.
"We were both new moms (when we bought our first business together)," said McArthur as she looked back at those early years. "Both of us had two kids at that point. Our babies were just over a year old when we bought MJ's. I think we both just wanted something to get us out of the house and something to kind of do on our own."
While their young children were part of the inspiration to go into business, as their families grew up McArthur and Hansen decided to sell the business. Being in the floral and gift industry often meant holidays were particularly busy with work.
Fro-yo on the mind
Both women moved on to other endeavours. Nonetheless, they agree, the idea of opening a froyo place was always something they talked casually about—one of those jokes that isn't necessarily just a joke. They enjoyed visiting other similar places when they travelled, and thought Cranbrook would be a good fit.
"We had always had in the back of our mind if we ever did the business again (a frozen yogurt place) is what it would be," said McArthur. "So we just kind of sat on that for a while. We always said we would have to have the right location. So when we found this location, we were like, 'Oh, maybe we should look into it again.'"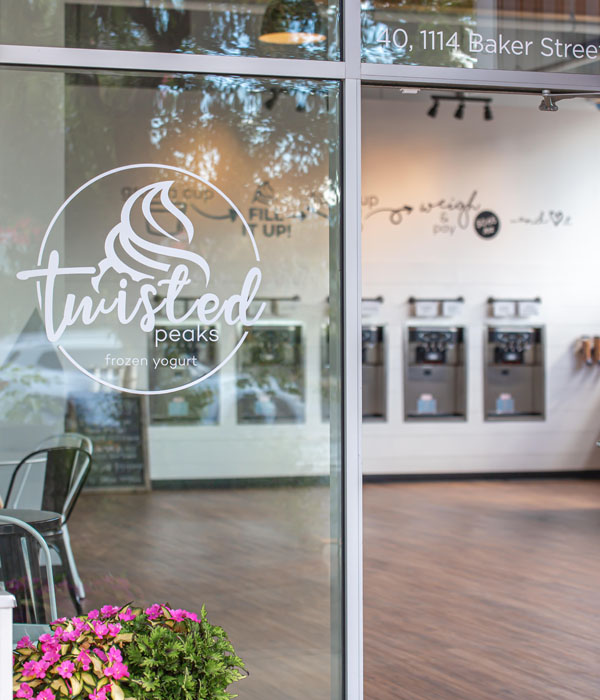 Starting from scratch
Twisted Peaks is located right on Baker Street in the downtown core. The sisters felt like Cranbrook needed an option, besides sit-down restaurants, that was open into the evening and on weekends.
While they were sure that opening a frozen yogurt place was a good idea, the process of bringing it to fruition was a whole new adventure.
"When we bought into MJ's, it was a business that had been established in town for something like twenty-five years at that point," said Hansen "But (opening Twisted Peaks) was right from scratch—brand new. It's a whole different industry and a whole different field. It's a big experiment, essentially, so it's not for the faint of heart."
On top of the usual challenges of opening a new business, McArthur and Hansen completed their planning in January of 2020, and were renovating their new space in March. The pandemic threw a curve ball at virtually every small business, but to be opening a self-serve food establishment would seem particularly unfortunate.
A raging success
However, when the fro-yo shop opened for curbside business in May of 2020, the owners discovered their intuition and their big idea had been right all along.
"We had to do curbside for the first, I would say, month," said McArthur. "We had lineups down the block for every single hour we were open. It was amazing and so overwhelming. We had so much traffic—I think people were just so desperate to be out of their houses."
Now, three years after their original opening, both McArthur and Hansen agree that they are excited to discover what "normal" means in terms of their business and their customers. They have been operating successfully throughout the pandemic, the restrictions and the resulting societal inflation.
It's a bright future for Twisted Peaks, and these twins are still enjoying working and growing a business together. In fact, they don't spend as much time together as they would like because they work opposite shifts.
And those babies they had when they purchased their first shop? They've grown into teens who all work at the business.
Family and fro-yo—a dream turned to reality.